LOS ANGELES — After the initial public reaction by some industry figures to an advance screening of "Pleasure," Ninja Thyberg's mainstream indie movie set in the porn world, co-star Evelyn Claire, who also attended the Hollywood screening, spoke to XBIZ to explain why she believes this is "an important film" that could prove "good for the adult industry."
In the course of an hour-long interview, Claire offered a staunch defense of Swedish director Thyberg's intentions, aesthetics and creative approach, and of the potential for "Pleasure" to effect positive change in problematic aspects of the industry as experienced by talent.
Ultimately, as she emphasized throughout the interview, Claire believes that initial reactions by older, male industry figures who after the screening declared themselves to have been "duped" by Thyberg into collaborating with an "anti-industry" project were due to a lack of understanding based on gender and generational issues.
She also repeatedly stressed that most of the "bad" things portrayed in the film about the industry are "things that happened" and that Thyberg shined a much-needed light on "many things about the industry that must change."
"The film is extremely hard to watch, I will admit," Claire told XBIZ. "It's the rawest, but also the most honest. Even Axel Braun [who tweeted his negative reactions after the showing] said at the screening that, 'It was too honest' and that he felt that people would see this and hate our industry."
"It's important to remember that when Ninja was doing her research on the industry, as she interviewed everybody, she got some real, real stories from people," Claire said. "People who had been through shit. So I think to discredit that this shit has happened is insulting to us talent that have gone through shit, been lied to, been told to act like everything is great for the sake of preserving this industry, when there is so much room for improvement."
Claire also urged people "to watch this movie to see that female perspective. The entire movie is shot from [main character] Bella's perspective and her emotional struggle [in] finding her voice and what her boundaries are."
"I think it's gonna be difficult for male viewers to watch this film," Claire told XBIZ. "I think men are going to have a hard time watching a female-gaze film, period."
Porn as Seen Through 'The Female Gaze'
Through Bella's perspective, Claire added, "you see how unsexy [a porn set] is, and then you see how it looks on the camera, and it's sexy. That's what the guys see. That's what the guy is always seeing. They don't see themselves. I think it's hard for them to see themselves. But that is how we see them."
"How many times have I shot with somebody I don't fucking like, and I don't like their dick, but I gotta pretend I do?" she asked. "That is real. That is fucking real. They don't ask us who we want to shoot with, most of these companies just book us with this random fucking male talent that supposedly are 'good at keeping their dicks up.' That's the only requirement."
Claire thinks that people on Twitter who have not seen the film will unfairly pre-judge "Pleasure" based on the initial reactions from men at the screening, including Lance Hart and Braun.
"At the screening there weren't that many women or civilians," Claire explained. "There were a couple of women, and they liked it. I think women will really understand this film, better than guys will. Because of just how hard it is to watch the non-male gaze, for once."
She particularly disagreed with Braun — who used the forum to accuse Thyberg, who spoke to the group via Zoom, of trying to "make the industry look bad."
"The movie is more like, 'The industry isn't bad per se, but there's a lot of elements in this industry that must change,'" Claire explained. "And they are going to change. It cannot continue the way it is. It's now possible with OnlyFans [income] — all these girls no longer need to take every single shoot that they get booked for."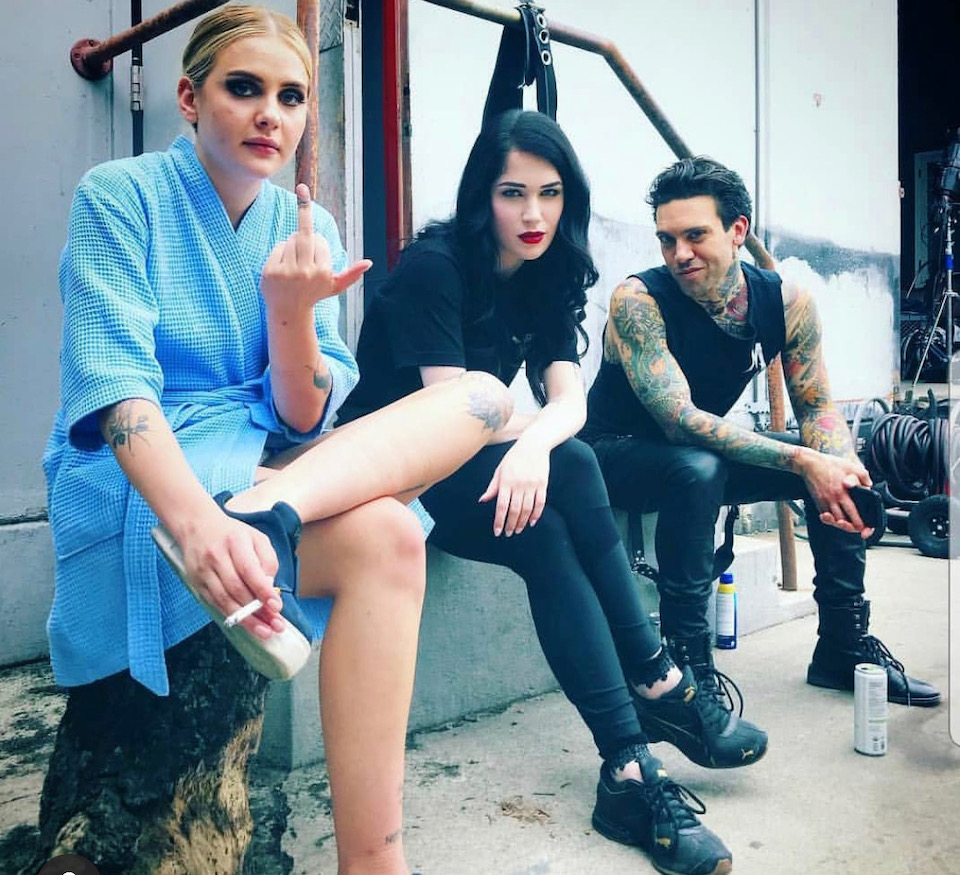 Sofia Kappel, Evelyn Claire and Small Hands on the "Pleasure" set. (Source: Claire)
A Movie Three Years in the Making
Claire has been working with Thyberg on this project continuously since 2018, when she was cast as Ava, a glamorous "Spiegler girl" — a term that the film imbues with almost magical qualities to shorthand the idea of "the top of the porn world" — who becomes both aspirational icon and nemesis to protagonist Bella.
Although never quite a "Bella," Evelyn Claire was much less experienced back when she was cast. "I am Ava now, life imitated art — I became a 'Spiegler Girl' after the film. I feel like it's my duty to be a loudmouth and say something as a privileged girl in the industry — I am so lucky, but that's just based on how I look. I have a look that got me far, and to pretend that doesn't have an effect on my experiences is ignorance."
"But I wasn't a Spiegler Girl until I got in this film," she added. "I was just a little camgirl who'd only done two scenes. 'Oh, movies!' I thought when I auditioned — and I got it. Originally they wanted Lana Rhoades. I came out for two weeks to start shooting."
Asked about her first reaction at this week's first viewing of the completed film, Claire deadpanned, "I looked really damn good."
Obviously, she added, "I really don't want this film to flop, that's me being selfish. But also... all this [negative] stuff has happened. The men of this industry feel really uncomfortable about it, and they need to be part of what changes it and how we treat our talent and the working conditions and not lie to girls with, 'I'm gonna make you a star.'"
Claire believes the industry has an obligation to incoming talent to "teach them how to build brands" as well as other practical skills to help them thrive and build a lasting career.
"The lack of professionalism is the problem in this industry," she added. "And that becomes the stark difference between these legitimate companies that care and take the [proper] measures and are willing to spend money on making sure that it is a positive experience for all the talent involved," versus companies that do the opposite.
'Good Sets' vs. 'Bad Sets'
During the interview Claire retold the entire plot of "Pleasure," with an emphasis on what she sees as Thyberg's nuanced, multi-layered approach to the subject.
XBIZ's account of the movie is based on multiple interviews with people who saw it. XBIZ was actively prevented this week from viewing the film by the distributor, who alleged the film was "locked down" after its initial Sundance Film Festival showing, where most mainstream reviewers saw it.
When the character of Bella first arrives in Los Angeles, Claire explained, she tells customs she's there for "pleasure," fudging her questionable immigration status with a reference to the supposed enjoyment she believes she will experience from her work choice.
"She's clearly down, but she's not been informed how the industry works at all," Claire said. "And then her first agent [played by real-life agent Tee Reel] fails her. But that happens, man! That happens right now in this industry."
Claire flagged one particular scene as an example of Thyberg's conscious choice to contrast "ethical porn" sets with "bad sets."
Bella is booked for a BDSM scene for Kink.com with a female director played by real-life director Aiden Starr and costar Small Hands. "She discovers doing the scene, 'Wow, I like being submissive, this is great.' That scene was the most accurate, positive part of the movie in showing the aftercare and the whole team caring for her, making sure she's good and giving her a chance to just relax and not rushing her out the door."
"It was so important to show that [aftercare]," Claire stressed. "But then she goes back to her agent and tells him, 'I think I wanna do more rough scenes. Yeah, I think I really like it.' And the agent books her for an abusive set."
"Right off the bat, the movie shows you the problems and the stark difference of what a 'good' porn set is like and what a fucking shady, shitty porn set is like. She gets there and it's like, 'Get ready, fill out this paperwork by yourself, let us know, we'll be waiting for you.' That's wrong! You're not supposed to do that in porn. [It should be] 'Hey — do you need anything from the kitchen?' That's how you're supposed to handle the talent on a porn set, right? Right off the bat you can tell she's in a shitty scenario, and it's all men on the set. All men."
The men proceed to pressure and coerce Bella to stay through a very rough scene that she becomes increasingly reluctant to perform.
"Bella says, 'Stop, stop, stop —I don't know if I can do this.' And they go, 'No baby, you're so good, do it just a little bit longer.' They'll say anything just to keep her there and just finish the scene, and that happens in reality! That happens. And so she's coerced into staying."
"When Bella has finally had enough, the true colors of the director pop out and he says, 'You just fucked over everybody. You're not gonna paid' — and that also happens, man! Her agent gets mad at her instead of being angry at how she was treated on set."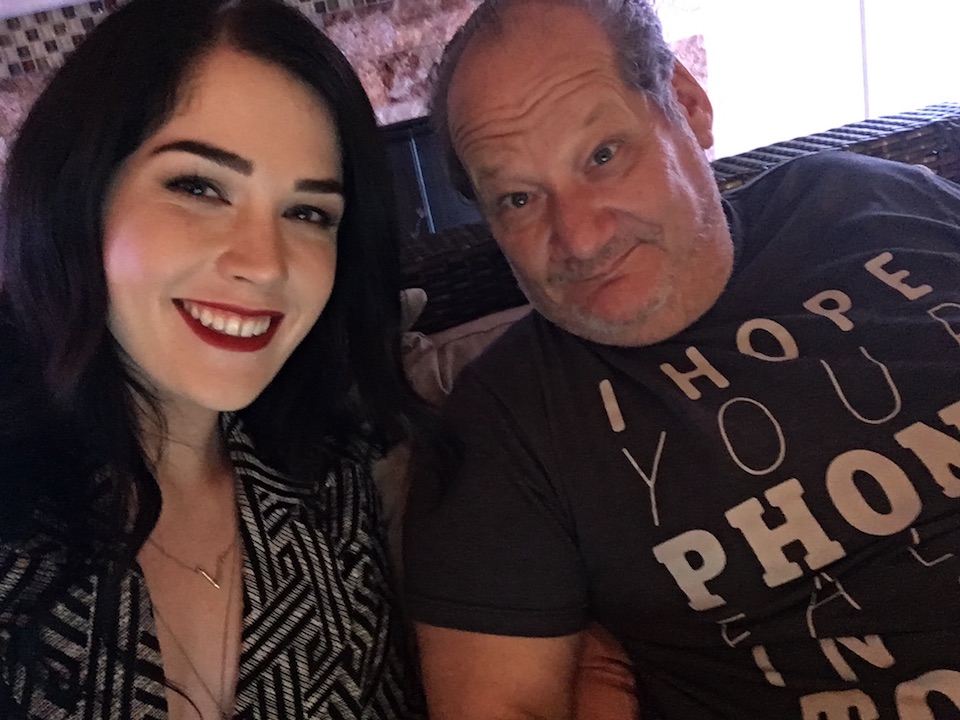 Evelyn Claire and Mark Spiegler on the "Pleasure" set. (Source: Claire)
An Oversized, Fictional, All-Powerful 'Spiegler'
The film features the oversized character of fix-it-all, make-you-a-star "Spiegler," played by real-life agent Mark Spiegler.
Thyberg's movie has an intricate interconnection with the real-life Spiegler Agency. A lot of the talent involved in "Pleasure" is connected to the agency, including Claire herself. But the movie also elevates a distorted image of Spiegler into a truly one-of-a-kind deus ex machina.
Claire is conflicted about this blurring of reality and fantasy. "They introduce this notion of a Spiegler Girl early on in the movie, when Bella sees my character at a photoshoot."
"It's me being hot, I look fucking great," she laughs. "Bella asks, 'Who's that?' and she's told, 'That's the new Spiegler Girl — the A-listers of porn.'"
Claire defends the film's hyperbolic treatment of Spiegler, noting "people actually say that! In reality, we all know that it's just an agency. But people do say that."
In the film, following her harrowing experience, Bella decides she needs to become a Spiegler Girl herself. That kind of will-do-anything-to-get-there attitude is something Claire thinks is 100% truthful to the ambitions of current starlets.
Spiegler turns her down, so she decides to self-book and contacts a studio called "Black.com" in an obvious reference to real-life brand Blacked; both critics of the film and Claire herself have flagged the plotline as contrary to current industry procedure.
"It was unrealistic to hit up 'Black.com' to offer to shoot for them for free and do double-anal," Claire said. "Obviously, real-life performers don't just call a major studio and say, 'I wanna do something for free and you can throw me into the most extreme scene available.'"
"That was definitely not realistic," Claire admitted. "Still, they do a really good job of showing the difference [between] shooting for a company that runs things correctly [like Black.com] — they're not forcing her, they let her choose the male talent — as opposed to [the abusive set]."
"Then she goes back and says, 'Here, Spiegler, I just did double-anal, ha-ha," and Spiegler signs her. All of a sudden she's [booking] stuff."
Claire wishes certain other moments in the film "were a little different" for the sake of accuracy. "But for the most part, for being a fictional story based on real stories Ninja heard, I think it excels and it's a beautiful film."
An Emotional Triangle
Claire also commends the film's central emotional triangle between Bella (played by Swedish actress Sophia Kappel), her less successful friend Joy (Revika Anne Reustle) and the cold, aloof Ava (Evelyn Claire).
"The friendship between Joy and Bella was wonderful," she told XBIZ. "It was a big part of showing the humanity of these girls, when they're off camera."
But then, in a very old showbiz narrative trope with ancestors such as "All About Eve" and "Showgirls," the film forces the protagonist to choose between friendship and ambition, and Bella ends up throwing Joy under the proverbial bus.
"When Bella betrays Joy by not telling the truth of what she saw with Cesar [a villainous role played by Lance Hart], she puts Joy in a very fucked up situation and fucks her over so that she can keep her job," Claire explained.
"Lance did a great job playing the bad guy," Claire added. "Almost too good. I understand why he is worried industry men will look bad, but if people watch this, then they should know how not to act. The movie shows us why it's wrong to behave that way. I think this film is important for industry people to watch as well, to see themselves. These are people. They are not just 'another girl coming through,' they are people with lives and emotions and aftercare is important."
"Ninja said 'It's a really complex movie' and there's so many levels to it," she continued. "It's a hard watch! I think there's a bit too much 'trauma porn' for my own personal taste, but the way it was shot it was actually quite tasteful. It was disorienting, but it wasn't that you're really seeing what was going on — you just know."
Claire said that she "feels bad for Lance" because there was more of a context for his character in the full script Thyberg had shown people at the beginning of the process.
"There was a lot that got cut," Claire confirmed. "There was a script, and I read the entire script and everything completely makes sense. There was a lot more to the movie that did not end up making the cut because we weren't able to shoot [the full script]."
People familiar with the original script and who were at the screening told XBIZ that the version they signed up for in 2018 had a part in Los Angeles and another whole part in Sweden, making the film much more centered on Bella as a character, not just "a film about porn."
The Swedish section was never shot. "They reduced it down to a long phone call with her mom, who's very supportive and encouraging," said Claire. "She supports her daughter. It's very positive. It's a good conversation."
The finished film, Claire added, is "a lot of Bella reflecting on what she needs to do next. It's not about Sweden but about her conflicting solo journey, where she only has her friend Joy."
"You need to have conflict to make a movie," Claire added, echoing something Thyberg said at the screening.
An Anachronistic, Pre-OnlyFans Reality
The other issue that Claire thinks is a valid criticism of "Pleasure" is that with the fast pace of change in the 21st-century world and the movie industry, the film's long production period has made it a bit anachronistic.
"I feel it's a little outdated," she admitted to XBIZ. "When Ninja was doing her research, I feel that was a time in porn where we were not empowered as we are today, with OnlyFans and all these platforms where we can control our own content. Having the power of our voices, that we are heard when we speak out — that wasn't really the case when Ninja was doing her research. And obviously Spiegler doesn't force his girls to do 'everything' anymore. So that's a little inaccurate too," she laughed.
"I would set this film in 2015," she continued. "I think it's important to tell the average person that the industry's changing and it will continue to change and sites [that highlight abuse in their branding] will continue to be less popular. Because what people want to watch is people who actually have chemistry, you know? I think it's actually more dangerous to say that this film is negative for us, because if you say that it's a negative film, more people are going to agree that the adult industry is purely negative."
Moreover, Claire thinks that "it's insulting to the civilian viewer to say that they're just going to say that 'the porn industry is bad.' They're going to say, 'It is a mixed bag, and there are bad people in the industry ready to take advantage of girls.'"
XBIZ pointed Claire to civilian Owen Gleiberman's influential Variety review after Sundance, where he saw the movie precisely as an indictment of most current porn, which he generalizes as violent.
"Is he in the porn industry? Is he a woman?" Claire asked.
"No."
"So, fuck him, fuck his opinion."
"But you just said the average civilian is gonna see it as a mixed thing."
"I think it's gonna be difficult for male viewers to watch this film," she repeated. "The emotional gravity of this film is so important. I think it actually has a chance to get through to people — what the problems are in this industry. They even touch on the racism. I wish they would touch on the trans issues as well."
"'Pleasure' is not a bad movie and I don't think it deserves a smear campaign because it would make us look worse and guilty, for trying to cover it up. I think it's a good film. It's not something I'd say is my favorite movie, even though I look so good in it. I felt it was raw. It was an accurate representation of shit that girls have gone through. It would be a boring movie if it followed Ava's little cakewalk. That [wouldn't be] a good movie about the porn industry, [one] that doesn't show you how the hard realities are."
Claire then offered a very specific example of a performer who entered the industry around the time she did.
"I knew her really well. She doesn't shoot anymore. She's had one of the most tragic stories I've ever fucking heard. And, you know, the shit that she went through and was told and manipulated to to do, it's why she's still not a porn star. This has to change. People need to be aware so it can be prevented from happening over and over to new girls who don't have experience. And that's the biggest thing about 'Pleasure': Bella comes into the industry not knowing anything. The difference between me and her is that I was a cam girl for a while. You look at why some girls do better than others and it's because of not being taken advantage of by shitty agents, by production companies that don't see you as a person, and frankly I don't think they should be in the industry. But you can't shut down things that easy. It's whack-a-mole, they'll pop up again later under a new name."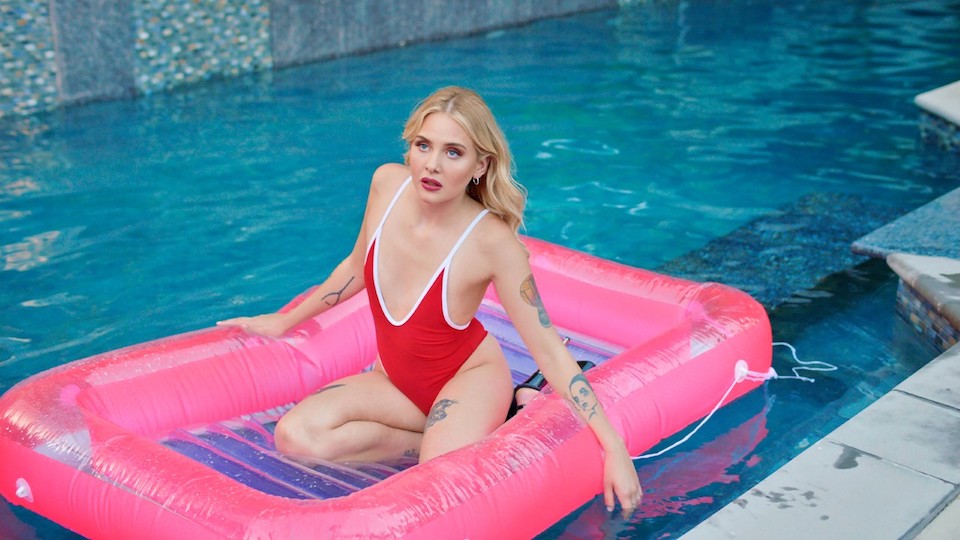 The only publicly released still of Ninja Thyberg's "Pleasure"
A Generational Divide
What about the older female performers who were at the screening or were involved with the film and also Tweeted that they felt the film was exploitative?
"I think that all the people who've been in the industry a long time will feel guilty," Claire said. "There's a lot of problems in this industry. I think the only reason I stay is because my voice is heard. When I speak up I'm heard and that is because of reputation — I've been around for six years. What I've seen in this short time is a lot of change. Sexual harassment courses probably weren't a thing when [those older performers] joined the industry. You have to think that it's hard for people to watch themselves playing monsters. I mean, I play a bitch! I played a very beautiful bitch. I'm not upset about it. My instructions were to actually play very aloof, neutral and distant. And it comes across as so bitchy! I'm not necessarily a bad person in this film, but I'm a bitch. I think that's real too."
"I think that a lot of girls that have been in the industry, that got chewed up and spit out are going to understand this film a lot better than [an older male director] who makes a lot of money off of them. You have to consider that bias as well. How much privilege these people are speaking from. This movie shows the people who aren't privileged and how it is."
The film, she said, also depicts older, jaded performers in a way that may make their real counterparts uncomfortable. "These [older] girls are sluts, they love fucking, you know, they love money and it's a job, but they're complacent and they lost the will to stand up and say 'Hey! I need and deserve better.' Of course people are gonna complain if they got a character that wasn't wonderful."
"It's important that they show the hierarchy in porn, the competitiveness in porn. It really isn't for everybody. As I said, it's a tough watch. I'm not gonna say it's an easy watch. It's so hard to watch. But I think it's necessary."
"I stay in the industry because there are good people. And the film shows that! Aiden Starr shows what a good director does that cares, tells you, goes over things, 'If you need to stop, what do you say?' It was very accurate to how things should be. It's just a really hard realistic look on what the less ideal path is that happens all the fucking time."
Thankfully, Claire added "these days we have resources, we have OnlyFans, we have APAG, we are working towards more unionizing. Of course I wish that shit was in the film."
"I think the emotional impact of this film may actually help performers get more rights, the public will see. As long as it's explained in a very educated way, I feel that this movie won't be misinterpreted as a blast against the industry as a whole, but as a thing that says 'these are parts of the industry that must change and this is why.'"
'I Think It's Actually Very Helpful'
When XBIZ asked Claire why she thinks Thyberg — an admitted former "anti-porn advocate" who recently told the Swedish press making the film made her "stop hating men" — cast porn performers instead of mainstream actors, she quickly replied "because Ninja actually respects sex workers. And there's no one better to play porn stars than actual porn stars."
But couldn't that also be because she wanted to claim her views are endorsed by major industry figures, like Spiegler, his models, Braun, Hart — or even AVN, whose Vegas trade show figures prominently in the film, and one of whose editors is an actor in the film and was allowed by distributor A24 to attend the supposedly "no-press" screening?
"Would you want her to cast Bella Thorne as Ava?" she retorted. She had a point.
"Look, it's important to be able to criticize Ninja," Claire continued. "But the movie's done, it's coming out, and it's our job now to explain what's true, what has changed and what should change and what the film highlights as problematic and why it can't continue that way."
"Nothing is gonna stop girls from joining the industry. 'A new girl turns 18 every day,' they keep saying. If this helps people see that it's not all fucking glamour, and that stark difference [between legit companies and abusive sets] … I think that's actually very helpful."
"I think 18, 19 year-olds have unrealistic expectations," she continued. "A fresh 18 year old with no life experience, thinks 'I'm great, I can handle it' and they find themselves in an echo chamber of people saying "You're amazing, you can do this, you're the best, do triple anal — in Prague!'"
"There's a lot to this industry that needs to be looked at very bluntly. There's room to change and if this helps people understand, that's good. Long-term it's our job now to [educate] people on what the point of the film is: 'Understand who you are, be true to yourself, ultimately it's your choice and you don't have to do shit you don't want to do.' Bella learns that."
As a concluding thought, Claire repeated that "when the movie gets launched, it's gonna be very important to listen to how girls feel watching it, because guys are gonna have a hard time watching it because it's shot through the female gaze. That's a given. People aren't used to seeing movies through the female gaze — especially in porn."
Throughout the interview, Claire referred to the director as "Ninya," the correct Swedish pronunciation of "Ninja." People familiar with the production told XBIZ that while she was shooting, the American crew told her to embrace the "Ninja" — as in the ancient stealthy warriors that infiltrated enemy locations — because it was "more badass" and she had seemed to adopt it.
Yesterday, as Twitter was reacting to the negative industry views of the press screening, someone commented, "Never trust a ninja."
Ninja Thyberg responded with a "like."
Main Image: Evelyn Claire on the "Pleasure" set. (Source: Claire)