LOS ANGELES — Yesterday's hack of a large number of prominent Twitter accounts — which led to the company's disabling of "blue checkmark" (i.e., verified) accounts for part of the day — also resulted in the unexpected confirmation of the practice known by users as "shadowbanning," and by Twitter as "blacklisting."
Shadowbanning or blacklisting refers to the secret re-categorization of certain Twitter accounts, without the knowledge of the affected user or their followers, so that they do not show up in searches, predictive auto-complete fields or trending topics.
Even though Big Tech companies like Twitter, Facebook and Instagram have in the past denied knowing what "shadowbanning" meant, large numbers of sex workers, adult performers and other people and companies involved in the adult industry are verifiably victims of this blatantly discriminatory, stigmatizing and covert content-concealment practice.
According to a report published today by Samantha Cole, who covers the tech and adult industry beats for Vice's Motherboard, the Twitter hack prompted right-wing Twitter users to zero in on another Motherboard article published yesterday. In that piece, penned by Joseph Cox and entitled "Hackers Convinced Twitter Employee to Help Them Hijack Accounts," a screen capture from Twitter's back end reveals some accounts labeled under "Trends Blacklist" and "Search Blacklist."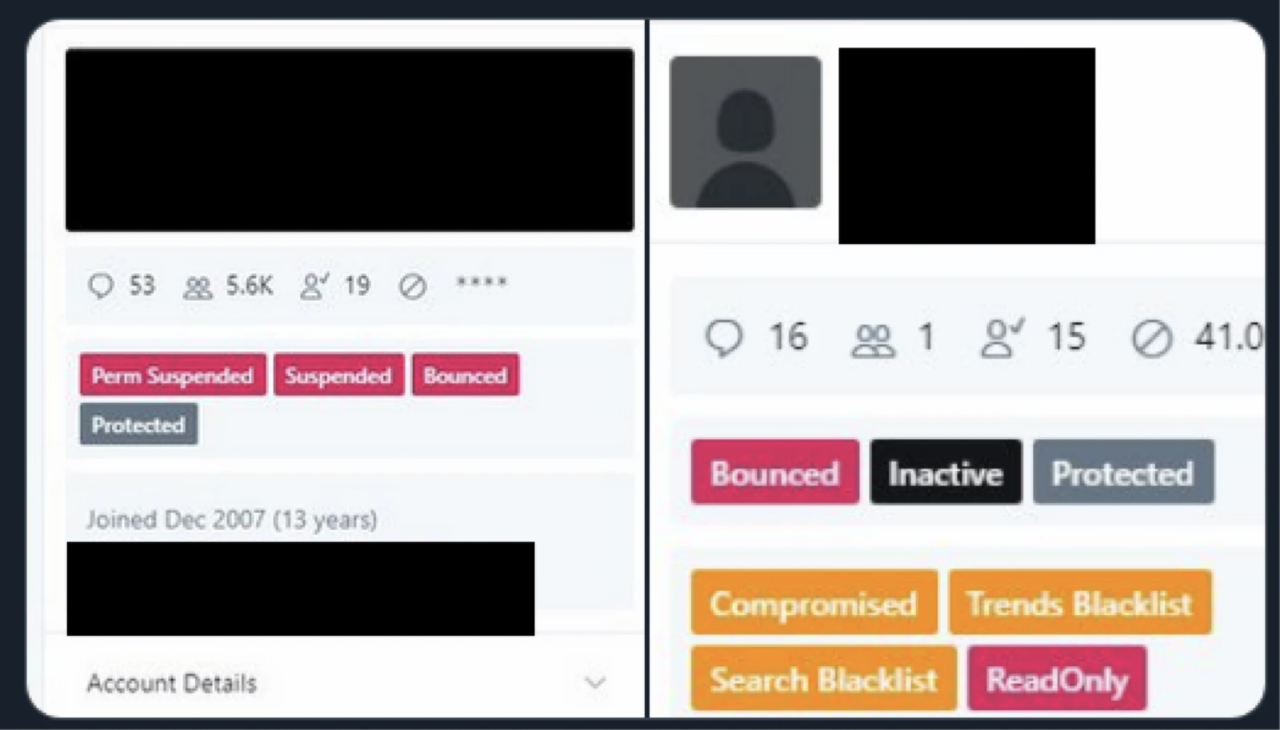 As Cole wrote today in her article, "Twitter 'Blacklists' Lead the Company Into Another Trump Supporter Conspiracy," the screenshots Motherboard published yesterday "showed that, internally, some Twitter accounts are tagged as 'Trends Blacklist' or 'Search Blacklist' and these are incredibly charged terms among conservatives, mostly because of a misleading 2018 tweet from Donald Trump which wrongly claimed Twitter was 'shadow banning' prominent Republicans."
Life Under the Shadowban
Cole's article delves into a challenge that people in the adult industry have faced and talked about for years, despite being gaslit by Twitter and Facebook employees and even by Instagram president Adam Moseri himself: digital life under the shadowban.
"Since the early days of the web," Cole wrote, "a 'shadow ban' has been a moderation technique used to ban people from forums or message boards without alerting them that they've been banned. Typically, this means that a user can continue posting as normal, but their posts will be hidden from the rest of the community."
The Twitter blacklists shown in the Motherboard screenshots, Cole continued, "do not prevent a user's followers or even the general public from seeing their tweets, but accounts put on these blacklists will be prevented from showing up on Twitter's 'trending' page and will prevent them from showing up in search results."
Twitter, according to Cole, "explained this moderation tactic in 2018."
"Twitter said it made changes to how it ranks its search results for accounts from what it considers to be 'bad-faith actors who intend to manipulate or divide the conversation,'" Cole explained. "A Twitter spokesperson told Motherboard on the phone that these blacklists are the same ones it explained in 2018 (though it didn't use the term 'blacklist' at the time and has not used that word publicly.)"
The Twitter spokesperson told Motherboard that the company has "very clear rules around trends and what we don't allow to trend." That was the company's only explanation of the clearly labeled "Blacklist" tags in the published screen captures of its internal moderation tool.
In practice, finding evidence of the Twitter shadowban of adult industry figures is not difficult. For example, XBIZ searched for Adriana Chechik's actual Twitter account on the Twitter search box and obtained these predictive results, even though both the XBIZ and Chechik accounts mutually follow each other: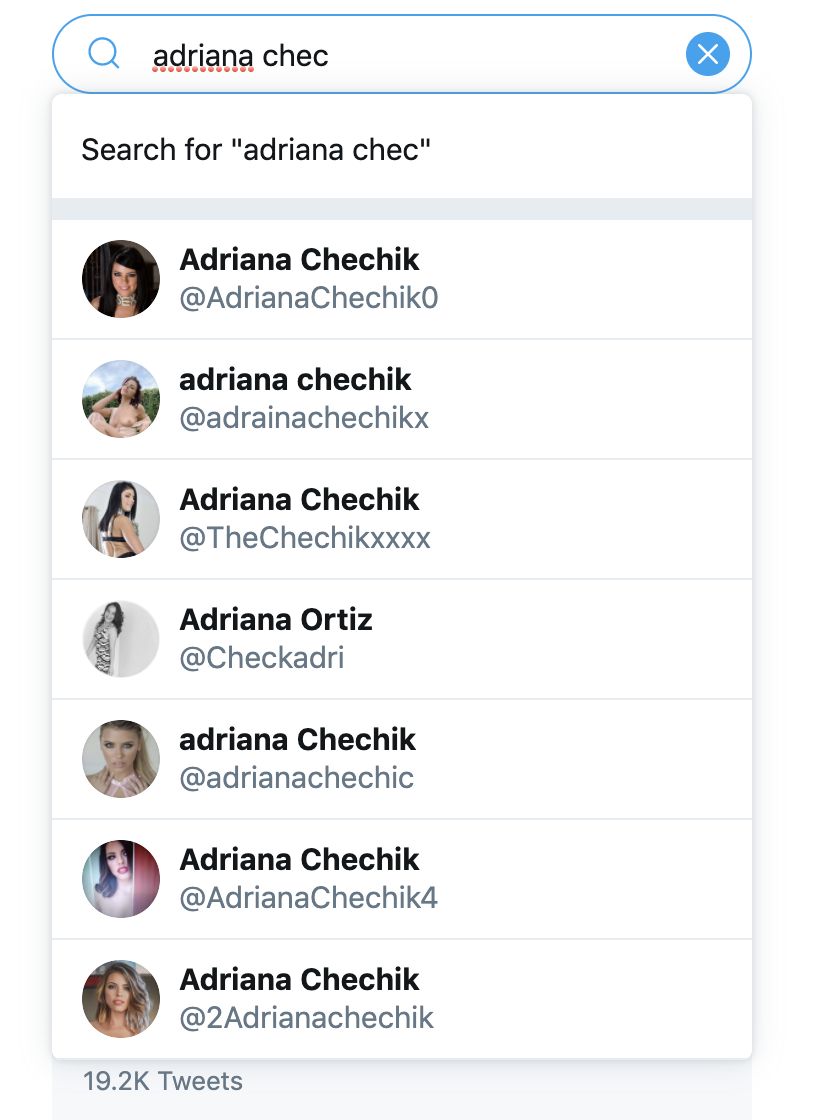 The only efficient way to find Adriana Chechik's clearly shadowbanned (or "blacklisted," to use Twitter's in-house terminology) account — and not a string of impersonators and bot accounts that Twitter somehow allows to thrive — is to Google "Adriana Chechik Twitter," which delivers the actual account instantly.
Twitter directed Motherboard to its Twitter Trends FAQs page, "where it makes clear the platform prevents content from trending if it contains profanity or adult/graphic references, incites hate or otherwise violates Twitter's rules."
Another Twitter spokesperson told Cole that the blacklist tags are "not new."
"We do disclose in this FAQ that accounts that violate the rules are prevented from trending," the spokesperson told Cole. "This isn't new and it's not something that has been hidden, but it's in the help center."
Although shadowbanning and blacklisting may not be "new" for Twitter, what is noteworthy for the general public is that the leaked screen capture published by Motherboard confirms the existence of Big Tech's favorite murky, stigmatizing moderation practice and its use against sex workers and adult industry figures.