SAN DIEGO — Last week, the turmoil surrounding controversial adult website GirlsDoPorn took a sharp turn, when the Department of Justice unsealed details of an FBI investigation into the site's owners and employees for crimes related to sex trafficking.
Up until last Thursday, the civil trial unfolding in San Diego, with testimony by some of the 22 models suing Michael Pratt and his associates for fraud, had featured shocking accounts of the company's allegedly deceptive business practices, and sensational revelations like the fact that Pratt had fled the country and continued to run his website from abroad.
But things have changed, and it is now a good time to recap some of the most interesting details of the GirlsDoPorn saga, appropriately described by XBIZ publisher Alec Helmy yesterday to the Washington Post as "a very strange story."
The new information uncovered by the secretive FBI investigation adds shocking details that complicate mainstream coverage of this as a cliché tale of innocent girls from the heartland getting duped by sinister smut-peddlers.
Go through the very strange story of GDP and you will encounter a teen affiliate marketing tycoon, accusations of rape and sexual assault, "uncharged conspirators" rolling on former associates, a remote island paradise full of financial secrets and a conveniently dead lawyer who set up shady companies with names like Bubble Gum Media.
A careful reading of the evidence also sheds light on the real ownership of infamous gossip site PornWikileaks.
XBIZ also spoke exclusively with a major porn starlet, and current Vixen Angel, who had her beginnings as a GirlsDoPorn hopeful — after meeting a dangerous man on Tinder who was not who he claimed to be.
Let's take another look, then, at GirlsDoPorn.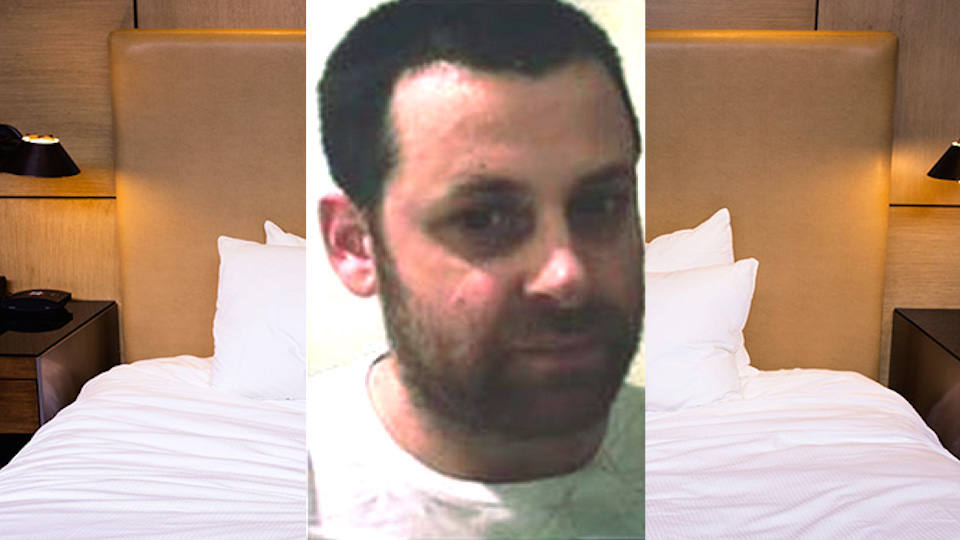 Exploited Teens Do Porn
GirlsDoPorn mastermind Michael Pratt was born in New Zealand in 1982. He grew up Down Under and it was there that he started his business career right out of high school, at the same time Peter Jackson was shooting his Lord of the Rings trilogy in their homeland.
Pratt arrived in the United States around 2007, according to the civil trial filings, "to start filming pornography." But the company had started long before Pratt made his move.
"[The] business I worked for since [I was] 17-18 y[ea]rs old is destroyed by a greedy lawyer, a greedy delusional lawyer" an exasperated Pratt texted his loyal assistant Val in September 2018, as both the civil trial and the criminal investigation were closing in on him.
Val was Valorie Moser, arrested last week in San Diego and accused as one of Pratt's co-conspirators in a sex trafficking ring. The "greedy delusional lawyer" is Brian M. Holm, the persistent attorney currently representing the Jane Does — 22 GirlsDoPorn models accusing Pratt of fraud in a San Diego civil court.
The "17-18 years old" text message confirms Pratt's adult industry operation began around 2000, immediately after he graduated high school. Young Michael Pratt — then the same age as the models he would target for his site for the next two decades — jumped feet-first into the affiliate marketing game as a budding antipodal entrepreneur.
One of his early sites, TeenieFlixxx.com, was an affiliate for a popular site called ExploitedTeens.com. The format of ExploitedTeens was identical to Pratt's future creation, GDP: a girl, who had not done porn before, in a hotel room, talking to a cameraman who was also the male talent. This format continues to be popular: ExCoGi — formerly ExploitedCollegeGirls, started in 2005 — is currently ranked 33rd among Pornhub channels.
After six years in the affiliate grind, Pratt planned to start his own paysite. Convinced that it was legally easier to shoot porn in the U.S. than in New Zealand or Australia, he emigrated in 2007 and found his first male talent, Doug Wiederhold, on Craigslist.
From 2007 to 2009, according to the Jane Does' filing, "Wiederhold and Pratt traveled from city to city filming videos of amateur girls in hotel rooms across the United States." But Pratt held on to the videos and, after amassing a backlog of hotel hookups for two years, the tenacious Kiwi finally launched his paysite, GirlsDoPorn, in 2009.
It is not clear how the recently-immigrated Pratt funded his and Wiederhold's living expenses, plus production and talent costs for hundreds of hours of content, during that pre-launch period.
Pratt is described in court filings as "the sole owner" of GirlsDoPorn.com. He is also said to have transferred ownership of the website to "various entities," which he always controls, and is also one of only two people to have the admin password.
"The proverbial buck stops with him," is how Brian Holm and the other Jane Doe lawyers spell it out in their filing.
For its first five years, GirlsDoPorn quietly, almost under the radar, amassed a loyal cult following of dedicated fans and hobbyists — i.e., collectors — who prized Pratt's take on "Hot local girl who shouldn't do porn does porn."
Fellow New Zealander Matthew Wolfe emigrated to the U.S. around 2011 to work for Pratt as a videographer. Wolfe was Pratt's childhood friend, a loyal sideman who, according to court filings, had been assisting Pratt with his porn ventures "since at least 2008."
By 2013-2014, the tightly managed mini empire of San Diego-based companies that brought Pratt both fortune and infamy began taking its current shape.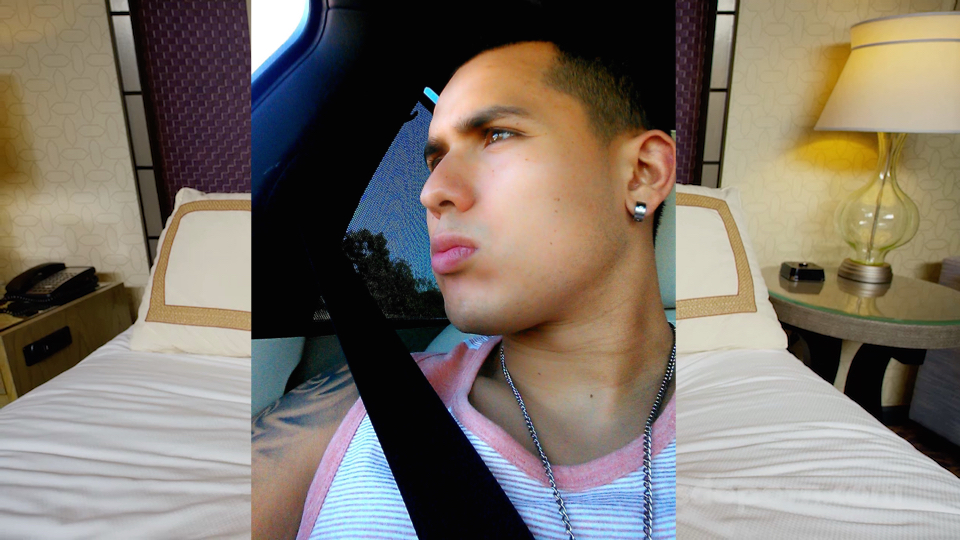 Stuntcock Recruiter

Growing awareness of GirlsDoPorn appears to have spiked around 2014, at around the time its fan forum, supervised by Pratt and his employees as a crucial source of feedback on models and content, was launched.
The bump in awareness also coincides with the revelation on Gawker and other mainstream sites that a few GDP models had been Miss Teen USA contestants, in Delaware and Colorado, and had "lost their crown for doing porn." It is likely that Pratt might have helped spread these gossip items, and undoubtedly his company profited from the conversions generated by the spike in "Miss Teen USA porn" searches.
A November 2014 post on an unrelated online forum already assumes familiarity with the GirlsDoPorn brand and its "girl next door" theme. The forum member is curious about the company's recruitment process. "How do they convince the hottest amateurs to do porn?" he writes.
A little-explored element of the GirlsDoPorn story is that the company's recruitment narrative, now playing out as testimony in both civil and criminal forums, itself is an integral part of the brand.
Court documents now spell out every detail of Pratt's recruiting strategy, starting with him and his associates posting ads for models on Craigslist, which in turn linked to three entry-level modeling websites he also appears to control: BeginModeling, ModelingGigs and ModelingWork.
The ads targeted women 18-23 across the continent, in places like Gainesville, Florida; Waco, Texas; Orange County, California; and Calgary, Canada.
At least one of the Jane Doe models alleges that she was recruited very shortly before turning 18, shooting her GDP scene only a day after becoming of legal age. But sometimes the company "force[d] 23-year-old women to lie during the filming to give the impression that they are younger."
The main recruiter, and also a popular male talent with the fans, was Ruben Andre Garcia, a handsome, slender Latino with an athletic physique, who usually goes by Andre Garcia. Six years younger than Pratt and Wolfe, Andre was known by the GirlsDoPorn fandom simply as "Dre," and affectionally dubbed the company's "Mexican stunt cock."
In online forums, GDP fans enjoyed figuring out who the alternating male talents were, since their faces were never shown. GDP has a steady fanbase in bodybuilding forums, where young men cheer each other on about their exercise goals, but also engage in the typical online masculinist fantasies involving red pills, becoming alpha, #nofap, and also much misogynistic banter against sexually adventurous women, whom they call "sloots."
Their online chatter reveals that for these fans, the tantalizing fantasy of GDP has as much to do with watching this non-professional "sloot" becoming a porn performer for the duration of the video, as it does with imagining she can literally be "someone I went to high school with," but also getting worked up about how much she will come to regret the experience "after she settles down with some beta cuck."
Garcia joined GirlsDoPorn in 2011, when he was around 23. He replaced Wiederhold, who had been promoted to his own sub-brand. In 2010, Wiederhold and Pratt created a spinoff MILF website called MomPOV, which they still own 50/50 and which continues operating to this day from Las Vegas.
Dre Garcia, now sitting in jail on criminal charges of sex trafficking and accused by two models of rape and sexual assault, had the persona of a charmer. He seems by all accounts to have relished manipulating the performers with tall tales and mind games.
One of the stories told in the court filings was a bait-and-switch, in which the girl was initially hired for a bikini shoot, but later was told by Garcia, who sometimes used the fake name "Jonathan" when he was recruiting, that the job had changed. Garcia then dangled the opportunity to make $6,000 shooting a sex scene.
Work With Hot Guys Your Age
To prove their bona fides, the GDP team would volunteer as a reference another girl who had supposedly had a good experience shooting for them.
One of the models, interviewed by NBC 7 San Diego, which has been covering the civil trial, said that the reference girl told her, "They're nice. It's only going to be on DVDs in New Zealand and Australia and it's not allowed in America. And it's not that big of a deal. Just be a tough girl and it'll be over before you know it."
"It's going to be OK," the reference girl stressed.
Amberlyn Clark, one of the "reference girls" drafted by Garcia — with whom she also appears to have been involved — served as witness for the Jane Does and revealed how she had been coached on how to talk to the prospective women, including lying and withholding information. She also said that she could get bonuses for recruiting "Grade A" women, in an internal rating they had that went from A to D.
The "reference girls" were paid via PayPal, allowing the FBI to cross-check the payments.
"Over the years," the Jane Does' filing emphasizes, "Garcia has become heavily involved in recruiting victims," and also received these commissions.
Since Andre Garcia/"Jonathan" was the main recruiter, Jane Doe attorneys consider him "the primary mouthpiece for [the] Defendants' lies," lying over the phone and then lying again in the hotel rooms during the contract signing.
The FBI obtained from Craigslist hundreds of ads they claim were connected to Garcia. One example from June 2014 reads:
CUTE TEEN GIRLS MAKE $5,000 TODAY
Hiring good[-]looking girls 18-21 years old for immediate work [.] We are local to San Diego and can shoot you today or tomorrow. We pay $5,000 cash up front [.] Work with hot guys your age, over 200+ models have shot with us, speak to them about their experience with us. jobs@beginmodeling.com
One of the five models who are part of the FBI's complaint, identified only as Adult Female 1 or AF-1, says that in May 2015, when she was 20 and had lost her job, she searched Craigslist for modeling opportunities and found an ad placed by Begin Modeling. The unemployed young woman visited the website, where she submitted an application. Shortly after that, "jonathan@beginmodeling.com" emailed her explaining that it was an "adult job," a 30-minute "video shoot with an attractive male actor."
"Jonathan" wrote to her that "no one would ever find [out] about any of her personal information" and that the unnamed company would pay for "an all-expense trip" with "luxurious accommodations."
"Jonathan," later identified by AF-1 as Garcia, spoke on the phone to her and gave her the numbers of "reference girls." AF-1 says she was initially offered $5,000, but shortly before she arrived to San Diego, the offer was lowered to $3,500.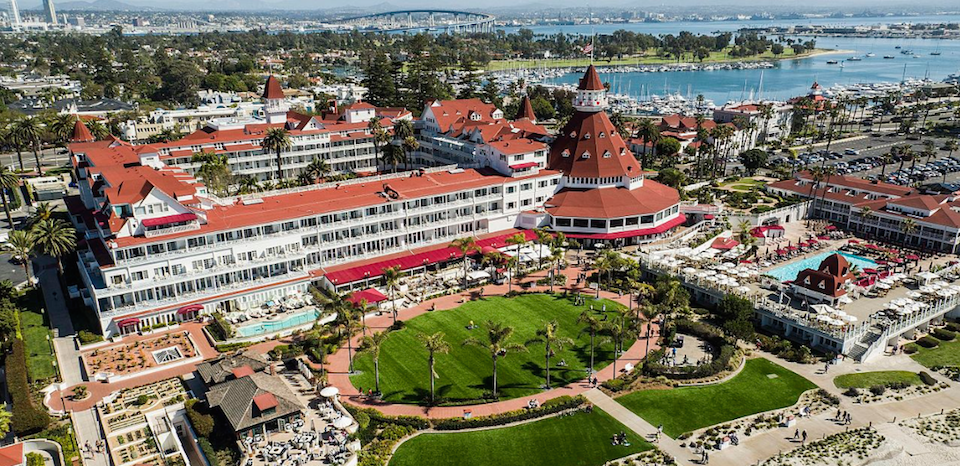 Malice, Fraud or Oppression
The girls were typically flown from their hometown to San Diego, and then driven by GDP associates, who were made to sign NDAs, to luxury lodgings at swanky, four-star landmarks like the Hotel del Coronado, the Kimpton Hotel, the Hard Rock San Diego, the Hilton Bayfront and La Jolla's La Valencia Hotel.
Val Moser, Pratt's assistant, occasionally drove the models from the airport to the hotel, where Dre Garcia would be waiting. She also arranged the hotel rooms and interfaced with the models outside of the shoot. Pratt instructed her to use the name "Anna," but she testified in the civil trial that she "often forgot and used her true name."
Pratt seemed obsessed with pseudonyms, asking to be called "Jordan" and "Mark" in public, and making Moser refer to his friend Matthew Wolfe by the alternatively canine "Ben Fox."
Many of the models reported that, while they were getting their hair and makeup professionally done, GDP staff would offer them drinks and marijuana. The lengthy contract would make its one and only appearance at this point, a contract that the Jane Does, and many other models not in the lawsuit, were allegedly rushed to sign.
According to multiple sources, several models were told, before shooting the scenes, that the videos would be sold exclusively on DVD at a specialist store, and/or to private collectors, and/or distributed only in Australia. They were allegedly repeatedly told, verbally, that the videos would not be online or anywhere where their families and friends would see them.
Wolfe served as videographer — calling himself, besides "Ben Fox," "Joshua" or "Isaac" — and said on the stand on October 2, during the civil trial, that he had "filmed over 100 adult videos for GirlsDoPorn." Later, he was replaced by someone the criminal complaint only lists as "Uncharged Co-Conspirator No. 1." This second videographer is most likely collaborating with the FBI.
The only other GDP videographer who testified in early September in the civil trial is Theodore "Teddy" Gyi, who confirmed key aspects of the Jane Does' testimony. Gyi is not mentioned by name by the FBI in the criminal probe.
After filming the videos for about six to seven hours, the girls typically flew back home.
In 2014, Pratt and Wolfe co-created spinoff site GirlsDoToys, which is named alongside GirlsDoPorn in the criminal complaint. The GirlsDoToys videos were solo scenes shot during the same trips as the GirlsDoPorn B/G scenes. But GirlsDoPorn continued to be the flagship operation and is identified in court filings as the source of the majority of Pratt's revenue, which he also uses to fund his 50/50 ventures GirlsDoToys, with Wolfe; and MomPOV, with Wiederhold.
Pratt's uninterrupted tale of success came to a halt in June 2016, when four former GDP models, the original Jane Does represented by nemesis Brian Holm, filed their civil lawsuit in San Diego. By 2017 the Jane Does who had come forward numbered 22.
The judge issued a ruling finding merit in accusations that Pratt and his associates had engaged in "malice, fraud or oppression."
Pratt responded by filing for bankruptcy and the case was put on hold.
"As soon as I bankrupt the business, they're fucked," Pratt texted Valerie Moser in September 2018. "The case gets held." But a few days before, he had sounded less all-powerful: "I mean nothing I can do — they're trying to put some federal human trafficking case on me."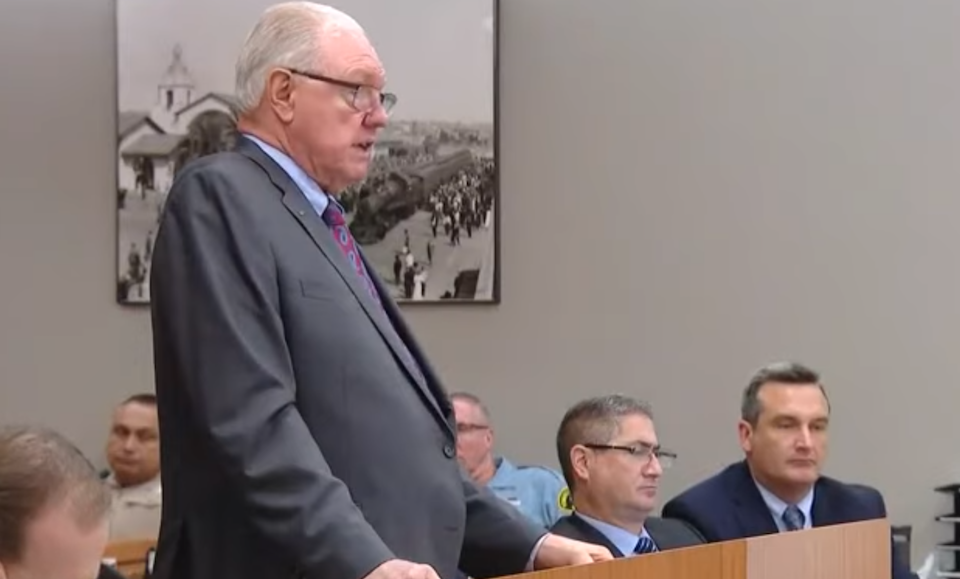 The 22 Jane Does
The bankruptcy judge, however, ruled that Pratt had acted in bad faith and the civil trial resumed in early 2019.
Brian Holm, representing the 22 Jane Does, finally got to depose Michael Pratt, the man who had called him a "greedy delusional lawyer" on May 6, but the deposition did not reveal much new information, other than Pratt mentioning that he and some partners were "trying to open a marijuana dispensary in Chula Vista," not far from the Mexican border.
Pratt left the U.S. sometime between that deposition and the beginning of the trial. According to NBC 7, last week Wolfe told the civil court that Pratt "returned to New Zealand because of 'health issues related to threats he had received' after the publication of news stories about the 'Girls Do Porn' controversy."
Holm attempted to depose Andre Garcia, but he pled the Fifth to every single question.
The Jane Does had more luck with Val Moser, who produced the September 2018 text messages between herself and Pratt two days after her boss' deposition. In them, Pratt jokes about "having to leave the U.S." and about Holm trying to put a lien on his cars.
"Brian Holm hates us," Pratt texted Moser and bemoaned that Holm thought "I have some offshore bank account stashed with money."
After telling Moser he will give her severance, Pratt gets sentimental.
"I've served u loyally for over 3.5 years," Moser texted back. "I have never misspoke about u. Actually defended u when it was necessary."
But earlier this month, during the civil trial, Moser tried to distance herself from her bosses and colleagues. She alleged that she was unaware of the name GirlsDoPorn at first. She thought, she told the judge, that she was working for a company called BLL Media, supposedly initials for BMW, Lamborghini and Land Rover, the brands of Pratt's vehicles.
Moser, who had signed an NDA before starting at BLL Media, said that at some point Pratt slipped and mentioned GirlsDoPorn, but she was instructed not to use that name and to call the company's flagship website Plus One Media.
PlusOneMedia.com is still active and it leads to a dull site for a marketing company, apparently located in Decatur, Georgia.
Moser testified that Pratt instructed her to create a Google Hangout to communicate with the models and that "at least a dozen young women" sent complaints and begged her to remove their videos. The administrative assistant said that she had forwarded some of these messages to Pratt, who then instructed her to block the models' numbers.
The Glare of Mainstream Media
In early February 2019, NBC 7, the network's local San Diego affiliate, began running a series of stories by Dorian Hargrove, Mari Payton and Tom Jones, detailing the ongoing dispute between GirlsDoPorn and the 22 models.
The NBC 7 coverage relied on court filings and the anonymous testimony of six models who were not among the 22 Jane Does. Plaintiff's attorney Brian Holm spoke to NBC 7 and said that he had been in touch with 120 models.
Pratt's longtime, all-terrain lawyer is Adam Sadock. Sadock is named by the Jane Does' attorneys as a key part of Pratt's organization, his trusted consigliere and legal eagle since 2012. Sadock is personally accused by Holm of stonewalling the models' DMCA takedown attempts to remove their videos from GirlsDoPorn, Pornhub and other sites.
Sadock sent the reporters a statement emphasizing what has been the GDP line of defense since day one: the models "all signed contracts agreeing to shoot pornographic videos" and made statements on video agreeing the videos "could be used in any manner the producer wished to use them."
Each model, Sadock wrote, was paid "thousands of dollars to appear in a video and many performed in more than one video for the producers and other companies."
Some models, Sadock went on, "regret the choice they made. But those models were free to decide whether to star in a pornographic video, or not. Nobody forced them."
Certainly, Sadock added, "the producers of the videos did not send links to the videos to the model's friends and families."
The trial date was now June 24, 2019. On July 15, the plaintiff's attorneys — Ed Chapin from prominent San Diego law firm Sandford Heisler Sharp, John J. O'Brien, and the Jane Does' main champion, Brian M. Holm — filed a Trial Brief outlining their allegations against Pratt and GirlsDoPorn. This brief, combined with the FBI's affidavit and further research, are the main sources for this XBIZ report.
For a complete series of XBIZ reports on the civil trials of the 22 Jane Does vs. GirlsDoPorn, click here.
The second week of the civil trial once again brought the glare of mainstream media into an industry it struggles to understand. There was detailed, harrowing testimony from one of the plaintiffs, Jane Doe 15, and the admission by a GirlsDoPorn videographer that the plaintiffs had been lied to by the company as to whether the videos would be published online.
As the civil trial of the 22 Jane Does vs. Pratt and GirlsDoPorn slowly proceeded through September and early October, however, the testimony on the stand was being quietly observed and transcribed by a third party: the FBI.
In an affidavit that was only unsealed after the arrests, Special Agent Lana K. Sabata — a military vet who has worked in the FBI's San Diego division since 2013 and specializes in "crimes involving child exploitation and human trafficking" — wrote, "I believe that Wolfe, Garcia, Moser, Pratt, [Unindicted Co-Conspirator No. 1] and their co-conspirators are unaware of the FBI's identification and investigation of them."
"Because I believe that premature disclosure of this affidavit could result in flight and the destruction of evidence," Special Agent Sabata wrote, "I request it be sealed until further order of the Court."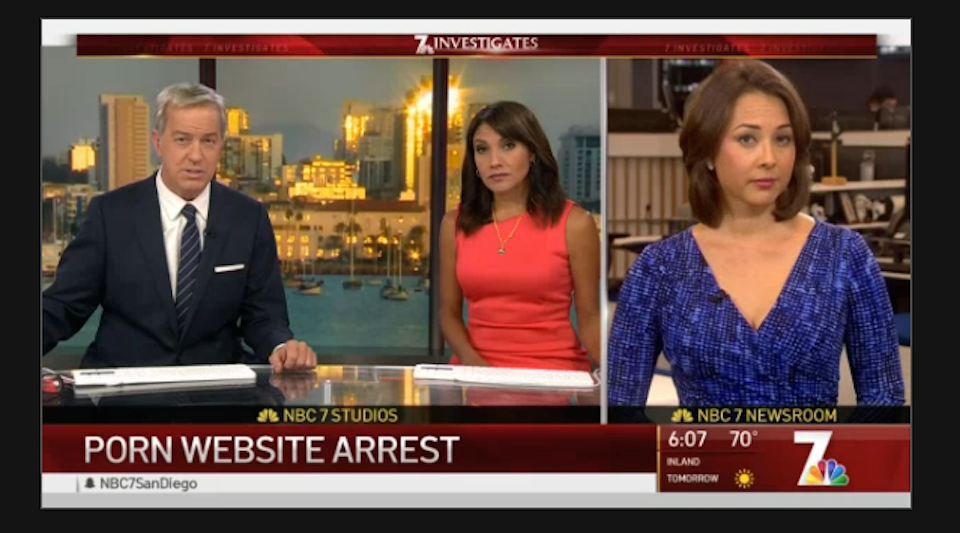 Criminal Sex Trafficking Charges
Last Thursday, October 10, the Department of Justice finally unsealed the criminal charges, following a series of sensational raids in San Diego.
According to the DOJ, the previous day, Wednesday, October 9, at approximately 7 p.m., FBI agents "executed a search warrant at an office located in the Spreckels Theatre Building located at 121 W. Broadway in San Diego." According to the search warrant, "the office was used by members of the conspiracy to operate the GirlsDoPorn website."
The statement revealed that Ruben Andre Garcia, 31, known by his performer name Andre Garcia, was arrested on Wednesday. Matthew Wolfe, 37, had already been taken into custody on Tuesday, October 8, by immigration officials and transferred to federal criminal custody. They were both arraigned last Thursday.
On Friday, October 12, administrative assistant Valorie Moser, 37, appeared in court and was arraigned. Moser was accused of conspiracy in recruiting women to appear in sex scenes, and a preliminary hearing was scheduled for October 22.
On Tuesday, Wolfe tried to post a $100,000 bond, but the judge denied his request and he remained in custody.
Garcia, facing some of the harshest accusations, has a detention hearing today.
Michael Pratt, age 36, whereabouts "unknown," was declared a fugitive.
The DOJ released a statement saying that "the owners and two employees of the popular adult websites GirlsDoPorn and GirlsDoToys were charged in federal court today with sex trafficking crimes in connection with a scheme to deceive and coerce young women to appear in sex videos."
The DOJ reported that the investigation followed a complaint against GirlsDoPorn owners Michael James Pratt and Matthew Isaac Wolfe, adult film performer and producer Ruben Andre Garcia and administrative assistant Valorie Moser.
The complaint alleged that the foursome "used deception and false promises to lure the victims, who had responded to ads for modeling jobs that would supposedly pay $5,000."
Eventually, according to the DOJ, "the women were told the job was really for adult films."
The complaint went on to explain that "to persuade the women to participate, the defendants convinced them they could remain anonymous and that their videos would not be posted on the internet."
In reality, however, "the entire purpose was to post the videos on the internet."
The DOJ then mentions that "according to financial records, the websites have generated more than $17 million in revenue," although it does not say over what period of time.
The circumstances, according to the DOJ and the complaint, were "not at all what was promised."
Some of the women, though the DOJ does not specify who, how many or when, were "pressured into signing documents without reviewing them and then threatened with legal action or outing if they failed to perform," while others "were not permitted to leave the shooting locations until the videos were made."
After the general public, including the models' family and friends, "eventually saw the videos online, some "victims" — the DOJ's word — were "harassed and ridiculed and estranged from their families as a result."
During the filming, some "were sexually assaulted and in at least one case raped." Some were "forced to perform certain sex acts they had declined to do, or they would not be paid or allowed to leave."
Pratt, Wolfe and Garcia were charged each with three counts of sex trafficking by force, fraud and coercion, with a possible penalty of fifteen to life, plus a $250,000 fine.
In addition, they were also charged with conspiracy to commit sex trafficking by force, fraud and coercion, with a maximum penalty of life in prison, plus a $250,000 fine.
Moser was only charged with conspiracy.
Adult Females 1-5
The criminal complaint mentions five victims, named as Adult Females 1-5, or AF1-5.
AF-1 and AF-4 are explicitly identified as two of the 22 Jane Does. AF-2 is identified as a witness in the civil trial.
The first count against Pratt, Wolfe and Garcia is for a violation around May 2015. The second count against the three men is a similar charge, dating to around October 2013. The third sex trafficking violation is dated to January or February, 2015.
The fourth charge, against Pratt, Wolfe, Garcia and Moser adds the element of conspiracy.
The state is seeking the forfeiture of the four defendants' property upon conviction, including property used to commit the alleged crimes and property obtained as a result of the crimes.
The attached affidavit, detailing Special Agent Lana K. Sabata's investigation, includes information and statements uncovered during the Jane Does' civil trial as the source of some of the state's evidence against Pratt and the others. Ed Chapin, an attorney for the Jane Does, denied on Tuesday that anyone on his team knew the FBI was investigating GirlsDoPorn.
It also strongly implies that Andre Garcia is the same person as "Jonathan" identified in a completely unrelated context last year by the National Center for Missing and Exploited Children (NCMEC). The NCMEC describes their "Jonathan" as someone "attempting to groom minors for sex trafficking" via an email from BeginModeling.com
AF-1, the 20-year-old who had lost her job and found Begin Modeling's "Jonathan" on Craigslist, alleges that the day before her shoot, Garcia took her to a hotel, made her undress for photos, and, after telling her he "needed to take her for a test drive before tomorrow," raped her.
AF-3 alleges Garcia sexually assaulted her in her car after the shoot.
AF-5 says that she was supposed to shoot with "Jonathan" in 2016 but changed her mind at the last minute, and Garcia allegedly told her that "he knew AF-5's name, where she lived, and that he was going to sue her for the fees she had cost." She then agreed to shoot with him.
She is the only model mentioned in the affidavit who says she read "GirlsDoPorn" on the contract.
The affidavit adds that "the FBI is still in the process of identifying all the women recruited, filmed, coerced, and defrauded by the conspiracy, as well as the proceeds made from these activities."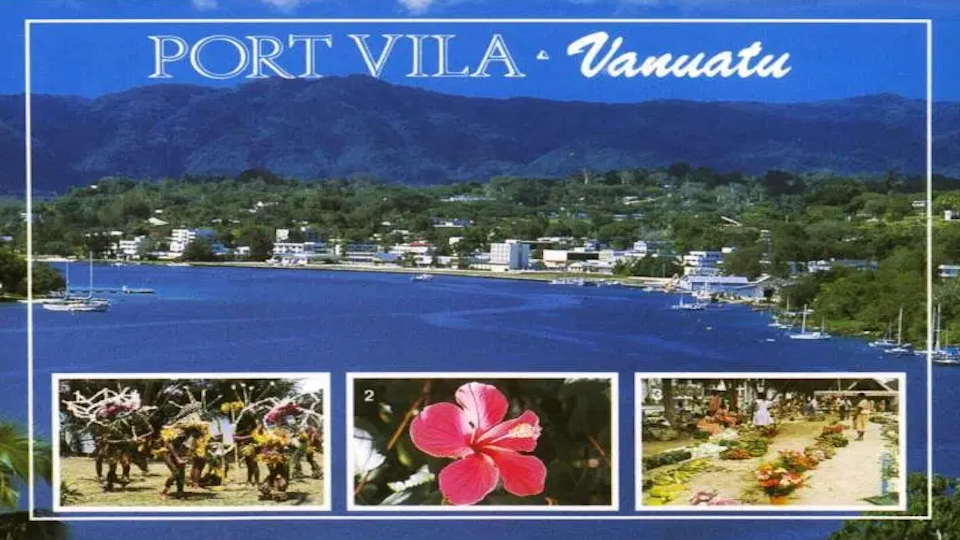 Tax Shelters in Paradise
Speaking of "the proceeds made from these activities" — what happened to the $17 million mentioned by the FBI?
Court filings identify more than a dozen U.S. and foreign entities belonging wholly or in part to Pratt, which he used "to operate his pornographic websites." The companies have humdrum names like BLL Media, BLL Media Holdings, EG Publications, UHD Productions, Tech Media Limited, M1M Media, Domi Publications and Sidle Media.
GirlsDoPorn.com is linked to yet another of Pratt's business entities, Oh Well Media Limited, with an address in the island nation of Vanuatu, in the Pacific Ocean, not far from New Zealand.
Wiederhold and Pratt's MomPOV continues to operate, with an address also in Vanuatu.
The Vanuatu entities, the Jane Doe lawsuit alleges, were set up by a mysterious man from Wichita, Kansas, named Kevin Holloway, an attorney with the expertise to set up complex offshore financial structures. The plaintiffs finally tracked down and served Holloway in September 2018, but Pratt's alleged offshore fixer, and, according to him, his "mentor," died a month later.
"What the Caymans are to the Caribbean," explain the Jane Doe lawyers, "Vanuatu is to the South Pacific."
The byzantine structure of Pratt's business, according to the Jane Doe lawyers, began to be carefully assembled by Holloway in 2006, a year before Pratt emigrated to the U.S. The earliest companies had peculiar names like Clockwork Productions and Bubblegum Films. In 2015, Holloway added several entities, allegedly controlled by Pratt and his partners, including Oh Well Media.
The criminal complaint unsealed last week shows that the controversial contracts that the models were given state that the producer of record of the GirlsDoPorn videos is "Clockwork Productions Inc. on behalf of BLL Media."
AF-1, the model who alleges being raped by Garcia, remembers her contract as having a logo for "Bubblegum Films" or "Bubblegum Media."
XBIZ could not access the site GirlsDoToys.com, which leads to an error message.
MomPOV continues to operate. Unlike GDP and GirlsDoToys, it is unmentioned in the FBI affidavit. The MomPOV 2257 forms, the website confirms, can be located at its address, in the tropical tax haven of Vanuatu. The company is listed as Bubblegum Films.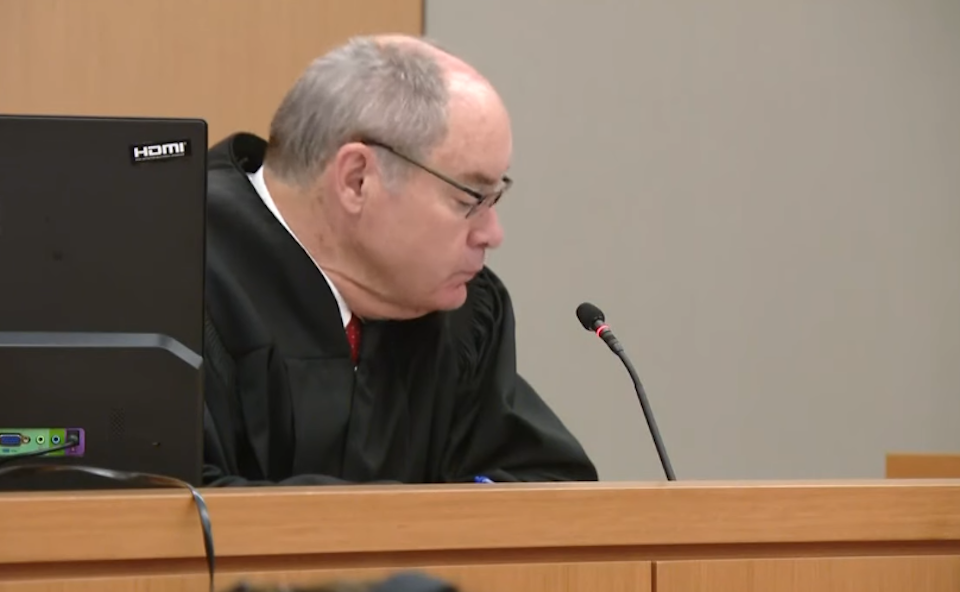 Force, Fraud, Coercion
The Department of Defense's Combating Trafficking in Persons unit defines "trafficking in persons" as "the use of force, fraud, or coercion to compel persons to provide labor or services or commercial sex. TIP involves exploitation of all types. TIP can include elements of recruiting, harboring, transporting, providing, or obtaining a person for the purpose of exploitation."
According to the CTIP unit, the three most common forms of trafficking are labor trafficking, sex trafficking and child soldiering. When an adult, according to the definition provided by CTIP, "engages in a commercial sex act, such as prostitution, as a result of force, threats of force, fraud, coercion, or any combination of such means, that person is a victim of trafficking. Under circumstances, perpetrators involved in recruiting, harboring, enticing, transporting, providing, obtaining, patronizing, soliciting, or maintaining a person for that purpose are guilty of sex trafficking of an adult."
In the GirlsDoPorn case, the state has the burden to prove that the three male defendants conspired to use, and then used, "force, fraud, or coercion" to compel the models "to provide labor or services or commercial sex" and that Valorie Moser assisted them as a co-conspirator.
Given that fraud, and also in some cases coercion, is what the 22 models in the civil trial are claiming, what was until last week a contractual dispute has now become a criminal matter.
Meanwhile, this past Tuesday, San Diego Superior Court Judge Kevin Enright denied a request by GDP's attorney, Daniel Kaplan, to pause the civil trial for 120 days until the criminal trial is solved.
"We're all in civil world and don't know what is going on in criminal world," Judge Enright said. "I shouldn't be making a decision this significant based on speculation [about the FBI probe's outcome]."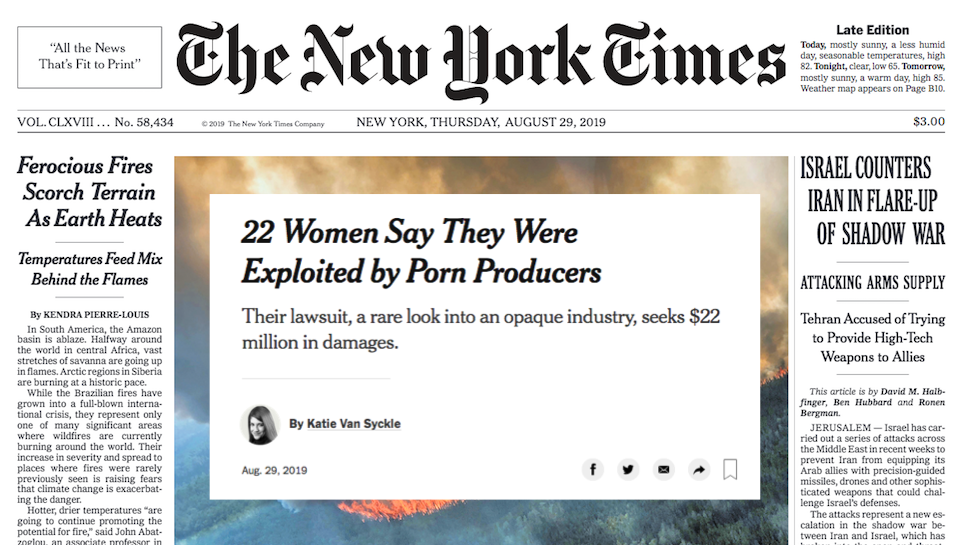 GirlsDontDoPorn
The mainstream press — even the liberal middle-class news source of choice, The New York Times — has referred to GirlsDoPorn as "an amateur porn company" and as part of "the porn industry." This feeds into the ongoing War on Porn narrative trying to paint deceptive practices as symptomatic of an industrywide way of doing business.
Any serious analyst of the adult business will readily see this as a misguided, inaccurate depiction. The GirlsDoPorn fallout is not a cautionary tale for an entire industry, but the expected comeuppance for some rogue operators that have had, from the beginning, questionable practices.
In a nutshell:
GirlsDoPorn is not "amateur porn." True amateur porn is non-commercial depictions of personal sexual activity. Reddit is full of it; you can search for it now. Amateur porn is made by non-professional performers getting it on and being exhibitionistic for free.
GirlsDoPorn, by design, targeted civilians who never wished to be part of "the porn industry" and then, as one of their videographers admitted under oath, lied to them. Legitimate porn producers do not misrepresent to their talent how their scenes will be distributed or promoted. The vast majority of porn brands and companies work with professional talent, typically represented by a licensed agent who serves as a buffer between the many hopefuls and the actual talent who make it onto a professional set. Anyone in the adult business will describe this time-tested process, not what GDP allegedly did, as the industry standard.
GirlsDoPorn is, or was at one time, a murky operation that has used the industry's network of distribution to peddle content that was sold as "pro-amateur" (aka pro-am), but which several of the women scouted have claimed was deceitfully presented to them verbally. The contracts they signed, according to the company, indicate otherwise. The San Diego civil trial, still proceeding in spite of the new criminal charges, is actually about this contractual dispute.
The New York Times, the Daily Beast, NBC and other news sources might consider reporting that the allegations against GirlsDoPorn's business practices are demonstrably abnormal for the adult industry at large. It is the duty of influential news organizations not to perpetuate the deceptive narratives peddled by lobbies that attempt to discredit all commercial expression of sexuality.
Further stigmatizing sex workers and industry leaders who continue striving to establish production standards and protocols, by bundling them with atypical rogue producers, gives dangerous rhetorical ammunition to the powerful forces lined up against consensual, commercial sexual expression.
As Samantha Cole wrote yesterday on Vice, "what GirlsDoPorn is not, however, is representative of how the porn industry works, according to a wide variety of people I've spoken to over the course of years of reporting about sex work. But anti-porn groups, sex worker-exclusionary feminists, and misogynists would like the rest of the world to believe otherwise. Many people who read about this case say that the women involved should have known better, or that they should feel shame for filming to begin with."
But if GirlsDoPorn is not porn, then exactly what is its appeal?
Camera Guy Suggestion Megathread

The forums where fans of the site congregate provide an answer. Take M. — not his actual handle — a GDP superfan who goes from forum to forum asking for the latest site update and "fanboying" about both models and male talent.
"Wish Dre [Garcia] would make the girls clean him off better after he nuts," M. offers, attempting to puppeteer the faceless male talent into a specific scenario. "Sometimes he makes them suck him off after a facial and sometimes he doesn't. I always enjoy post nut head a lot. Wish we could literally hear him whisper to them to 'suck it all out' after he busts."
The thread is called "Camera Guy Suggestion Megathread," which is supposedly read by the GirlsDoPorn creators.
"If GDP is looking to mix things up in the beginning of some scenes," M. opines in the forum, "they should have Dre sit on the edge of the bed. Have the girl be standing in front of him so we can't see his face [...] of course, and have him feel up, [jiggle,] smack their bootys."
The moderators interact with the fans, showing them photos of every new girl sitting on yet another generic four-star hotel bed. "They just posted a new Recently Completed Scene!" they announce, implying an intimacy between "they" (Dre, Pratt) and the fans.
The GDP superfans seem to feel a sense of ownership over the content, even if they don't agree among themselves. "It's always the same thing," one says. "Why are they changing?" says another. "Bring so-and-so from Ep. [xxx] back for another one!" demands someone else. The models are often referred to by their episode number.
"I think the issue with this is, that these chicks probably did it when they were young, through college, and needed the quick money," conjectures a forum member. "Most probably graduated now and don't need the money as much." But after a moment of clarity he adds, "but there's definitely heaps I'd like to see back through [episodes] 100-200. Mormon girl obviously. Ep. 126. Ep. 195 was underrated."
The fans also seem to live vicariously through Dre Garcia, and after he was recently replaced by someone they derisively refer to as "the bodybuilder," they were not happy.
"Fuck man," someone posted in frustration last week. "I'm 30 seconds into the sex scene and had to stop to post. Body building dude is literally about to bust a nut. I feel like with Dre this would be an all time great scene and I'm not even a minute in yet."
"Yeah this girl was pretty hot I thought," someone weighed in. "Would like her to come back for a second round with Dre. The bodybuilder falls short."
Someone on a reddit thread about the criminal accusations commented, "I used to enjoy GDP until I encountered their toxic fanbase and read about the complaints from many of the women."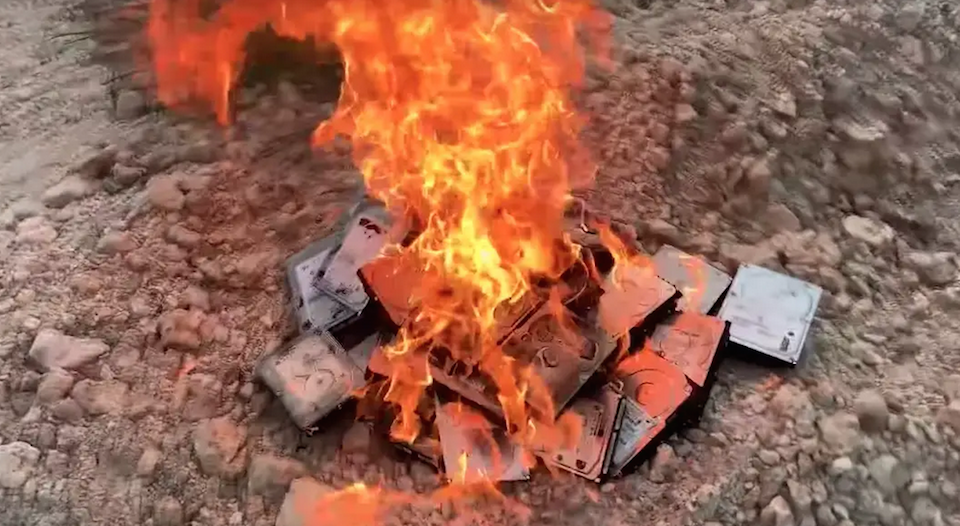 Hobbyists/Stalkers
The Jane Does' court filings also include a section about the GirlsDoPorn forum, which is used by Pratt and his associates to promote upcoming scenes. These forums, the Jane Does' lawyers allege, "are also the breeding grounds for much of the online harassment endured by the models."
Since 2009, the brief continues, GirlsDoPorn "has grown in popularity and has generated a cult-like following of hobbyists/stalkers who obsess over the amateur women featured in the videos."
Unfortunate and creepy as it is, it is not uncommon for porn "hobbyists/stalkers" to trade information about models with each other. But the Jane Does' lawyers make a further allegation:
"In July 2015, Defendants began publishing their victims' personal information ([legal] names, links to social media accounts, hometowns, pictures, etc.) en masse to a website called PornWikileaks.com."
Moreover, the Jane Does allege that in November 2015, the domain PornWikileaks.com was transferred to an email address belonging to Michael Pratt.
Turns out PornWikileaks — the infamous website which hosted a doxxing and extortion fodder forum against adult models called "Whore Hunting" — was owned, according to the Jane Does' filing, by none other than the GirlsDoPorn owner.
A few weeks ago, during the civil trial but before the Department of Justice had unsealed the criminal charges and arrested Wolfe, Garcia and Moser, it was publicized by Florida gonzo porn studio Bang Bros that they had bought PornWikileaks and "destroyed their servers" as a service to the adult community.
The FBI agent's affidavit refers to PornWikileaks as "a website connected to Pratt."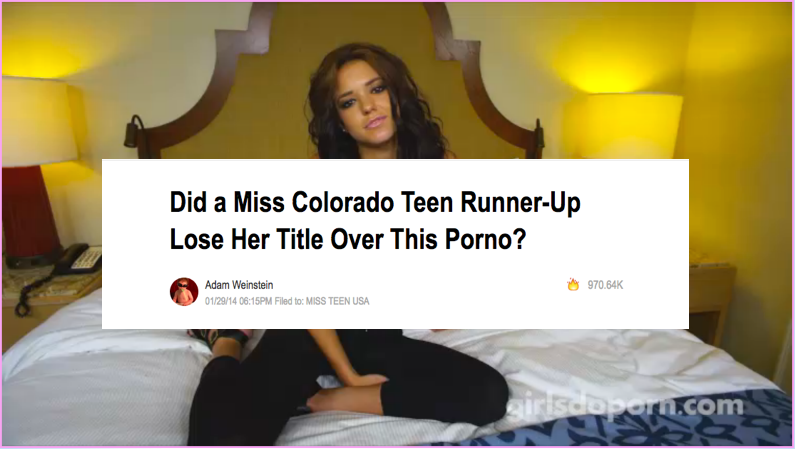 The "Realness" Factor
As news of the criminal prosecution started spreading, someone jokingly posted, "They actually did the classic casting scenario for real?"
A fan, posting on an online thread discussing last week's arrests, explained the difference between GirlsDoPorn and similarly themed "pro-am" sites: "compare the quality of the girls in GirlsDoPorn, who think they are only filming for a private collection, to the kinds of girls that are filming for actual porn sites like CastingCouch, ExploitedCollegeGirls, NetCalendarGirls, etc... and the difference is night and day."
Says someone else: "the 'Realness' factor is what does it for me, hence why [I] end up looking at amateur clips of cheating BBWs or grannies blowing a BBC in his car parked at a Walmart over GDP type sites."
GirlsDoPorn, in a sense, offered a Hefner-esque take on the 21st-century version of popular erotica. These are no stars — they're just "girls."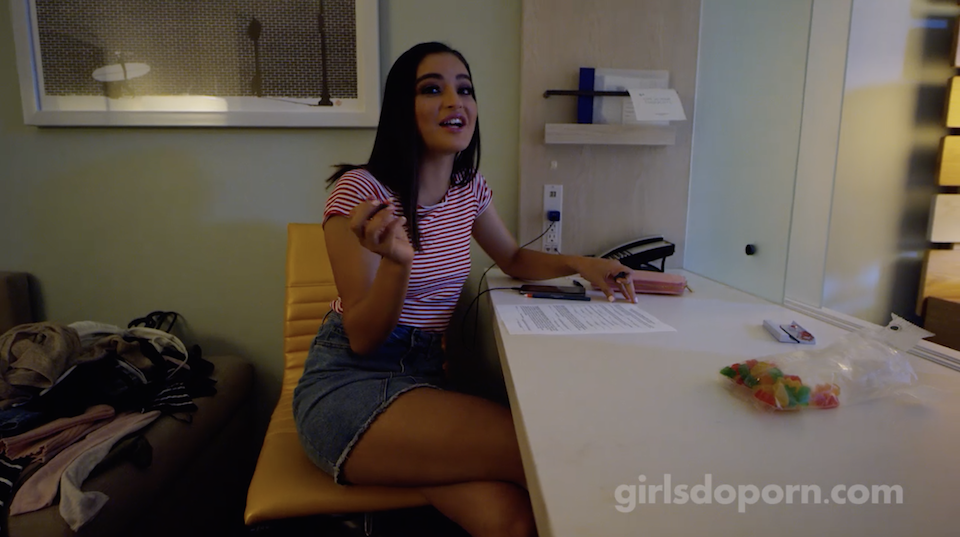 Episodes 439 & 443: Emily Willis

Some of the models who started with a GirlsDoPorn video have actually gone on to become bona fide adult performers. The site offered an entry point into the industry to Whitney Westgate, Sophia Leone, Scarlet Red, Layla London, Alexis Adams and others.
And then there are Episodes 439 and 443, released in 2018 and featuring the adult industry debut of one of the top rising starlets in porn right now, Emily Willis.
"I met someone on Tinder and we started dating," Willis told adult interviewer Captain Jack a year ago. "He had a site, GirlsDoPorn and he asked if I wanted to do a porno with him. I was so starstruck and I said, 'Yeah, whatever, let's do it!' I was really uncomfortable with it and after that, I fell in love with it. After my first two scenes with them, I decided I needed to do more. This needs to be in my life."
But that was a rosier, industry-sanitized version of what actually happened to the current Vixen Angel in those San Diego hotel rooms.
XBIZ reached out to Willis today and she clarified her account.
"I knew from the start that I was being lied to about the scenes," Willis texted XBIZ. "Everything they tried to say was a lie. It was pretty obvious to be honest. It just didn't matter to me, I wanted to do porn regardless, and after my first two scenes for GDP I've had no association with Andre or any of the guys."
Yes, the man she met on Tinder was none other than Andre Garcia.
"I only dated Dre for about a month when he asked me to shoot for them," she adds.
This morning, October 17, while the GirlsDoPorn team sit in jail and the site owner is a fugitive wanted by the FBI, the GDP forum moderator showed a green dot status: he was online, somewhere in the world.
The forum members did not refer to the current troubles directly, though someone did post last week, referring to Garcia, "in this country everyone is innocent until proven guilty[,] including Mexican studcocks!"
And this morning, like clockwork, GirlsDoPorn added its latest video — business as usual.
"This beautiful soft spoken blonde is 22 and is here to make her very first adult video," the description of today's episode reads. "She works as a waitress and is a college student so there's those pesky student loans to pay off and using her good looks and amazing sexy body seemed like a good way to make some quick cash!"
Gustavo Turner is News Editor at XBIZ. You can follow him on Twitter.