COLUMBUS, Ohio — The vice unit that arrested adult star Stormy Daniels in Columbus, Ohio, last July has been officially disbanded by the interim head of the local police department, after becoming the subject of a federal corruption probe and the indictment of one of their detectives two weeks ago on charges related to kidnapping and raping women while on duty.
Last Tuesday, interim police chief Thomas Quinlan announced via Twitter a "major change in [the] Narcotics Bureau — abolishing Vice Section assignments which fall under the Narcotics Bureau. Vice-related crimes will be addressed using a community-centered approach."
Chief Quinlan, who temporarily replaced the previous chief after her retirement last month, also posted a video confirming the policy change and the abolition of the vice unit.
This change in law enforcement strategy follows on the heels of the arrest of Vice Section Detective Andrew K. Mitchell on March 11, after a federal grand jury indicted him on seven counts, including, according to Ohio public media, "three counts of depriving victims' civil rights while acting under the color of law, two counts of witness tampering, one count of obstruction of justice, and one count of making false statements to federal agents."
The federal investigation found evidence that Mitchell had kidnapped and raped women while on duty. However, he still has not been charged by Ohio authorities with kidnapping and rape.
Federal authorities found evidence that Mitchell kidnapped one woman in July 2017 and, according to the March 7 indictment, "forced her to perform oral sex on him." He targeted a second woman, the indictment also alleges, in September 2017 and in the summer of 2018, and raped her under threat of arrest.
According to the New York Times, Mitchell also attempted "to tamper with witnesses and obstruct the investigation and also lied to federal prosecutors" about having sex with the women.
Through his lawyer, Mitchell has denied any wrongdoing. He could face life in prison if he is found guilty of these charges.
Last August, only a month after Daniels' confusing arrest had put the spotlight on Columbus PD's vice squad, the 55-year-old Mitchell, a 31-year-veteran of the force, shot and killed 23-year-old Donna Castleberry in his car.
According to police reports, Mitchell was "investigating a prostitution complaint" when he shot Castleberry "multiple times […] after she stabbed him in the hand." The charges related to that incident are scheduled before a grand jury next month.
Following national outrage about the Daniels and Castleberry incidents, Columbus Police placed the problematic vice unit under internal investigation. After a four-week review then police chief Kim Jacobs requested that the F.B.I.'s Public Corruption Task Force take over.
Along with Mitchell, the New York Times reported, "two other officers who had been in the vice unit were officially removed from their vice assignments after previously having been placed on desk jobs, police officials said."
Mitchell retired on March 13, two days after his arrest on federal charges.
"While today's decision is not a reflection on all the officers assigned to vice," said Chief Quinlan in his video announcement on Tuesday, "it has become clear there's a better method of addressing the community's needs when to it comes to the enforcement of prostitution, alcohol and gambling." Chief Quinlan also confirmed that the now disbanded vice unit was still under investigation.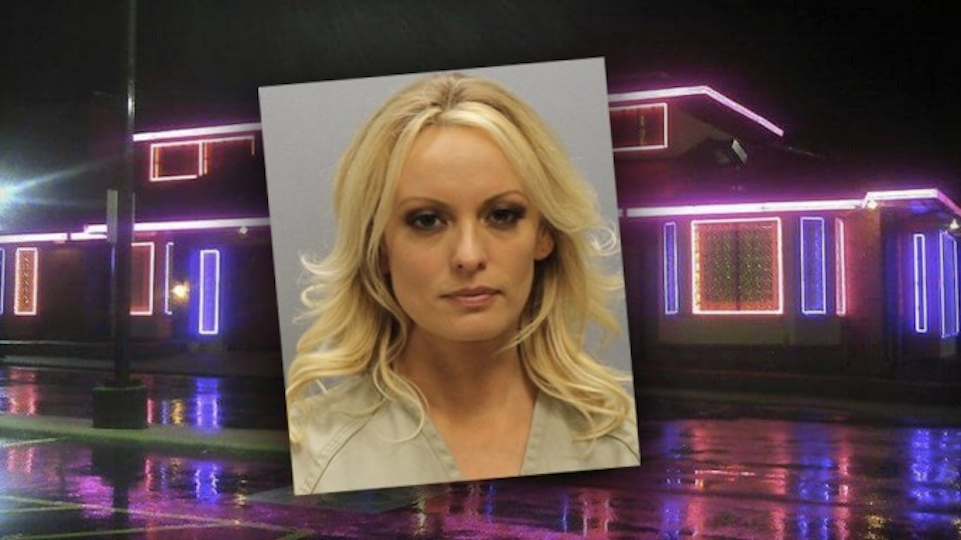 The Stormy Daniels Incident
Last July, the Columbus vice squad made national news when it sent four detectives to a well-promoted feature dancing appearance by Stormy Daniels at Sirens Gentlemen's Club. That investigation was supposedly a response to complaints "alleging prostitution and drug activity."
After what was by all accounts a pretty standard feature dancing performance, the officers alleged that seasoned adult performer, director and sex worker advocate Daniels "pressed patrons' faces into her chest, fondled the breasts of some women in the audience, and grabbed [one of the detectives] by the buttocks."
Daniels was arrested and charged with three counts of "illegal sexually oriented activity," a vaguely-defined misdemeanor in Ohio. The charges were dropped within 24 hours due to a technicality: the wording of Ohio's absurd, discriminatory law explicitly targeted strippers who appeared "regularly" at a local club, while it could be easily confirmed by Daniels' tour schedule that she was just passing through.
Media-savvy attorney Michael Avenatti, who represented Daniels at the time, wondered whether the arrest had been politically motivated because of the performer's internationally known stature as someone who had had sex with businessman and television personality Donald Trump a decade before his election as President of the United States.
At the time of her Columbus arrest, Daniels was suing President Trump, trying to invalidate the NDA they had agreed upon concerning their 2006 sexual liaison and accusing Trump's personal attorney, Michael Cohen of threats and intimidation.
After Daniels' arrest, then Columbus police chief Jacobs immediately acknowledged that "a mistake was made" and promised an internal investigation into the vice squad's real motivations for the unusual raid at Sirens.
Last January, as XBIZ reported, Columbus City Council approved a $150,000 settlement stemming from a federal lawsuit filed by two women arrested along with adult superstar Daniels at Sirens. Dancers Miranda Panda and Brittany Walters claimed they suffered emotional distress when they were arrested in what they say was a politically motivated sting operation by the city's vice unit. Columbus' city attorney dropped the charges against Panda and Walters a week later.
Daniels, who was host of the 2019 XBIZ Awards, filed her own suit against Columbus last January, seeking $2 million from the Ohio city over her arrest.
Columbus police claims that Mitchell, the now retired officer accused of federal charges related to kidnapping and raping women while on duty, was not one of the vice detectives who participated in Daniels' arrest.
Top photo: Indicted Columbus Vice Officer Andrew K. Michell (l.). XBIZ 2019 host Stormy Daniels (r.)