LOS ANGELES — Lip-locked with Abigail Mac, lip-smackin' in the back of the abbey; gale force winds blowin' deep, she's takin' me to church. Fallin' steep off the steeple, end your search for the finest merch. Come to a halt, with a lurch, hittin' the brakes on heartbreak.
Now you're perched, like a hawk, but don't gawk, 'cause she'll rock your body — timeless. Tick tock, fuck the clock, what a trip! But it's real, you're not trippin'.
'Cause this pulsin' is convulsin', pulls this rhymin' in a curve to trace her body, 'round and 'round which I'd never ever swerve. It'd be a crime more gaudy than John Gotti, not to worship all that drippin' holy water, sippin' goodness, holy goddess, all that rawness is so prime. Out of the park, she lays the Mac down like the Great Bambino, up to bat, ready to collect debts like a Gambino. Damn, her vino is fino! That wine is fine.
So get your ass on bended knee. She can hear your every plea, to be pleased, if you please, let her seize you and the day. Grippin' that dark-haired mane, spark-flared flame ignites without compare. Do you dare to rise above, all these shallow basic dames, takin' the Lady's name in vain?
Hallowed finesse, blessed by ambition, hits the ignition, zero-to-69 quicker than a Lambo driven by Rambo, Mac's on the attack and thick with it. And every night, without fail — like a nightingale — Abigail strips and whips those fit-as-fuck hips.
Blastin' off supersonic, she's Mach 1 jet speed hittin' No. 1 spots, OG with the G spot, gettin' the pop, pop, pop shots! Bang bangin', afterburners hot in her wake, don't mistake those second takes; she's reflectin' on perfectin' all that cinematic flair. So dramatic! Automatic? No, her craft is well-honed like that body is well-toned.
Ahem. Ladies and gentlemen, may I present our exclusive interview with 2019 XBIZ Female Performer of the Year, Abigail Mac.
XBIZ: Alright, let's get this show on the road. How are you?
Mac: Hey, what's up?
XBIZ: Pretty stellar year since the last time we talked! Take us through some of your career highlights before the big one … before your "Abigail" showcase.
Mac: Well, before "Abigail," I was working almost every single day and a huge highlight was "Fantasy Factory: Wastelands." That was the second installment of that series and when Girlsway approached me, they said there were two leads essentially, April O'Neil and I. And they wanted me to play a bad guy, which I had never really played — I had played a mean person before, but not an "evil bad guy." The villain.
XBIZ: A proper villain.
Mac: Yeah, exactly. So that was a huge highlight doing that movie. Girl/girl was where I started in porn, and I still take a lot of girl/girl scenes. I do it more than boy/girl.
XBIZ: For sure.
Mac: And to do an acting role? I love acting! A lot of people joke, and they say, "Oh, porn acting is not serious." I take it very seriously.
XBIZ: As you should!
Mac: And I love it. You've been on set with me and you know I'm really into it. I want to do multiple takes. I want to get it right. So, that movie was a big highlight for me.
I'm trying to remember that whole year now! Haha. What I have at home is one of those big calendars and I have to write down everything so I don't forget. Because, feel like every day was something new, something crazy.
I worked for everybody. I worked for Jules, I worked for Brazzers, I worked for Girlsway and I worked for Pure Taboo for the first time, which was really awesome.
XBIZ: Tell us about that.
Mac: My first scene for Pure Taboo was "Strikes a Chord" with Seth Gamble and Aidra Fox. I was also in a "Vivid Girls" scene.
XBIZ: And you were in that 80s-themed "Girlcore," yeah?
Mac: Yes, I did "Girlcore" for Bree Mills, which was amazing. I couldn't feel my legs the next day, haha. I was supposed to be an aerobics instructor, and we were actually doing aerobics.
XBIZ: Doing full-on aerobics?
Mac: Yeah! And so, I had probably done 100 to 150 air squats, which at the time, doesn't hurt.
XBIZ: Because you're pretty athletic.
Mac: I am pretty athletic; I work out every day. But the next day, I could barely walk. Carter Cruise was tweeting me; she was like, "I can't get out of bed. I can't feel my legs." I'm like, "It's not my fault. We just got really good shots."
But it came out really amazing. We actually had a crazy workout. I worked with Scarlett Sage for the first time, too. She was amazing; I think she's going to be a huge star in this industry. I think she's going to do very well. She's so smart, so cute, so dope. Amazing performer.
And then, for the first installment of "Vivid Girls"…
XBIZ: What was it called?
Mac: "A Cruel Bet," which was like an homage to "Cruel Intentions." It was with Whitney Wright and Seth Gamble, who are both amazing. They're just great actors and great performers. They also take their jobs very seriously.
XBIZ: Let's pivot now to "Abigail," which was a landmark movie last year. I mean there were a lot of big deal movies, but this was in a class of its own.
Mac: It was the biggest deal. Greg Lansky's social media team was insane. Like, the marketing on that, the money put into it, the time, the sweat, blood and tears. There were hundreds of people involved.
XBIZ: I can't remember the last time I heard about a 13-day shoot. Nobody does that anymore. People are lucky to get three to five days on major tentpole features.
Mac: I'd never even heard of a five-day shoot after being in the industry for six years. The longest I've ever been on a feature set is three, maybe four days tops. I mean, I started with Digital Playground back in the day and I was on a contract with them. I did four or five features and I think there are usually around three dates tops for each shoot. Mind you, we shot for 12-plus hours. But they are still three-day productions because the budget wasn't there.
And so, for "Abigail," they come out with the script, I read it and I was like, "Well, how long is this going to take to shoot?!" And they were like, "However long it takes!" So they sent me the breakdown and I said, "You guys, this is over two weeks of shooting!" They were like, "That's right," and I was all, "Hell yes! Hell yes!" So many different sets at different locations — we had days where we just did pickup shots. We had days where we just did photos in the studio. I've never been on a huge mainstream production, but this must be what it's like.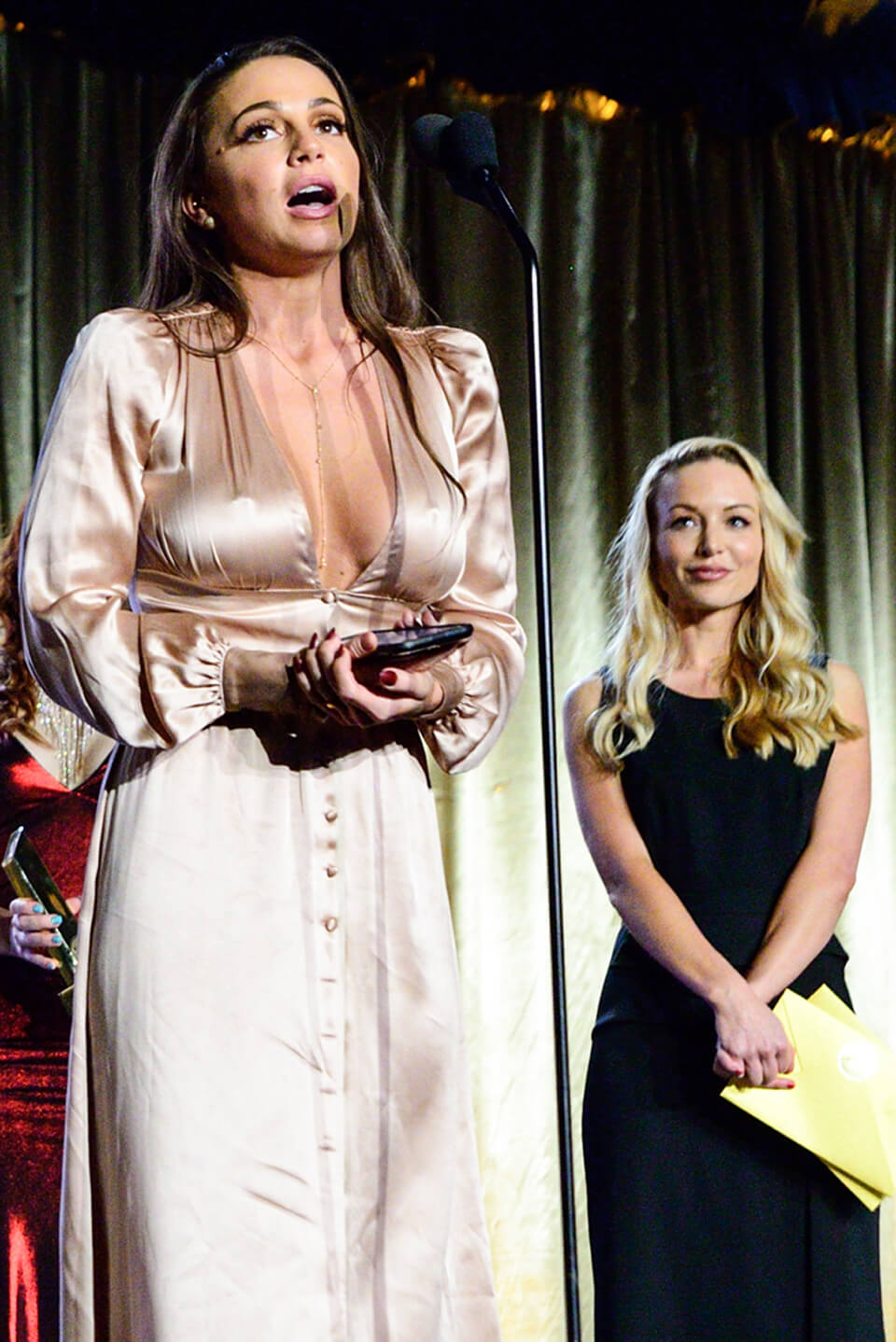 XBIZ: For sure.
Mac: I go in and there's catering, there are snacks, there's coffee, there's hair and makeup, sound people and lighting people. Like, we went on set some days and there were 50 people there … production managers, people making sure things were going right, four different PAs. Like, it was just insane.
XBIZ: Absolutely. To see Kayden Kross' directing trajectory is truly fascinating, especially since we started zooming in on her revamped TrenchcoatX movies back in 2017, starting in January. She gave us the exclusive on her first big scene for "Sacrosanct," since it centered on Katrina Jade, who had just won 2017 XBIZ Female Performer of the Year.
And then we interviewed her that summer for a huge two-page spread and did a massive review of the finished "Sacrosanct" movie. That also got a two-page spread and by the time the 2018 XBIZ Awards rolled around, she had a real shot at competing with Greg Lansky in the vignette categories. He had basically monopolized them until then.
Mac: Yes. I can definitely see that.
XBIZ: It was just win after win after win, because how do you compete with his vignette abilities? And then, in addition to "Sacrosanct," Kross also released "Sun-Lit," a very bright and gorgeously cinematic movie. By the time we hit the 2018 XBIZ Awards, she ends up sweeping the vignette categories. And we'll get to how much y'all swept the 2019 XBIZ Awards later in this interview!
Mac: Haha, yes!
XBIZ: But at the 2018 ceremony, that was a big statement, given how competitive those categories are. Then, a few months later, she ends up joining the Lansky empire and I was like, "Yes!" Now, she had access to his marketing, funding and finesse.
Mac: That's the thing I love about Greg, is that he sees talent, and he goes, "Come work with me. I'll give you the backing, and I want you to be creative and do whatever you want." So, with all of her projects with Greg — especially my project, which is obviously the one I really know about — Greg just told us, "Shoot it. I trust you guys. I want you to make it as dope as you possibly can. Whatever you need, you have my blessing. Go do it."
He wasn't even there. He just was like, "I trust Abigail. I trust Kayden. Here's this crew. Go do what you need to do." He's that person in the back cheering you on, "You can fucking do it!" And he's not micromanaging anybody. He's just like, "I believe in you guys. You guys are artists. Go create. Go do it. It's going to be amazing. I know it's going to be amazing." He just gives you creative freedom. It's incredible because he knows who's talented. He knows people that can create something.
XBIZ: So what was that process like, doing "Abigail"? Obviously it was a super long and intense shoot, because I remember Kross — when we brought her in for a video interview last year focused on "Abigail" and her projects for Greg Lansky, plus TrenchcoatX — saying that you were always the one on set late as fuck 3 a.m. in the morning saying, "Let's get one more take."
Mac: Well, she was like that too. It was great working with Kayden. She's a perfectionist. So am I.
XBIZ: I like to think of it as "hate the art into submission until it's decent, and then maybe, it will shine." I hate everything I write, and brutalize it into some semblance of passable, by ceaselessly snipping, chopping, pruning, etc. and even with the "final" product, there is always some dissatisfaction, but enough satisfaction to go, "Okay, that's not so bad."
Mac: Exactly! It could always be better, so let's do it again. We could do more, so let's do more.
XBIZ: For sure.
Mac: And I remember looking at Kross — even when I was like really, really tired — and she was like, "Do you want to do one more take?" And I said, "Is it the best thing you've ever shot? Is it so dope?" And she said, "I think we could do another one." And I was like, "Let's do another one." Like, we both pushed each other so hard.
We sat down at dinner before we even started shooting, and were going, "I want this to be different. I want this to be the biggest thing anyone has ever shot before in the industry." And she's like, "I got you." She's like, "So do I. I want this to be the biggest thing that everyone looks at and are like, 'Wow.' Let's try to even come close to that." And I feel like we were on the same page the whole time.
I've never been pushed like Kayden has pushed me — in a good way, to where she'd say, "You could have your mannerisms better. You could say this in a different tone to make it feel more. What if we did this while you were having sex?" And, "Oh my gosh, I love it when you use your tongue like this. Can we get this shot?" And, "Wait, the light is hitting you so good right now — let's do a wraparound shot this way because it's just going to play so well."
So, it's like we took these little things that could have been on a tripod, you know, and made it so intricate. Everything had a feeling, everything had an emotion to it and everything made you just look at it and be silent going, "We did it. We did the damn thing." You know what I mean?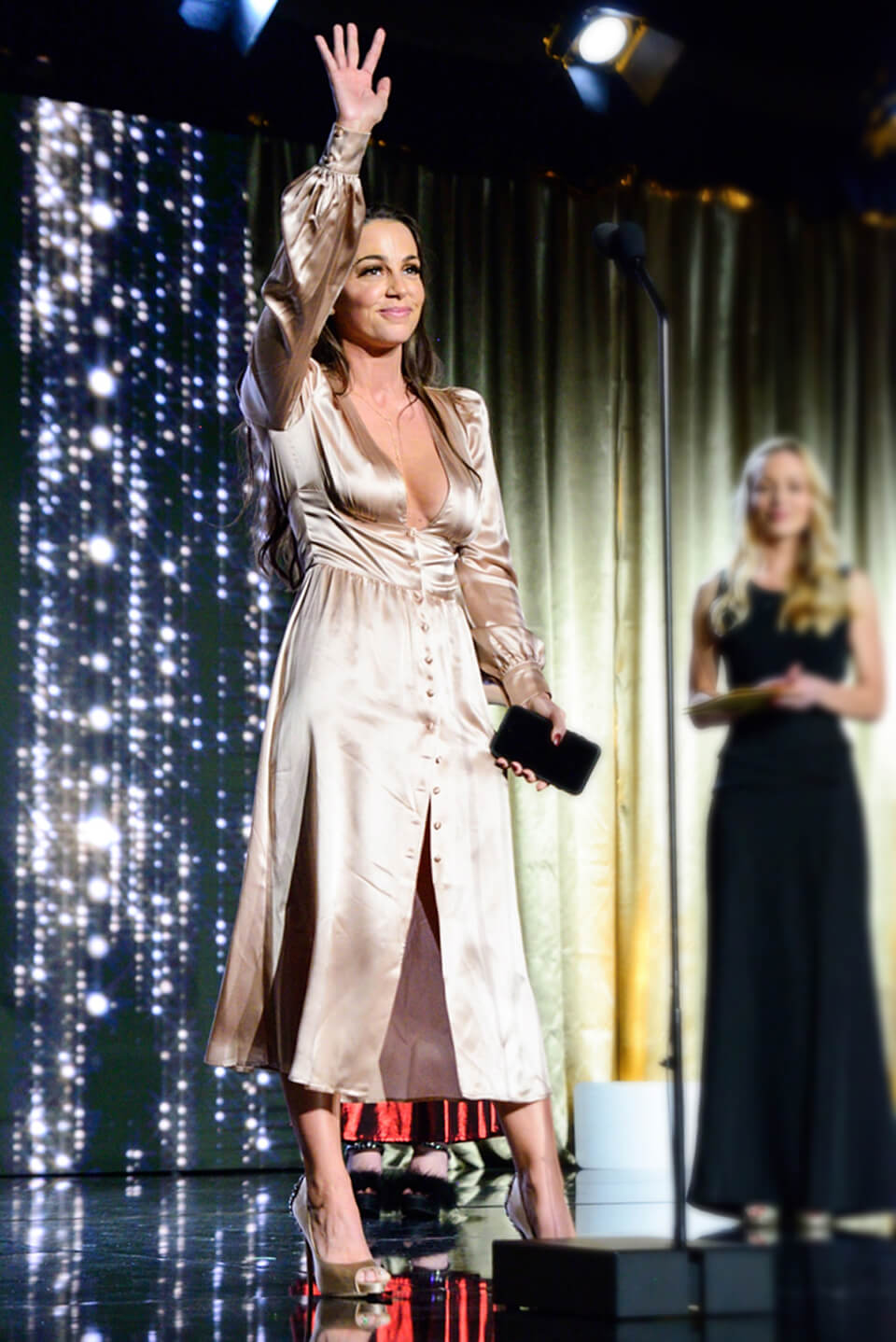 XBIZ: Absolutely, because in less skillful hands, it could have been a hot mess or a bloated movie.
Mac: Yeah, it could have been fucking everything. But her vision is so next level. For someone to come up and look at me, being like, "This is how the scene is. This person just did this to you — not to your character, this person did this to you. How does that make you feel? Act the way you feel." You know, it was so real, to where I felt like I was actually in the situation. I felt like the character and it just started flowing and creating this beautiful thing.
I've never done anything like it before in my life. And I still think about it — like, I'm sad that it's over. I remember texting Mel the makeup artist and Rick Shameless the photographer, who are both good friends of mine, and going like, "I miss it. I want to do it again." Shooting my showcase, "Abigail," was seriously the highlight of my life — not just my career, but my life.
XBIZ: I believe it.
Mac: I'm just in awe of being on that project. Yeah.
XBIZ: And then, at the 2019 XBIZ Awards, we just couldn't keep you off the stage in so many categories, haha, since "Abigail" totally slayed.
Mac: I'm very grateful for you because, like — serious — I've never been more proud of anything I've done in my life besides that project. And I'm so grateful for Kayden and for Greg and for Tushy and for Mike Moz and all of them. I'm just very lucky that they chose me to do this. They could have chosen anybody, but they chose me.
XBIZ: I'm glad they chose you.
Mac: I am too!
XBIZ: I think you're extremely multi-dimensional.
Mac: Thank you.
XBIZ: And very ambitious and very intelligent.
Mac: Oh, thank you.
XBIZ: And then Kayden Kross is one of those, like, three or four people in the industry you'd point at and be like, "Genius. She is actually a genius."
Mac: Yeah, an evil genius. That's what I call her, haha.
XBIZ: Greg Lansky, Kayden Kross and Bree Mills. Just absolute fucking geniuses. Very different ones, mind you, but geniuses nonetheless.
Mac: Yeah, all different.
XBIZ: I don't think anyone comes close to Greg's marketing, his knack for identifying trends and riding the wave is just top notch.
Mac: He's very on-trend. Mm-hmm.
XBIZ: And Kayden, of course, is as literary as she is cinematic.
Mac: Yeah, Greg put this thing in my head when I first started, because I was originally just camming in Oregon before I did porn, but he e-mailed, "I want to shoot you for Reality Kings' 'We Live Together' — which was a girl/girl project.
XBIZ: Okay, gotcha. This is when exactly?
Mac: When I first got in six years ago, camming before shooting.
XBIZ: So, you cammed how long before then?
Mac: I cammed for like a year or two before. I was in Oregon. I was a broke college student. I was making money, but I was like, "Oh my gosh, a plane ticket to L.A. is so expensive!" And then when I finally got to L.A. I hit him up and I was like, "Hey, I'm in L.A. and I'd love to shoot you." And within a week, I was on his set.
And he shot me all the time for that site. He built up my girl/girl career. But I remember him saying to me, "Look at her. Tell her what she can do to make you cum. Tell her what she can do to make you feel good." And when I transferred into boy/girl, he was like, "Tell him what he needs to do to make you feel good." And no director has ever said that to me before.
XBIZ: Interesting.
Mac: Usually directors say, "Okay, we're going to do a blowjob. We're going to do this." No one's going, "No, no. This is about you. This is about you feeling good. Tell him how you can feel good because I want to see you have the best sex of your entire life." And that's what sets Greg Lansky apart from everybody else, is that he loves women.
XBIZ: Actually loves them deep down.
Mac: Yes, he loves women. He respects women. And he wants the scene to be about the woman. Yes, he wants it to be about the man too, but it shouldn't be all male-focused. It's like, when you ask, "How can I make you feel good? How can I make you cum?" This becomes a mutually beneficial thing. You're going to make me feel good and worship me, and therefore, I'm going to worship you and make you feel good.
And we're both going to end this scene, and we're both going to be like, "Wow, that was incredible sex. I had so many orgasms." And everybody needs to see how people can please each other, you know, and benefit each other. And so, I think that's what really sets Greg apart — is he focuses on everybody feeling good, especially the women — since that's not really a big focus in this industry. Greg is like, "Slow down. Slow down. Look at her. Ask her what she wants."
XBIZ: "She's not a machine."
Mac: Yeah. It's like, "I don't care if it's slow. I don't care if it's uninteresting. If you have an orgasm, that's what I want to see." And he's still like that today.
XBIZ: And now, some directors are looking at clips and camming, even social media, seeing how much fan-to-performer intimacy drives things these days, versus just getting off quickly — especially when you can just get off for free so many places.
I think that definitely puts Lansky on an almost prophetic level early on, channeling that onscreen passion, which now, of course, is what people are showing up for — what they're paying for. That's very interesting. I'd never heard that story before.
Mac: It's a really important story.
XBIZ: For sure.
Mac: Like now, when I go onto set and people are like, "Okay, well, we have a few minutes. He can cum now." And I go, "No, I can cum first. Then, he can cum." It set a standard for me in my mind. That's why I'm the performer I am today, because now I go, "I am a strong woman. I am a sexual woman. I love sex, and I love performing. But I need to get something out of this."
XBIZ: Absolutely!
Mac: "This is just as much about me as it is about you," I say to my co-stars. "And if you treat me well, I'm going to treat you so well. The vibe that you give me is everything." It's like when I'm working with Isiah Maxwell. He's exactly like that. He's like, "I could go down on you forever. How can I warm you up?" You know, he loves it. He genuinely, genuinely loves it. And he's like, "I want to make you cum first." Good choice on naming him 2019 XBIZ Male Performer of the Year, by the way!
And, of course, I'm like, "I'm going to make you cum now. I want to do everything!" It's at that point where you can do anything you want — I'll do whatever you want. When you get in that level of ecstasy, it becomes something different. It becomes art at that point.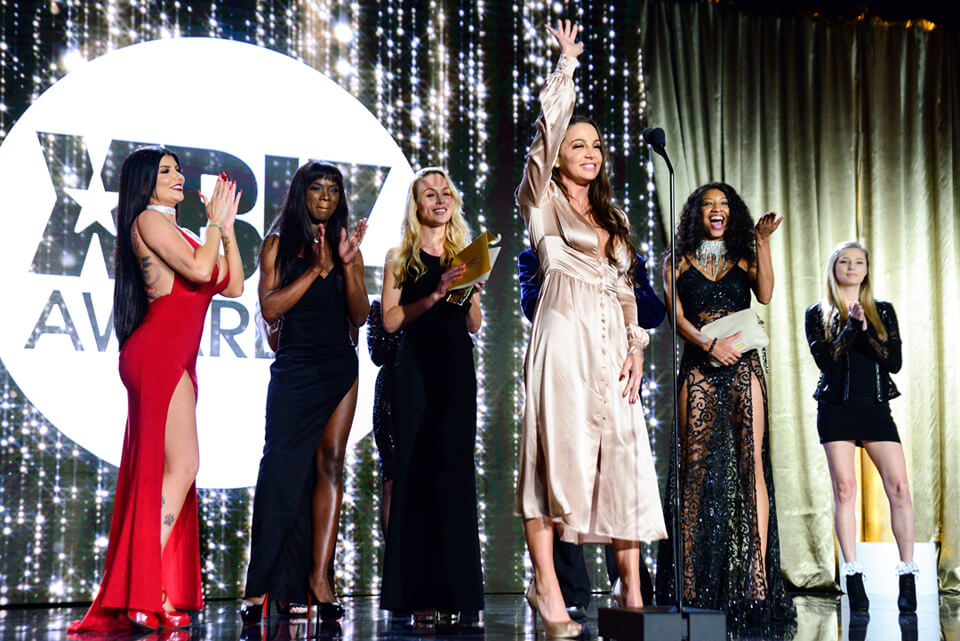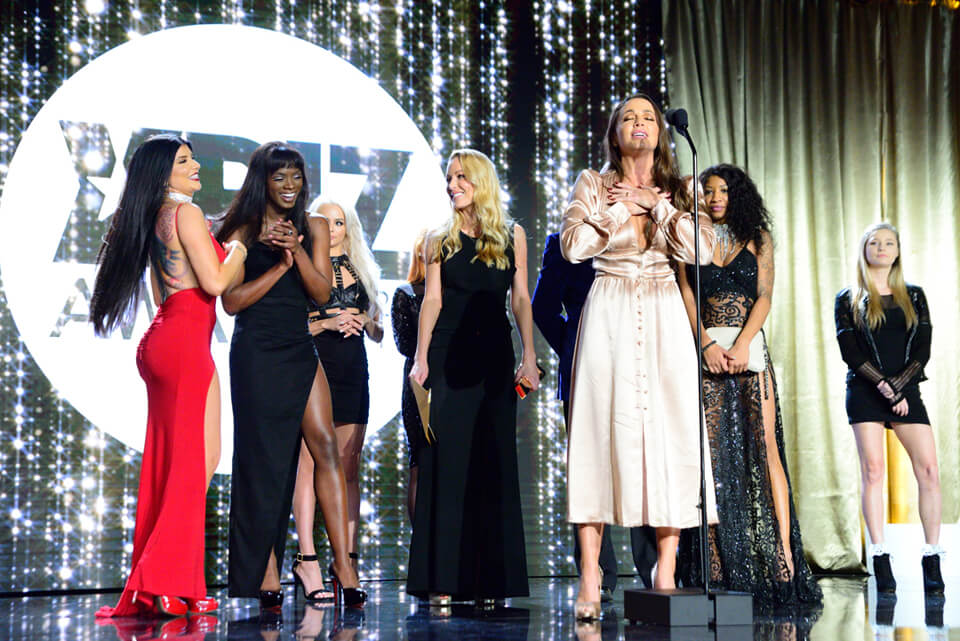 XBIZ: For sure. And I think you have a very unique spirit that inspires very strong emotions in people.
Mac: Sex is emotion.
XBIZ: You draw people to you with that warmth. It's very rare.
Mac: Oh, thank you! A lot of people are afraid of their emotions. I think I was for a really long time. We all have a past. Whatever. But how can you perform without being emotional? How can you have sex without being emotional? I mean, even if people are like, "Oh, this is just my job" — I understand that. But with sex, it's so personal. It's so intimate. And I never want to put anything on a camera where it's like, "Well, they're performing." Yes, I am performing. But I'm making this so personal to me.
And a few years ago, I stopped thinking, "What does my body look like? Am I opening up enough?" I don't care about that anymore. Yes, I know how to open up my body to a certain degree. But people can tell that I am just 100 percent there. I forget that the camera is there and I go, "How am I going to feel soooooo good right now? What can I put out there? I'm going to keep it organic." People are going to see my face get beet fucking red when I have an orgasm and be like, "I've never seen that before."
Or when my vagina has, like, stringing liquid coming out of it — that's real shit and people want to see authentic, real passion. Like, this is what it can be, and you can leave and feel so good about yourself and so good about your day. Not only are you supporting yourself and making money, but you're having this real raw experience that a lot of people never will have.
And you can share that experience with the world, and people can be inspired to have those experiences as well too. So, it's this beautiful thing. If someone says this is not art, they're crazy. Having that raw emotion and that passion and that visual stimulation is incredible.
XBIZ: For sure.
Mac: Yeah. It's like you can almost get high on it. And I think a lot of people do. You know, some people choose alcohol or whatever. Try having really amazing sex, mind-blowing sex — you'll get addicted to it. Yeah, you will. In a healthy way I mean.
XBIZ: Do you exercise, diet or meditate a special way?
Mac: I don't meditate because I drink too much caffeine, haha. I'm addicted to caffeine. It's like my one and only vice. I love Yerba Mate. I love being stimulated for some reason. That's just the person I am and it's okay.
I don't meditate, but I do work out every day. So, I try to keep my diet very clean. I eat organic, but I just kind of eat organic meats, veggies and rice. Very basic, very boring. And then I have my cheat days for having cheeseburgers and stuff.
Working out, I do body-building and weightlifting exercises every single day. I've been trying to balance it lately, because I've been weightlifting for like five years now, where I'll do like 35 to 45 minutes of weightlifting and 30 minutes of low-intensity cardio. Pretty much, I'll put the treadmill at the highest rating and just walk for 30 minutes. But yeah, I've been doing that for almost my entire career.
XBIZ: This is kind of an odd question, but do you feel energies? Or are you sensitive to any of that stuff?
Mac: I think that women in general are very sensitive to energies, and I know that when someone walks in the room — a friend or a lover of mine — and they're upset, it's like this aching in my heart. I'm like, "What is wrong? What's going on?" And they'll be like, "Oh, I was just in traffic and this and this and this." And I'm like, "Yeah, I feel it. You need to calm down." I almost get panic attacks because of that.
Or even when I'm on set — and I've found this to be really helpful — I can feel someone being uncomfortable, a guy or a girl. I'm like, "Are you okay?" And they'll maybe say, "Actually, I'm really uncomfortable." And I'm like, "Well, let's do something else. You know, next time, just let someone know if you're ever uncomfortable or if you're feeling weird in a situation." I really feel like I can sense those, for sure. Yeah.
We're emotional, sensitive beings. I'm not afraid to cry. I'm not afraid to yell. I'm not afraid to laugh because that's who I am. And that's okay. I think a lot of people, especially nowadays, are afraid to be whatever emotion: happy, sad or scared, etc. We all feel those, however.
XBIZ: We all feel dark and light, and then the darkness goes away faster if you're not like, "Oh, I've got to be upbeat all the time."
Mac: You don't. I'm an upbeat person; I'm not upbeat all the time. I'm sad sometimes, and that's okay. I think the world needs to know, especially with big influencers or people who are doing well, that we're all sad sometimes. We all deal with it, and it's okay. You're going to be okay. Just keep going. And I really try to tell people that. A lot of people suffer with mental illness or depression.
XBIZ: You don't even know what's going on half the time, deep down.
Mac: Yeah, you don't even know what's going on. And I think they feel alone. And I think it's so important for people to not feel alone because even the happiest person feels sad sometimes.
XBIZ: For sure.
Mac: Life can get you down. Life can be really hard. It can be really awesome, but it can be really hard too. I always try to tell people, "I'm a very emotional person." And that's okay — I'm going to own it.
XBIZ: I think that if you own it, then it's not draining. Then even your sadness becomes like an enchanting lesson to watch. I'm getting kind of abstract now, haha. Let's fast forward to this past January. What was it like dominating the 2019 XBIZ Awards?
Mac: Like I was in a dream. It didn't feel real. It didn't feel real even the next day. That's kind of how I felt. I had all these things that I wanted to say, and I wrote some things down to say just in case I forgot. I just feel like I forgot while I was up there, haha. I was trying to thank everybody and just be grateful. But literally, I was in shock for 48 hours. That's how I felt.
I do have stage fright as well. Public speaking has always been terrifying for me. But I didn't want to overprepare because I didn't want it to be rehearsed. I wanted to be just raw and authentic, of course, and just show who I was. And, um — yeah, it was incredible to get recognition. It was incredible to feel like I was accepted, to feel like I was a part of something.
XBIZ: We don't normally go "overboard" like that with lavishing tons of trophies on someone. That's not something we normally do. But, both you as an overall performer and the "Abigail" showcase merited it. It uplifted everyone: you, Kayden Kross, Lansky. And I mean, it was going toe-to-toe with Bree Mills, who regularly dominates feature movie categories.
Mac: Yeah, Mills is really good. I was actually on the set of "Girlcore" with Bree the day before I did my showcase with Kross. The whole day! And she was asking me what I was getting up to. I love Bree. We have a very amazing relationship. She's great to me — always has been. And I was giving her little tidbits.
I was like, "Yeah, I'm about to shoot something really big." And she asked, "What are you shooting?" and I said, "You'll see. I'm just letting you know: I took acting classes for it. It's going to be the biggest thing you've seen this year." She was like, "Okay! We'll see." It's like this really friendly banter. And then, when she does something dope, I'm the first one going, "This is so amazing."
You know, I see her at the XBIZ Awards and I'm like, "Keep killing it, because if you push harder, then I'll push harder. If I push harder, then you'll push harder. We're going to make each other better. And then, we're going to collaborate on projects, and it's going to be dope as well."
XBIZ: She's our twice-crowned Director of the Year for a reason!
Mac: I know. Come at me, Bree!
XBIZ: It was cool — pretty ballsy too — that half of those big Gamma directors, the month before the award show, were tweeting out, "Abigail Mac for Female Performer of the Year." Man!
Mac: I can't believe they did that!
XBIZ: That's quite an endorsement. Obviously, when all was said and done, we fully agreed with their assessment, haha.
Mac: It's crazy, because we've all been friends for years. Craven and I go back since the beginning. You know what I mean? I did Girlsway's first feature that they ever did — this Halloween thing in Big Bear like five years ago with Remy LaCroix; we were in a cabin for a week together just going crazy. Lola Foxx was on it. Gosh, I don't even remember now. But anyhow, we're all friends now.
We've been on hundreds of sets together. We've spent hundreds of hours together. We're so close; we know each other. And when Craven became the main director for Pure Taboo, I was there going, "Hell, yes! You fucking deserve this! I love you!" You know what I mean? I'm there too, supporting them. Or like, when "Fantasy Factory" won and people were too shy to go onstage, I was the first one up there going, "Let's go!" I was there. And I was there on the red carpet going, "They've been supporting me."
They hired me every single month. They've been hiring me for five or six years now. They're one of my biggest supporters ever, and I'm here for them. These are my family. And so, when they say that about me, I'm like, "Thank you. I feel the same way about you." If you win, I'm going to be up there screaming your name because I love you.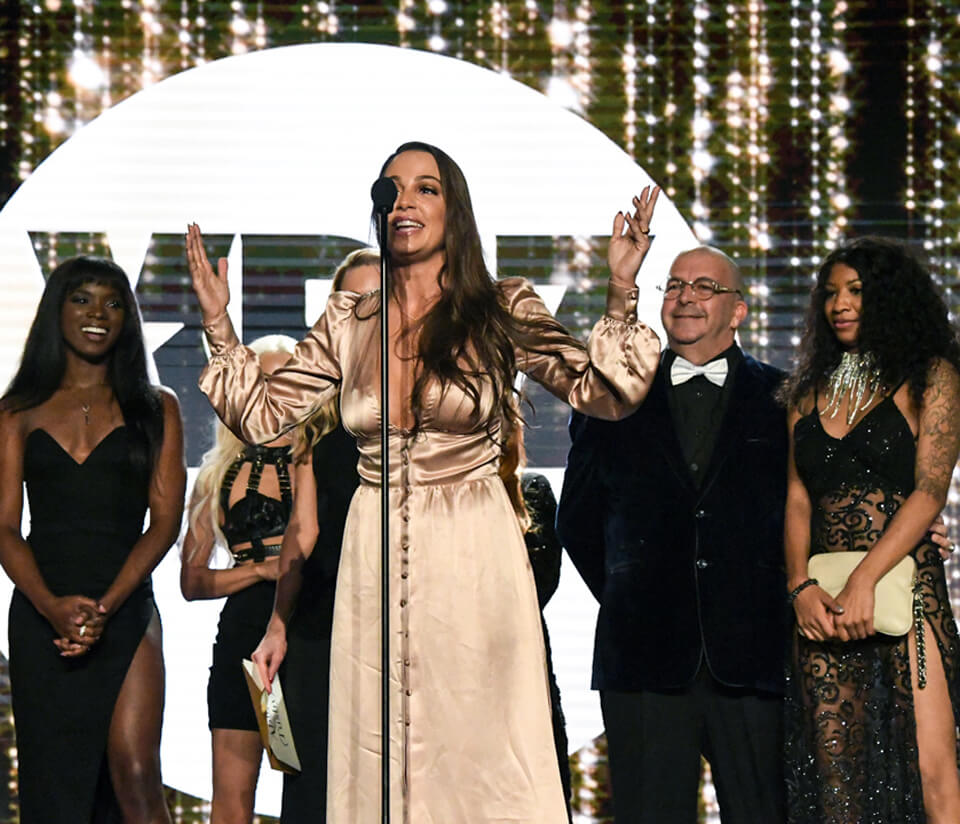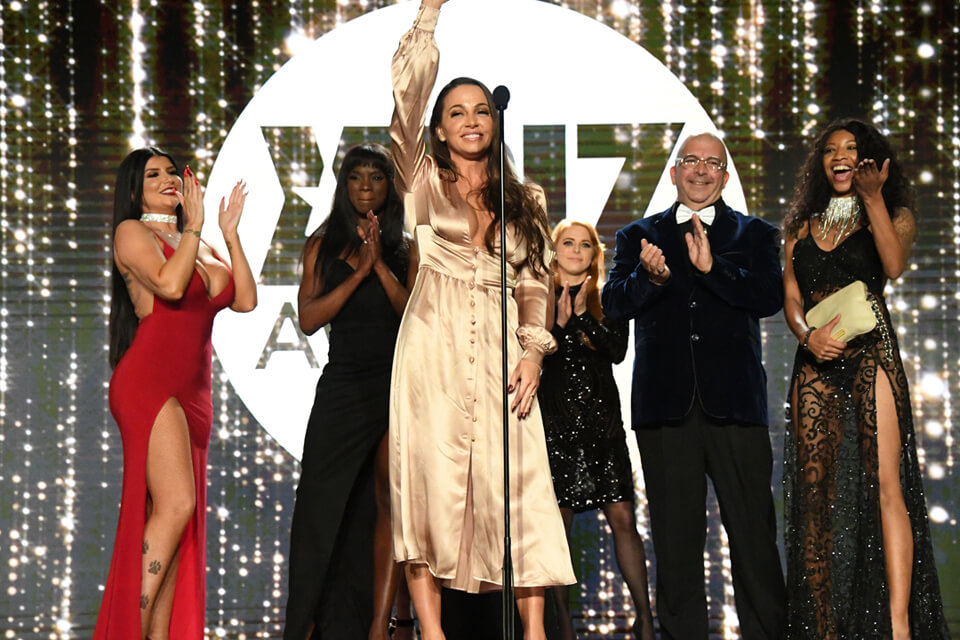 XBIZ: We were very happy with the way a lot of wins turned out that night, the reactions and the almost narrative flow of it all. Lots of good feedback on the outcomes.
Mac: It was a great show. I had a great time.
XBIZ: And it was cool having Kayden up there announcing you, haha.
Mac: I didn't know she was announcing that award. She didn't realize it either. She said, "Did they tell you?" and I said, "No, they didn't tell me."
XBIZ: We don't tell anybody anything! Haha.
Mac: And when she said it, she started crying.
XBIZ: Her speech when she won Feature Director of the Year for "Abigail" was definitely the most emotional speech that night.
Mac: I'm not like super emotional, but she was making me emotional. I wanted her to keep talking. I was like, "Kayden, get up here. This is your movie. You're Kayden, the best writer, director, blah blah blah." I'm like, trying to tune her up about how amazing she is. Kayden is someone who's — what do you call that? — she's very modest. Kayden is very modest.
XBIZ: Even though she doesn't need to be.
Mac: No, not at all!
XBIZ: No one would blame her for not being modest.
Mac: She's very charming.
XBIZ: Alright, now, let's explore your non-shoot stuff, like camming and clips. Obviously, you were a cam model before you were an adult star. Now, you're kind of balancing it all. What's your journey been like for those other revenue streams?
Mac: Yeah, camming has been great! About a year and a half ago I started integrating camming back into my routine, because when I first got into the industry I was going hard — shooting, shooting, shooting, building my name, building my brand. It's still building, but it's reached a solid level now.
The reason I started getting back into camming is because it's something where I don't have to be on set every day for six to 12 hours. I can get up, have breakfast and go to the gym first. I'm just trying to take care of me a little bit more this year. And camming is very lucrative. There wouldn't be a lot of conventions or awards shows if it wasn't for camming. They are the big moneymakers now.
They're killing it! Like, I can spend three hours on cam on my couch and make the same amount of money for the 12 hours I go on set doing boy/girl scenes. Now, don't get me wrong, I love doing boy/girl scenes. I love being on set. However, I do have to be a businessperson and think about my future.
XBIZ: For sure.
Mac: And so, in this industry — while I would love to be able to shoot every single day, I care for my mind and body.
XBIZ: You're 30, now, right?
Mac: Yep, I'm 30. June 2. Gemini. You'll see my dark spot sometimes, haha. And so, with camming — and now, with social media, we have Snapchat, we have texting apps. Pornhub has their Modelhub now, where you can actually make money. I could go on and on. There's endless things that you can do where it's like, "Okay, I need to start focusing on that a little bit more because it's not only lucrative, it's good for my mind and body too."
And because this industry often has a pay structure where you go on set and get paid once, with no residual income, I started signing up as an affiliate with all of these companies. When you're promoting, you are getting a little bit of money. Or you sign a promotional social media contract, which I've done with people too.
But going back to shooting for myself and having all these different platforms, it's great for building a secure future for myself. So that is all residual income — something I can do one day and make money for the rest of my life. Shooting scenes is awesome, fun and I love the people that I work with, plus it helps build your brand if you're shooting for the right people — I also have to take care of me and shoot for myself. I know there might be some directors going, "Oh, well now you're direct competition. I'm no longer going to hire you because you're shooting for yourself."
XBIZ: Very true. And how do you respond to those directors?
Mac: I say, "Hey, so when you hire me, do you want me to bring a social media person? Because not only can I get BTS of this whole shoot, I can get a 10 to 15-minute Snapchat show, airdrop everything to you at the end, you can put it on your private Snap, for your own fans, and suddenly now … not only do you have me for a scene, you have all this BTS content for whatever platform you want. And now, you're making double, triple or quadruple what you made today as a director or as a company because I have provided you with all this BTS stuff. I did it the other day; I won't say the name of the company because I don't know if I'm supposed to.
XBIZ: That's fine.
Mac: But like, I never interrupted this shoot, because if you need me for pictures I come right away, I don't take away shooting time, this is only for downtime or after a shoot. And I asked them first, before getting BTS of me being silly with the girls and the guys. This was while they set up different lighting for a scene. We were just being really funny while they did that, since people want to see the real stuff!
So when I airdropped all of this content, they were like, "This is really awesome." I think this is the way a lot of things should go. And I also tell companies, "Have your models sign a social media agreement. If you want these scenes to do well — and if they're doing all these things — if she goes in and signs a social media agreement, then when the scene comes out, she will tweet it out, Instagram her story. Everybody wins."
XBIZ: You give her a little something.
Mac: You give her a little something, or you work whatever out. It's up to the model or agent.
XBIZ: And you were with 101 Modeling?
Mac: I was in the beginning of my career.
XBIZ: Okay. You're no longer with any of the agencies?
Mac: I'm on 101's site, but this is what I use them for: if a new company pops up, I don't want them to book me directly.
XBIZ: Right. Talk to these guys?
Mac: Exactly. Yeah, for sure. And so, everybody that I work for regularly, they contact me directly. And 101 is like the mediator if I don't know who you are.
XBIZ: That seems to be where things are heading sometimes, where if you've gotten decent star power and are already pretty established…
Mac: Yeah, I've been booking my own stuff for almost three years.
XBIZ: That's awesome.
Mac: Yeah. It's really easy. I mean, if you're an organized person — that's kind of the thing. A lot of people are not very organized. Me, I'm the most organized person that I know. Yes, I get really, really busy. Sometimes, things run late or run over or whatever; that happens to me. However, I've never missed a shoot unless I was very, very ill. In six years, I've maybe missed four shoots. It's because I'm so organized.
I plan everything out so strategically. An agent can't do that for me, and they don't have the care to go, "Who's the director? Who's the performer? What are you doing today? What is the script? What do I need to be wearing?" These are all things I need to know 48 hours beforehand, before I even go on set. 'Cause I show up with my nails right, my hair right and my wardrobe right.
XBIZ: You put a bunch of time and energy into it.
Mac: I do. I take it very seriously. I feel like a lot of people don't take it as seriously as me. I only trust myself to do it.
XBIZ: Yeah, makes sense. And no matter how big camming and clips get, for whatever reason, top porn stars have really high engagement levels compared to even top cam models and clip artists.
Mac: For what?
XBIZ: Social media engagement. I'm obsessed with social media engagement.
Mac: I'm very aware of my analytics.
XBIZ: You have to be. You can't let it take over necessarily, but for whatever reason, it's like, YouTube stars are way up here with millions of followers and super engagement, porn stars are next and then camming/clips is catching up.
Mac: I do know that some big porn companies pay stars for that engagement.
XBIZ: For sure.
Mac: I have noticed that by changing my strategy — because I've really changed my Twitter around just the last year and a half to be more personal and based in real-life — my analytics have skyrocketed where I'm like, "Jesus Christ." So, even though Twitter is the hardest to get more followers, I have sometimes better engagement on my Twitter than I do my Instagram — where I have almost 2 million followers. So it's all about the engagement and your analytics, that's true.
And also, there is, unfortunately, shadow banning — so the bigger you are, the more shadow banned you are. If you were not following me, you could not find me. I had higher engagement on Instagram three years ago because I was not shadow banned. I've been so shadow banned and blocked, I'm lucky to have an account at this point.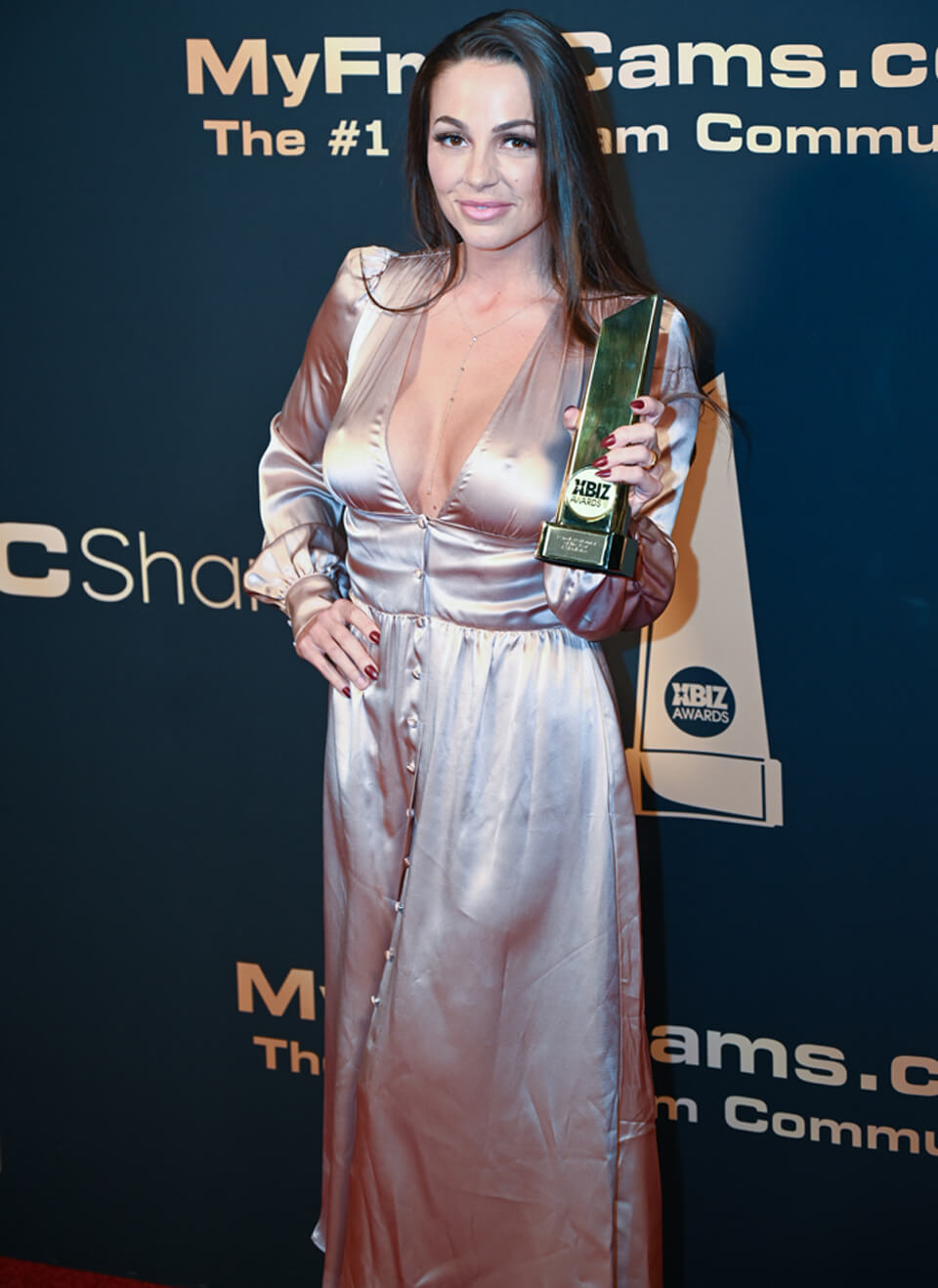 XBIZ: Social media is going crazy right now with the censorship.
Mac: It's really, really crazy now. I'm just being very PG with it.
XBIZ: And you do clips as well.
Mac: Mmm-hmm. I put clips on Clips4Sale, ManyVids and I also do the Modelhub on Pornhub.
XBIZ: And you have your own "hub" as well! Haha.
Mac: I do have my own site. It's there, but I don't promote it.
XBIZ: You're not focused on putting stuff on there?
Mac: Yeah, it kind of just waters down what I'm doing elsewhere, in my opinion. Websites are old news.
XBIZ: That seems to often be the case.
Mac: That's not where you're making your money. This is my personal opinion, but this is where I've seen the numbers. My website didn't do very well; at the most, it made like $1,000 a month — and then back and forth. I sign up for OnlyFans, and within one month, I made triple what I've made on my site. People, for so long, told me that content doesn't sell — "Porn stars' content does not sell, we're having all these problems." They're fucking liars. It is not true at all, as any girl with any sort of name can sign up for Snapchat or OnlyFans and they'll be like, "Wow, there's my rent!"
XBIZ: There's the money.
Mac: That's everything. You don't even have to be a porn star 'cause the girls with the real juice have a social media following — even a little social media following.
XBIZ: Yeah, even a little. Some of the cam models have like a fraction of the following but have such loyalty within those smaller numbers that they might as well have 500,000.
Mac: Exactly.
XBIZ: The girl with 25,000 proper followers eclipses the inflated one.
Mac: It's everybody spending dollars. You know what I mean?Versus someone who has five million followers but no one is spending — yeah, nowadays, that's the real…
XBIZ: …meat and potatoes.
Mac: Exactly.
XBIZ: So, you've hinted that perhaps this year you're going to take it easier as far as the kind of stuff you're doing and how frequently?
Mac: I'm not going to take it easier at all; I'm going to be more selective. And I've always been a pretty selective performer. However, this year, I have a lot of ideas. And I'm going to tell certain people, "Hey, these are my ideas. Is this something you want to collaborate with?" I really want to do that this year. Like, now that I have a taste of how amazing things can be, it's really just set my standards so high. I think this industry is the best it's ever been.
XBIZ: Hell yeah, agreed!
Mac: And I think it could continue to be better and better and better.
XBIZ: There's never been more opportunity, more freedom of mobility, more "do what you want" and "do it yourself," than now.
Mac: Yeah, and like you were saying, these geniuses — like a Kayden, a Bree, a Greg Lansky — they want to create. They want to make this the dopest industry that anybody could be in. And you know, I'm really here for that. I'm really here for pushing the boundaries.
I'm here if they want to make things cinematic, or if they want to make things dark and edgy or if they just want to do their own thing. But they want to do quality art. They want to do something that means something. And I'm here to do that, rather than, "Oh, go do a video. Fucking, who cares?"
XBIZ: Preach! So, to clarify, this year you're going to pivot more towards bigger projects, especially ones that you collaborate on.
Mac: This year, I want to work with people I love to work with. I want to do big projects. I love to do acting projects. More collaborations for things that I did, or maybe that I wrote myself. And also, I'm shooting for myself a lot. I want to do a lot of travel shooting. So, I've already booked my ticket to the jungle in Costa Rica.
XBIZ: When is that happening?
Mac: April. The very beginning of April. And so, while I'm there, I'm going to record everything. I'm going to record fucking in the jungle. I'm going to record jumping in the ocean naked. I'm going to create the content that I envision wanting to watch. Seeing people fucking in beautiful locations and having real sex — like authentic.
Even the amateur-style sex where it's like, "Oh, those people just want to fuck, and they love each other." I want to start shooting that and start letting people into like, "Hey, this is what I do at home. You see me on camera, but this is how my real life is." I'm going to record it and show it to everybody.
XBIZ: Anything else? Does that kind of sum it up?
Mac: Yeah, that kind of sums it up. Last year was a big year; this year's going to be bigger. Better watch out because I'm coming for the title this year again! Girls, I'm pushing you — I'm pushing you right now. I'm going to kill it.
I was driving here to XBIZ today, and I remember when I first landed in L.A. — and there was this surge of energy where I was excited. I was excited about life. It's the kind of excitement where you want to start crying because it's like, "Oh my god, this is my life." I don't know if you ever feel like that, but it's very overwhelming.
And when I was going past Hollywood on the 101, I looked up and there was this old house. The sun was shining and I was like, "Oh, shit." Everything felt so real to me, where I'm like, "This is my life. I'm at the top of my game right now. I'm healthy. I have a family who loves me."
I felt like that when I first got to L.A., but today, I had this deja-vu feeling. I was like, "I'm going to talk to XBIZ. I had this incredible year, and they're celebrating me." You guys have always treated me so well. And I'm like, "Wow, I'm so fucking lucky to live this life."
I don't know if a lot of people get to experience that, but I've gotten there by just doing what I've always wanted to do — by being myself, by having this life that I never thought that I would have. But I went with it. I was just like, "I'm going to be happy and do what I want." And it's all started to really pay off.
I'm so grateful, and I'm so happy — and I'm so excited for this year. And I just know it's going to get bigger and better after every single year.
XBIZ: Well, we love you very much. You are part of our family with a capital "F."