LOS ANGELES — Well over 100 digital media elite clinked glasses, sliced fine steaks and cheered their peers enthusiastically at the raucous 2019 XBIZ Exec Awards, lighting up the rooftop ballroom of the posh West Hollywood Andaz hotel on Jan. 15 during the 2019 XBIZ Show, presented by ManyVids.
Once the elegantly dressed celebrants settled at their tables, the lights dimmed and XBIZ Events Director Moe Helmy strode up to the stage, as the host for the eagerly anticipated evening.
"Welcome to the 2019 XBIZ Exec Awards!" he said, with applause and whoops breaking out. "Hope everyone is having a great time. How's the show so far? You enjoying dinner?" The happy response was a clear answer.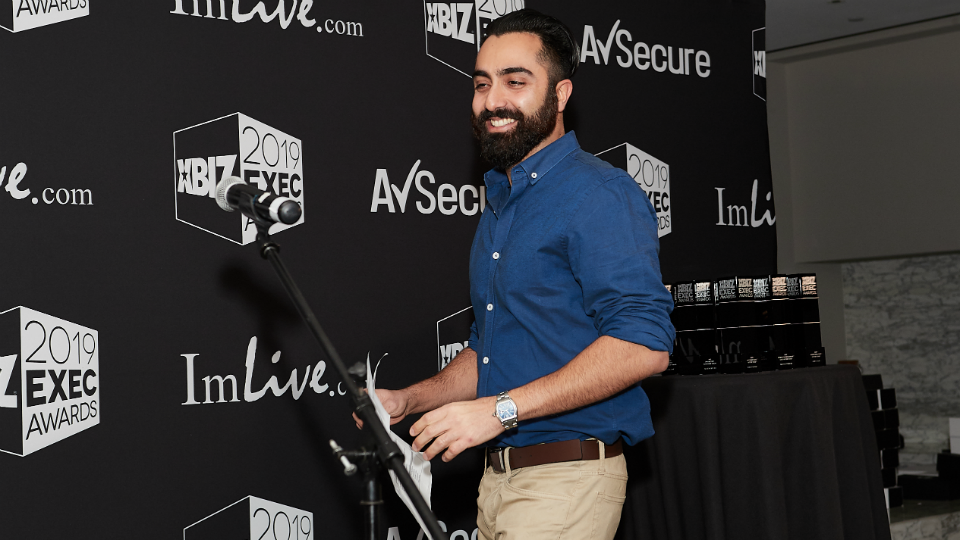 "Tonight's event is brought to you by AVSecure and ImLive," he continued. "And, of course, if you haven't noticed by now, the show is presented by ManyVids!" Bella French, CEO of ManyVids, clapped energetically from her table near the stage, dressed to the nines as always.
"We are here to celebrate the best of the best, the crème de la crème, the ones who busted their hides to be nominated … and some of you definitely went all out on social media!" Helmy declared. They roared their approval.
"For our first presenter," Helmy said, "Please welcome Miss Holly Ruprecht from Playboy!" Ruprecht ascended the stage, reading out the Account Exec of the Year nominees, who were then displayed on brightly lit monitors, before announcing Kristi Greer of Segpay as the winner. "I want to thank everyone at Segpay, all of you who voted and XBIZ," she said. "Thank you guys!"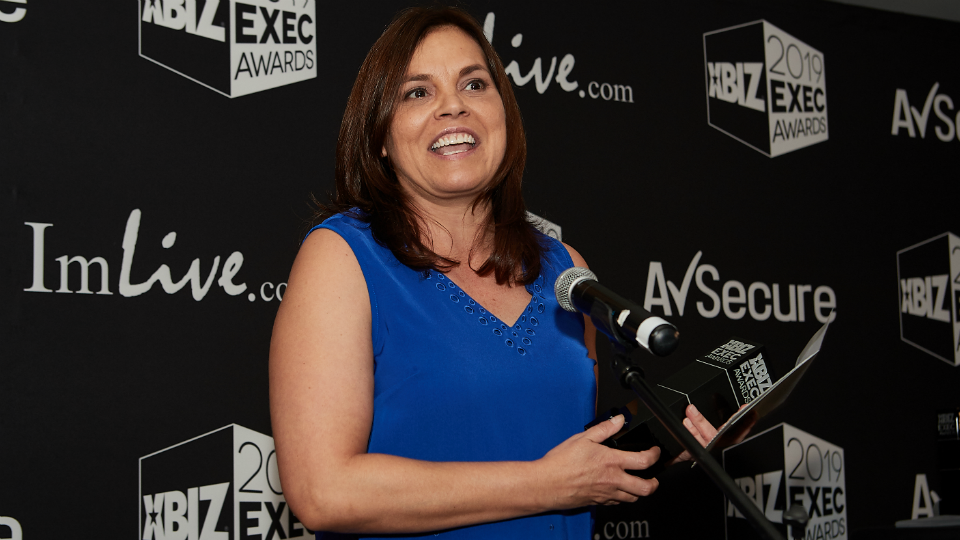 Helmy returned then, and said, "Next up, for Business Development Exec of the Year, our presenter is Mister Gary Jackson." Jackson came forth and announced each nominee, before revealing the winner was Natalie Pannon of MojoHost, who sashayed to the front giddily.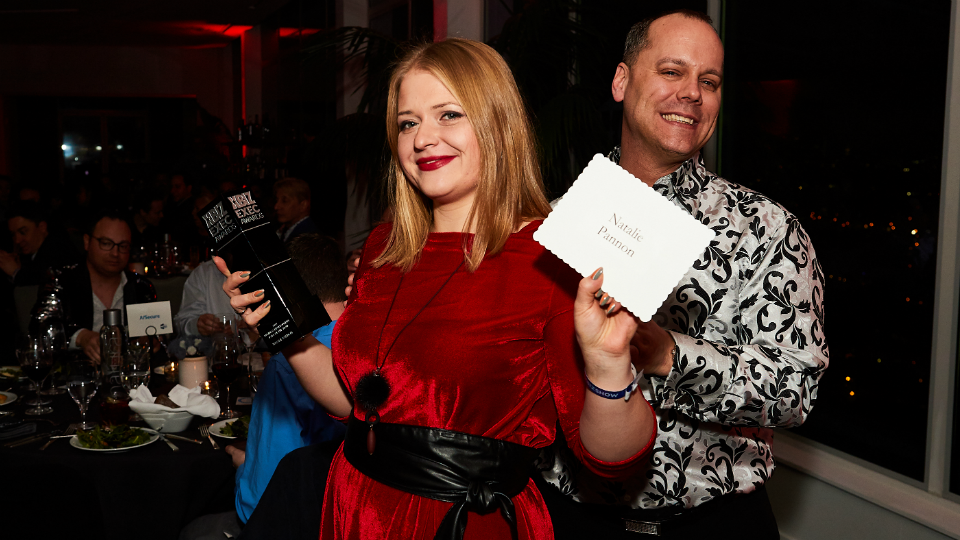 "It's easy in this industry to be inspired and it's easy to want to work with these people, because you're all awesome," she said, growing emotional. "But, I'd especially like to thank that guy." Here, she pointed to the eternally fashionable Brad Mitchell. "You give opportunities to grow," Pannon said, misty-eyed. "You give opportunities to build and you support, and understand, and are amazing as a boss. Thank you!"
As she exited, Helmy regained the mic. "Next, Miss Kristel Penn, please come to the stage!" Penn, unfortunately, had stepped outside for a moment, but the show, as always, must go on! After Helmy read the nominees for Marketing Exec of the Year, Kimi Evans of Flirt4Free was crowned the winner. "Thank you to everybody on my team," she said, humbly.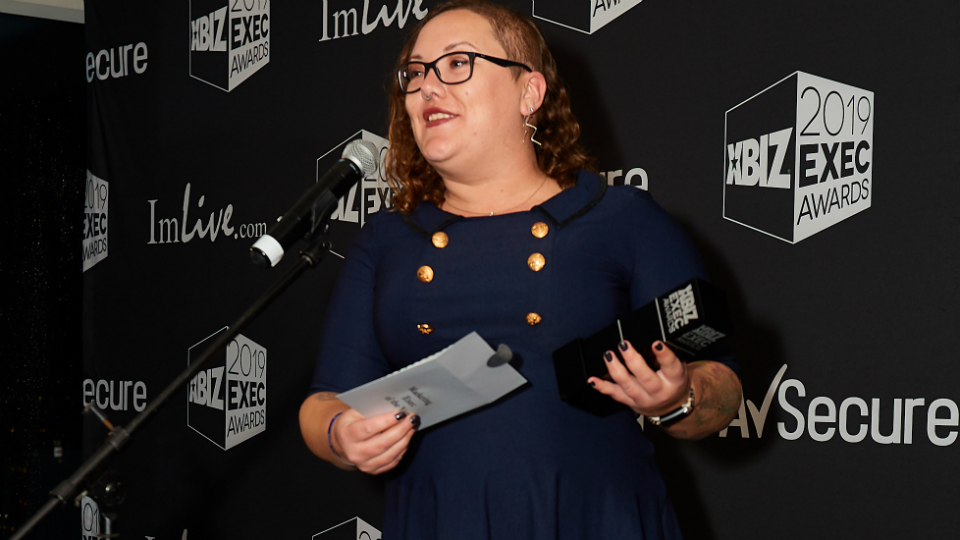 Afterwards was the Progressive Leadership Award, which went to Steven Grooby of Grooby Productions and was accepted by company publicist Penn, who had now returned. "I'm here on behalf of Stephen Grooby," she said. "And I just wanted to accept this on behalf of my company and … apologize for my tardiness!" She smiled her typically charming smile, and the audience forgave her immediately.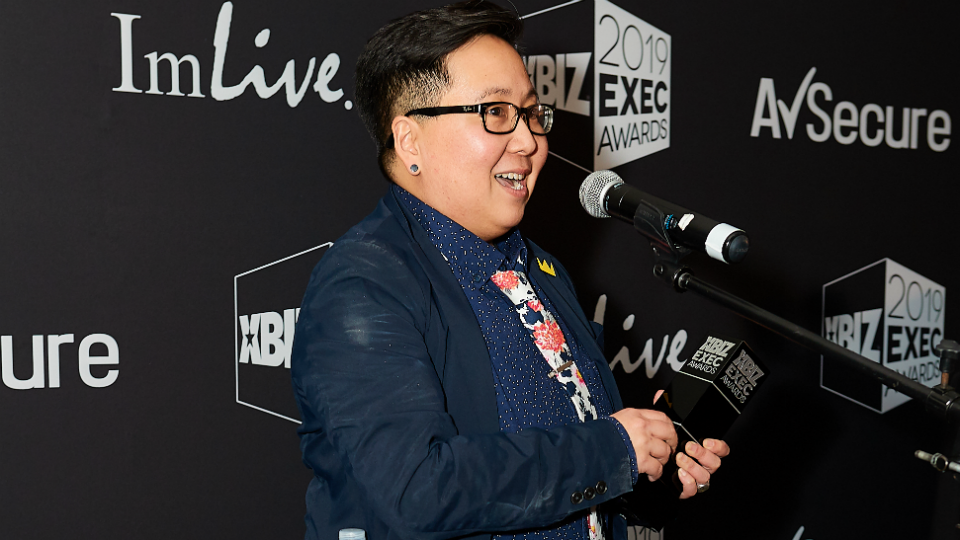 "Next up, we have … not the rapper," said Helmy, "but the webmaster, Juicy Jay!" Jay read the nominees for Community Figure of the Year, announcing attorney Corey Silverstein as the winner, which prompted explosive applause. Decked out in an uncharacteristically flashy outfit, Silverstein said, "That was a little unexpected. Congratulations to everyone else that was on the nominees board, it's amazing just to even be listed up there with them, I'm honestly kind of emotional … just really quick guys, you seeing this crazy jacket I'm wearing here? You notice how Brad's not wearing this jacket?"
He pointed at Brad Mitchell down below. "I made him promise not to wear a damn coat," Silverstein continued. "You guys know I don't dress like this. This is actually a gift for Brad, I bought this coat for him." The crowd collectively went, "Awww." Silverstein explained, "He actually listened and didn't wear a coat. But anyways, this is so cool. I've been here 15 years and this means a lot, winning this now. XBIZ and everybody who's here, thank you. And of course my partner, I couldn't ask for a better mentor, role model and friend. Thank you all."
Bounding to the front after the clapping subsided, Helmy said, "Next up, we've got the British babe… Steve Winyard!" Laughter broke out. Winyard immediately stole the show with a hilarious profanity-laden diatribe of sarcastic wit, before he squinted, trying to read the Brand Ambassador of the Year nominees before him.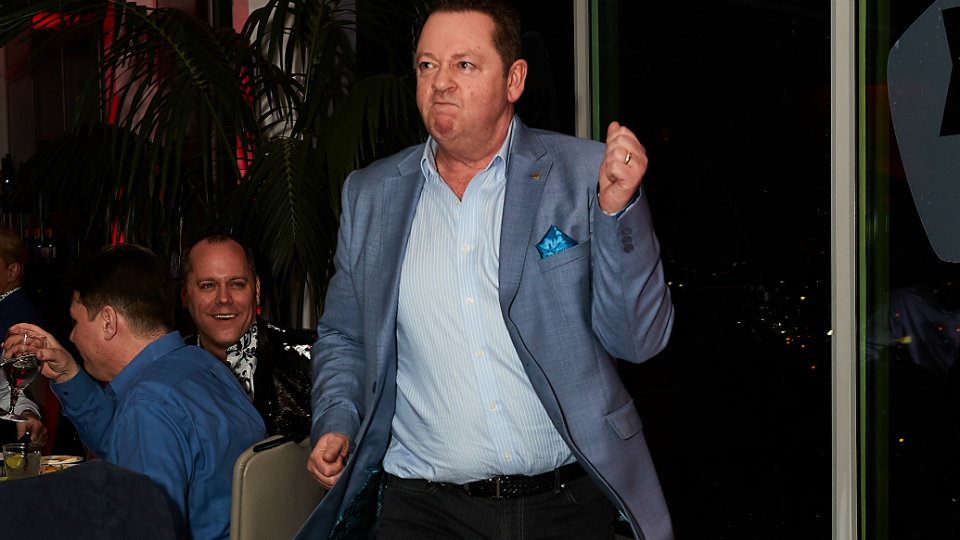 "Unfortunately, at my age, I could do with the letters a bit bigger," he said, struggling with very amusing results along the way. Then, he announced Andy Wullmer of Traffic Partner as the winner, delivering a comedic tongue-lashing as he did so, for the newly anointed champion was garbed in a ship captain's uniform that looked like it was fresh off a Hollywood movie set.
Wullmer swaggered on stage, proclaiming, "That was the best, Steve Winyard, let's make some noise! Well, you know, this award is about branding as a brand ambassador. And I wore this outfit today, because I went to the tailor and sometimes I like to look a bit business-like, but instead I ended up with this. You like my dress!?" Everyone loved it, audibly. "So, it's really a pleasure XBIZ," he enthused, "I look at this room and how much fun we're having tonight. This is the biggest and greatest industry, I couldn't imagine myself doing anything else."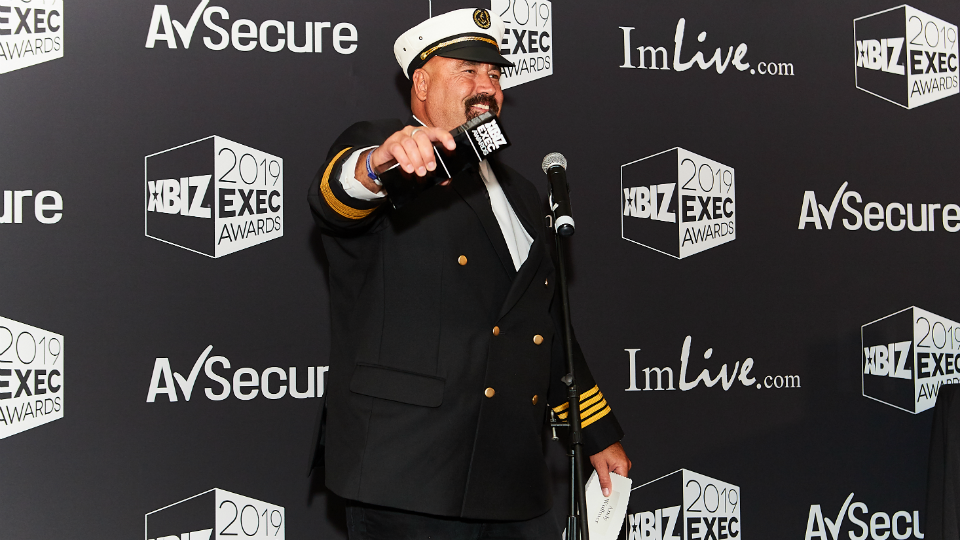 After the rowdy mayhem faded away, Helmy came back. "He is… the captain now," he jested, in a humorous reference to "Captain Phillips." Then, he said, "Alright, next up we've got Mister Brad Mitchell!" Aglow with sparkling style, Mitchell said, "Next up is the Senior Leadership Award, and the nominees are … I apologize in advance if I murder anybody's name here." Valiantly, he did not butcher any names, before revealing that Alan Atme, VP of MindGeek, was the winner. "Thank you very much XBIZ, much appreciated," Atme said.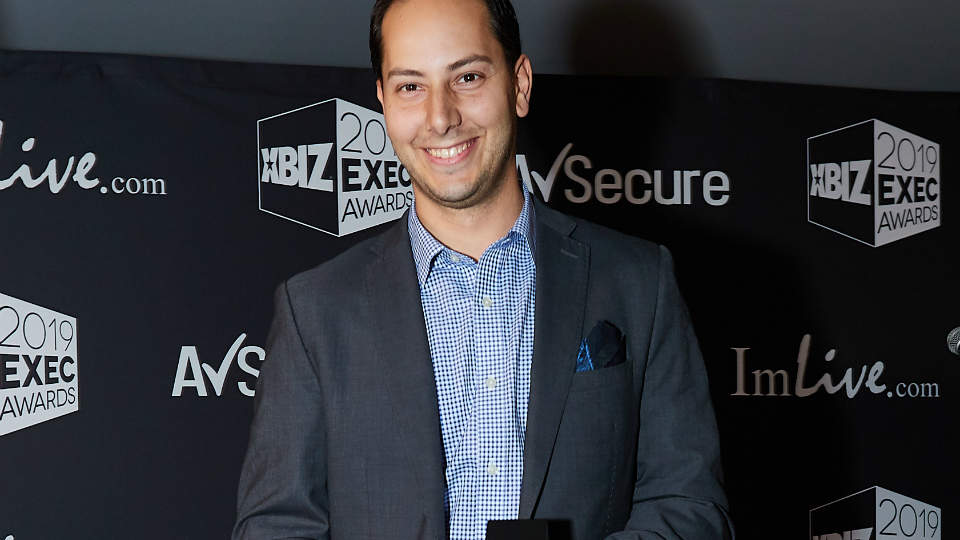 Helmy returned, and said, "Next up, we've got Mister Colin Rowntree, to present Chief Exec of the Year." Rowntree, a gentleman and a scholar, said, "I'm here to present Chief Exec of the Year, and let me see if I can read these names now." After finding a few of the names difficult to decipher, given the small font, he jokingly said, "This award is brought to you by the Americans with Disabilities Act." And the winner was none other than Mitch Farber of Netbilling, who was unfortunately not on hand to accept the award.
"We have only a few more awards coming up!" Helmy stated, resuming his hosting duties. "Next up, to present Businesswoman of the Year, we have Cathy Beardsley from Segpay!" Beardsley went to the front, amidst much clapping. "Fortunately, I don't need my glasses," she said, before reading the nominees flawlessly. "And I'd like to congratulate the winner, Bella French!"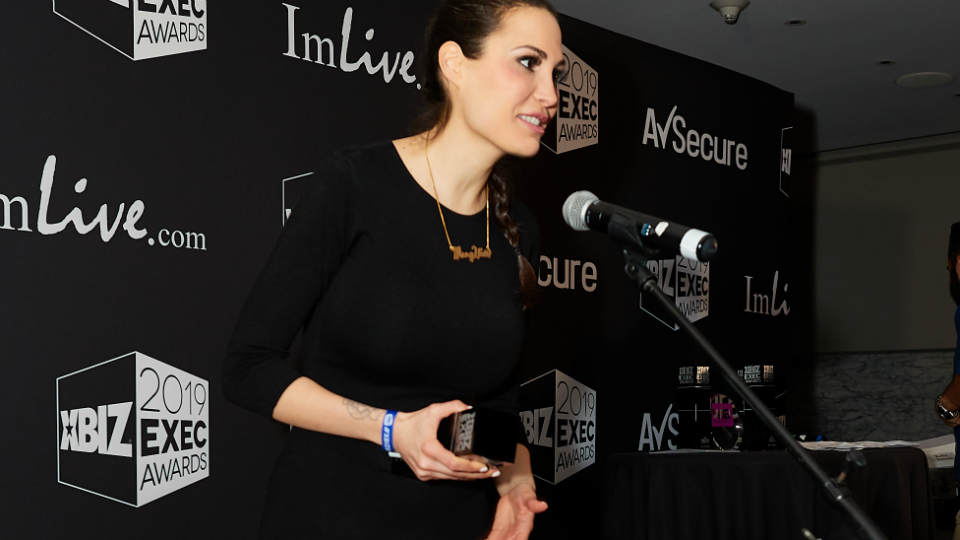 The stunning and graceful French took the mic, radiating sheer charisma. "It's an honor to be up here," she said with heartfelt joy. "Thank you XBIZ, we've had such a great evening. And everyone in this room who's been up here, you are all hilarious, we've been laughing all night. I'd like to thank my team as well. You guys are my family and you guys are my heart. I wouldn't be the person I am if it wasn't for you. Thanks so much!"
Once more, Helmy appeared. "Next up we've got Businessman of the Year and the presenter for this category is Sinisha Golemac!" The XBIZ account executive came to the stage to read the list of nominees and revealed the winner to be Steve Bryson of OrbitalPay.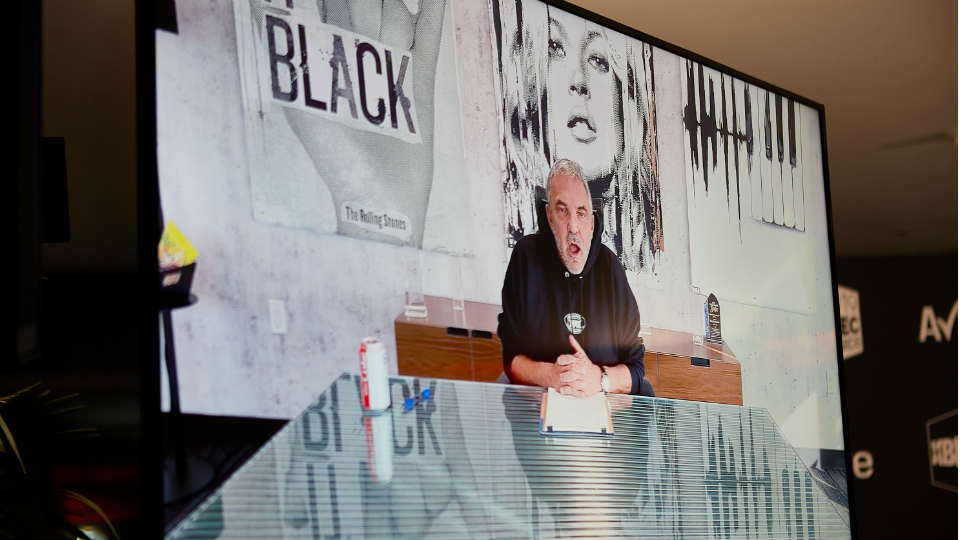 Although he was not present, Bryson had recorded a video ahead of time, from his swank office, adorned with gorgeous black and white artwork in the background depicting all manner of badass rock and roll imagery, like the hand-horns amidst the words "Paint It Black" from The Rolling Stones. He thanked his team, XBIZ and his family.
Then, Helmy sauntered to the mic and said, "Next up, the Women in Adult (WIA) award will be presented by Andra Chirno..." His voice trailed off, as Studio 20 publicist Andra Chirnogeanu, whose speech last year after winning Marketing Executive of the Year included a lesson in how to correctly pronounce her name, stormed playfully to the front.
"Chimichanga," she corrected Helmy, with her own comical rendering. To any who follow her on Twitter, they will note that her profile header image has a phonetic spelling of her name — "KIR-NO-JAH-NU" — largely emblazoned upon it, with "(say my name)" below it, lest anyone else fall into the bear trap. "Okay, thank you for messing up my name," she began, reading out the first nominee, "Leah Callon-Butler." She paused, ensuring the audience applauded.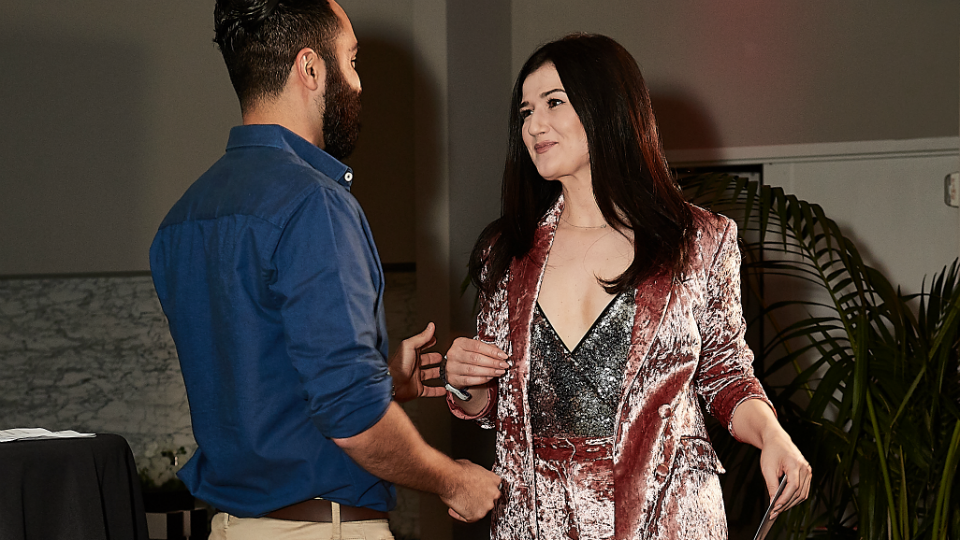 "I'm going to wait after each name, for you guys to applaud," she decreed. Everyone followed Chirnogeanu's suggestion, as she rattled off the nominees, before unveiling, "And so, the Woman of the Year award goes to … Moe!" She turned to Helmy, with a scathing look, and the room guffawed at her joke. "Just kidding. It's actually … drum roll please … Laurel Hertz!"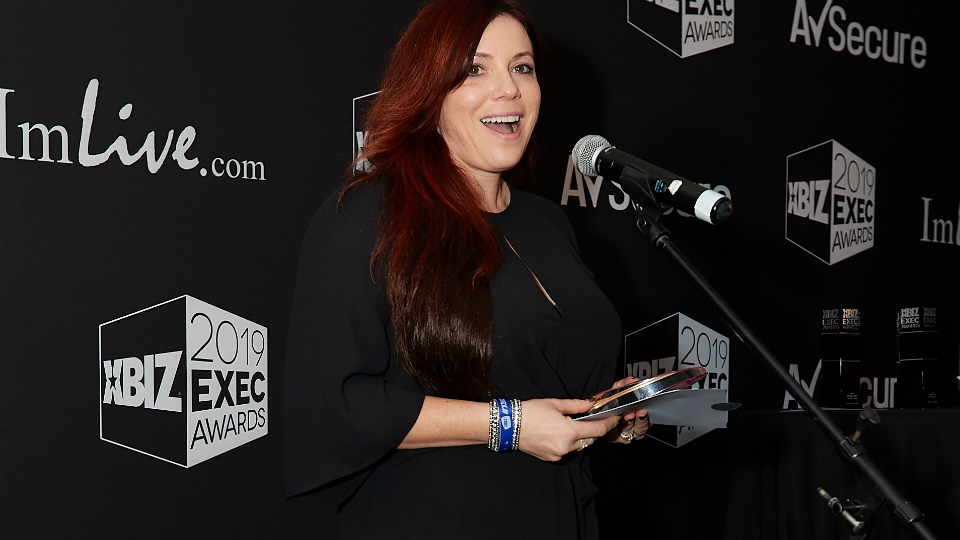 The noise levels hit the roof, as Hertz stepped to the stage. "I really don't know what to say," she admitted. "I'm so surprised … very honored … very glad to be in this category with so many wonderful people in this room. I want to thank everybody who voted for me, and I want to also thank two people who have been instrumental in helping my career. One is my husband Raja and the other person is Greg Clayman." She noted their wisdom, loyalty and strength of character.
Strolling to the mic, Helmy said, "We're coming up to the end of our awards show soon, so you can all relax, drink some more and then go party. Now, I'd like to introduce my brother, Alec Helmy!"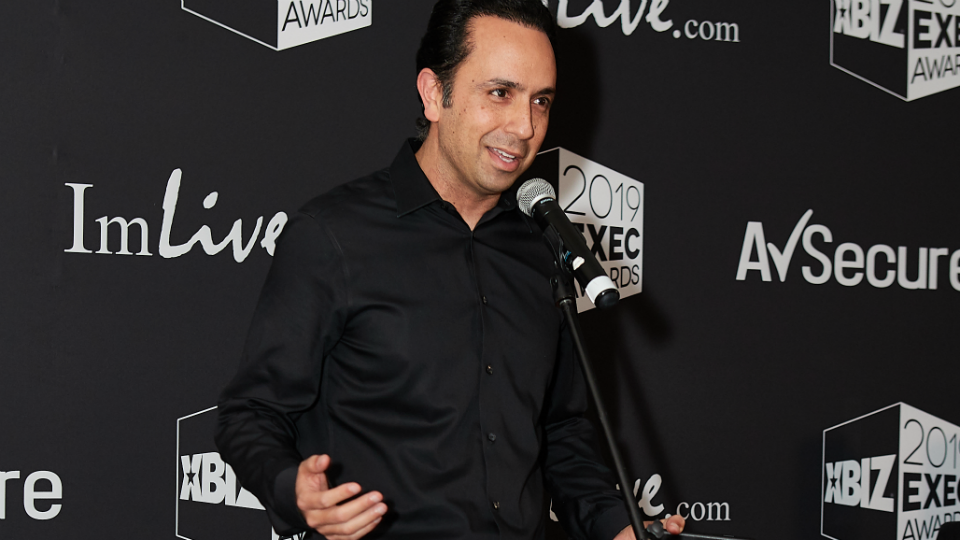 Once the XBIZ President and Publisher took the stage, he stated, "When I reflect on my 20-some years in the business, just a few people come to mind, who — in my opinion — have truly shaped the history of our industry. They were early adopters of cutting-edge tech, which at the time meant building things without any roadmaps.
"They were big, bold personalities, with a badass factor, certainly a huge source of inspiration for the rest of us," he related. "Back when I was a one-man show, he was a giant, and he remains a giant to this day, which says a lot about his remarkable foresight. And so, it is my distinct pleasure to present this year's community Legacy Award … to Mister Ron Cadwell!" Cheers and clapping echoed wildly, as CCBill President Cadwell took the mic.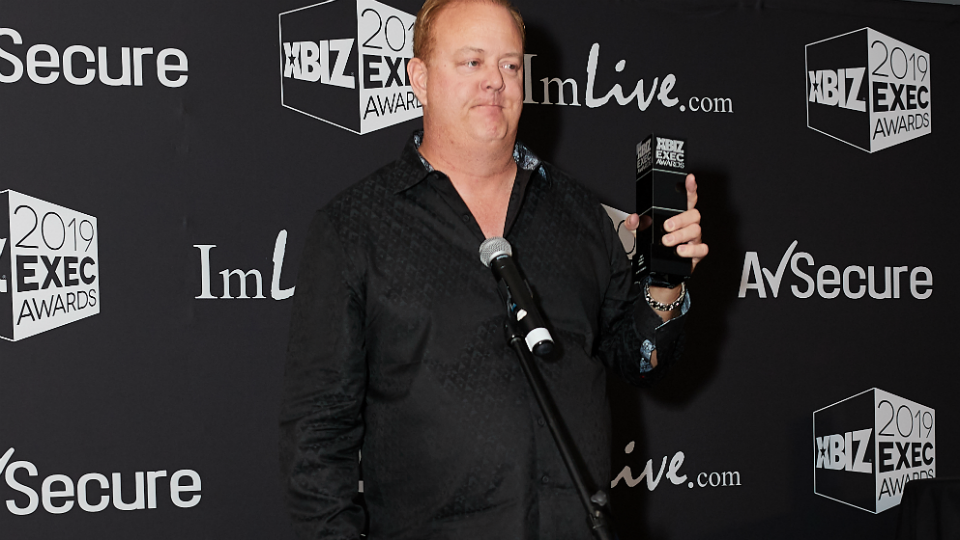 "One of the things that really makes my company, is my employees, who work every day and night," Cadwell graciously said. "They're really the backbone who've made CCBill what it is today. So, this is to my employees, thank you for all the hard work."
As the ceremony came to an end, the event organizers gathered all of the winners on stage for a group photo, before bidding them adieu. The rest of the evening was filled with light-hearted banter, delicious food and bubbly drinks, before it was time for the Rooftop Rage party, sponsored by MojoHost and Silverstein Legal. There, the partiers cavorted with an Austin Powers impersonator, sexy dancers and free-flowing drinks, as the packed-to-the-rafters luxurious penthouse suite pulsed to the music of a DJ.
For a photo gallery from the 2019 XBIZ Exec Awards, click here. For a full list of the winners, click here.