BURBANK, Calif. — From premium-quality pleasure product basics to unique shapes and technologies, the ANME show showcased the most sought-after sex toys on the market.
Today marked the last day of the pleasure products industry's biggest expo, which unofficially kicked off Friday with Sportsheets' 25th anniversary celebration. The family-owned company invited its retail and wholesale customers, industry colleagues, friends and family to mark its latest historic milestone with a beach party at Sportsheets' Huntington Beach, Calif. headquarters. (For photos from the Sportsheets party, click here.)
The company brought in more than 50 tons of sand to create a SoCal beach setting complete with tropical tiki umbrellas and a vintage Volkswagen photo booth. Attendees were treated to live music from The Joe Walla Band and a DJ, as they danced, played games, mingled and ate and drank from Sportsheets' assortment of goodies until sundown.
At the ANME show, Sportsheets proudly showcased its 25-year commemoration with a large "25" sign covered in memorable photos from the company's history. Sportsheets also showcased a revamped logo and trade show booth alongside some of the company's latest releases, including new vibrating toys.
"The team really worked its butt off with the rebranding, the party and here at the show," Sportsheets founder Tom Stewart said.
Saturday offered even more parties for ANME attendees with Shots America's second annual Hollywood party, which this year took place at the rooftop pool of the W Hollywood hotel. In the evening, guests dressed in their finest formal attire for the XBIZ-sponsored black-and-white themed welcome party.
The show floor officially opened on Sunday and maintained a steady stream of visitors throughout its expansive three-section expo floor on all three days of the event.
Doc Johnson showcased more than 100 new SKUs, with a major portion of its new releases consisting of additional shapes and sizes of dongs in the company's The D collection. Doc Johnson offered a fun visual representation of its expanded collection with a wall of floating dongs that served as a perfect selfie backdrop for visitors to the booth.
Erica Braverman, the head of consumer marketing and communications at Doc Johnson, told XBIZ that the line was expanded based on retailer and consumer feedback, which showed the popularity of the affordably priced line of realistic dongs.
"Dongs are a basic item that every store needs," Braverman said. "We've revamped the packaging to make it more modern — plus the price point has made it a very popular retail item.
Other new releases from Doc Johnson include silicone hollow strap-ons that are available in sets that include a harness and a four-piece set with extra attachments. The company also expanded its popular Vac-U-Lock lineup with a new vibrating plug that — like the non-vibrating version of the harness attachment — is compatible with any of the brand's vast selection of dildos.
Another Doc Johnson booth display that quickly became a social media favorite was a wall of butts with inserted Booty Bling butt plugs, which made their debut at the show.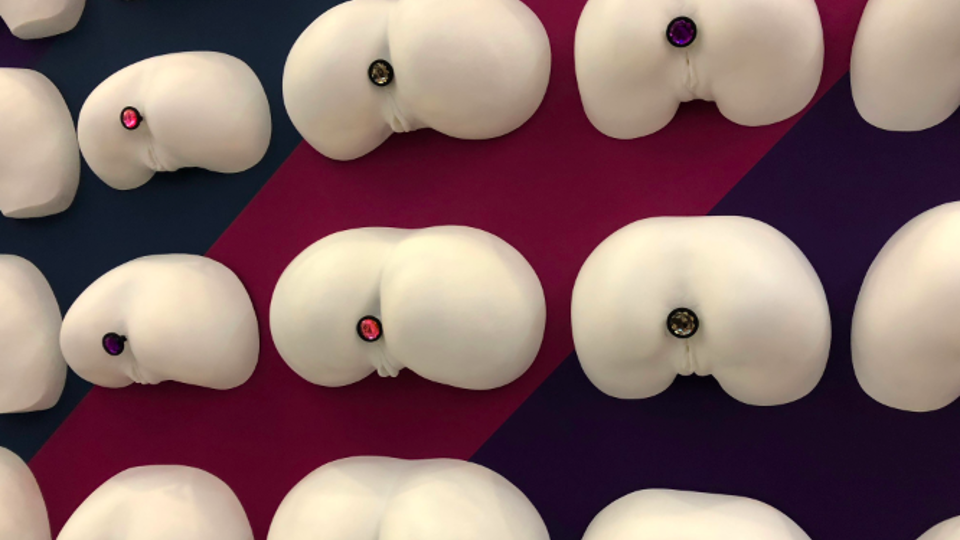 Doc Johnson also revealed a new partnership with Foria, which had its own section within the booth with reps that discussed the benefits of Foria Awaken. The all-natural "pre-lube" enhances foreplay, self-pleasure and sex, with a silky smooth texture and unique aromas and flavors. The formula features eight aphrodisiacs that sooth tension, discomfort and dryness by stimulating natural vaginal lubrication.
"We're gauging feedback from customers at the show to determine the future of our partnership," Braverman said.
Inside the CalExotics booth, the Pavé by Jopen line stole the show with a line of sleek vibes in "Tiffany blue" with diamond encrusted base control buttons. The items come in giftable boxes.
"Everyone loves this line," CalExotics' Nichole Grossman said. "Even competitors have come up and said that they love it."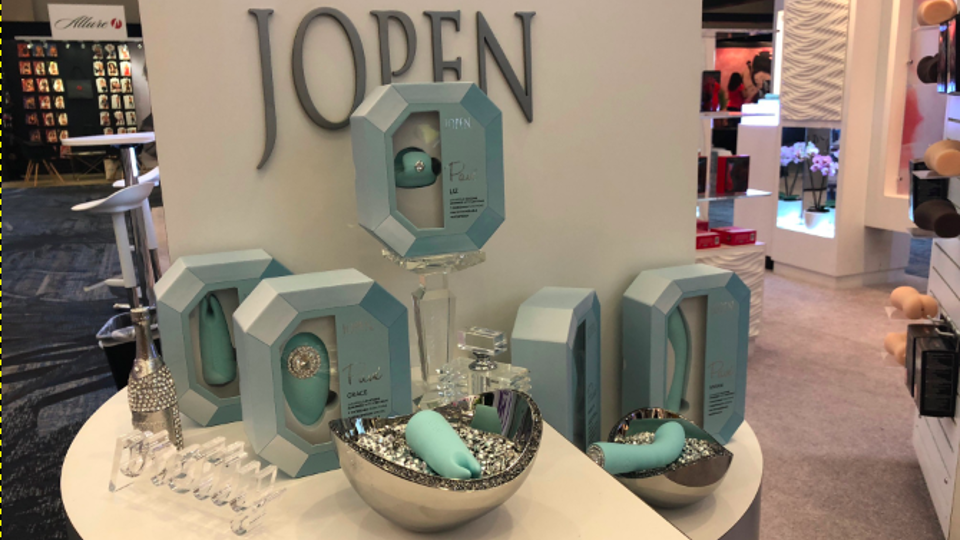 CalExotics also drew a crowd with a tiki bar (complete with drinks) in celebration of its new additions to the California Dreaming Line. The new vibes include the Orange County Cutie, Santa Monica Starlet and the Malibu Minx. Each new toy offers unique functions such as thrusting, thumping and suction. Grossman added that the company also is offering retailers a new inflatable surfboard for promotional support of the brand.
The company also showcased new additions to its Dr. Joel Kaplan and Red Hot collections, as well as introduced the new Impulse line of electro-stim vibes and DazzLED collection of light-up vibes.
Nasstoys continued with its evolution into a more mainstream brand with new, modern in-store displays for retailers. Taylor Means, Nasstoys' brand ambassador, told XBIZ that the company would be returning in January with a new booth that will further showcase the company's "new wave" of products.
The new clear displays by Nasstoys are designed to accommodate the shapes of Nasstoys' Infinit vibes, as well as its XBIZ Award-winning Touch vibe.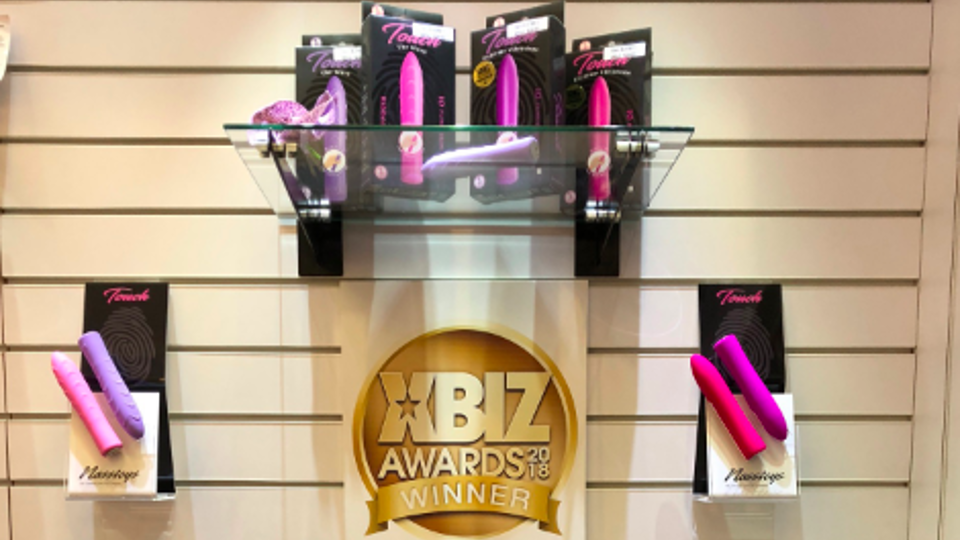 Among the most impressive new releases by Nasstoys is the new Commander Heat Up Butt Plug, which warms to 104 degrees, is made of silicone and is rechargeable. "People keep telling us that they haven't seen a heated butt plug before," Means said, noting the item's uniqueness.
Nasstoys has also revamped its American Whopper collection with new cleaner packaging. "This line has been a staple for Nasstoys for 20 or 30 years and it still holds a spot in our top 10 bestsellers."
Topco showcased its latest releases, which included new porn star molds of Riley Nixon, Uma Jolie and Jenna Sativa. The company also introduced a new "Have We Met?" marketing promo featuring its Average Joe collection dildos that have different personas. Topco COO Autumn O'Bryan said that the line speaks to those that are familiar with online dating with marketing material that reflects picking a partner by swiping right. "Miguel, the bartender, is the No. 1 bestseller," O'Bryan said.
Other new additions from Topco include Vulcan strokers with cooling sensation, and Hombre premium rings, as well as new packaging on the AdamMale line.
Pipedream Products showcased an array of new additions to its existing lines. Among the most notable releases was the new Bianca Ultimate Fantasy Doll. The 85-pound, busty doll is a strawberry blonde, and according to Sunny Rodgers, the resident sexologist and brand manager for Pipedream Products and Jimmyjane, her face was designed to have a softer look.
Other new releases by Pipedream include new additions to the Fantasy for Her collection, which include the Flexible Please-Her and the Ultimate Climax-Her. The company also introduced three new additions to the Anal Fantasy collection, as well as new Classix vibes and new dongs have been added the popular King Cock line.
Jimmyjane introduced its new Intimate + Care offerings, which include Menstrual Cups and Kegel Trainer Set.
After 35 years, Classic Brands has emerged as the rebranded, modernized version of Classic Erotica. Nicole McCree, product educator and sales exec for Classic Brands, said that the new look reflects the mainstream appeal of the brand.
"It's been 35 years," she said. "It's time to change things up. Plus, with all the private labeling that we do, it really helps with doing business."
Along with a sleek new logo, website and business cards in "Tiffany blue," Classic Brands showed off its new pheromone sprays, which were inspired by designer fragrances. "Shoppers can get a similar fragrance at a quarter of the price, plus its scent is longer-lasting."
Classic Brands' popular Coochy collection also got a new addition with the release of the Coochy Skin Brightener. The product evens and brightens skin tones with no fragrance or additives.
Another historic brand that made its rebranding known at ANME was Wet lubricants. The nearly 30-year-old brand made its presence known with a large booth showcasing recently redesigned bottles and new formulas.
"Everything is pretty much new," Wet founder Michael Trigg said. Among the company revamps were new additions to the sales team, along with redesigns of packaging to include more information about the product. Wet's new products include the Desserts line of flavored lubricants that have no aftertaste.
According to Trigg, the company has rebooted itself every six to seven years, and for the past seven years, Trigg traveled the world as the company forged again. Now, he's "back with a vengeance," Trigg said.
Shunga Erotic Art showcased its newest additions, which included new scented body massage candles. The new scents, Jean-Pierre Hamelin said, would replace some of the lesser-popular scents with new Asian-inspired variations. The company also unveiled a new maple-scented massage fragrance. "We're from Canada, so of course we got the scent right," Hamelin said.
Shunga also released a new kit that includes a vibrator — a first for the company. The Naughty Geisha set pairs a bullet vibe with three of Shunga's sex enhancers, which includes a clit and G-spot stimulating cream and a lubricant.
Screaming O made an immediate impression on passersby with its booth that included a video wall displaying product demos and a fun claw game (in which no one lost) that gave away free samples of the company's latest release, the Ritz cock ring — which was attached to an adorable stuffed elephant wearing a Screaming O shirt.
Screaming O debuted a selection of new "It" items, including the Work It! couples ring, Rub It! Massager, the Reach It! — a vibe that's "cleverly curved" — and the Tri It!, which offers triple contact against the clit and the labia. All of the products retail for $74.95.
"We're targeting the demographic that's right before luxury with quality at a lower price," Screaming O Marketing Manager Gideon Perez said.
Another notable new addition to Screaming O's lineup is a new remote-control operated butt plug that's part of the company's My Secret collection. Screaming O also introduced new Jackits masturbators that, Perez says, are priced as disposable but are reusable at $9 retail price.
Aneros expanded its lineup with a focus on female consumers. The Vivi is a vibrating kegel exerciser with two motors and a more flexible neck than its predecessor, the Evi. It also can be operated with an app that expands its vibrating functions with more varieties.
"The app has been tested exhaustively and we've gotten great responses," said Andrew, a rep of Aneros. "We'll be adding new features to the app every year."