LOS ANGELES — It was dark and unusually quiet on Hollywood and Vine as I waited in line amidst the scores of tall, beautiful women wearing dazzling cocktail dresses and barely-there gowns. I noticed photographers leaning over the banister of the Bardot, eager to capture the cluster of people waiting for the Transgender Erotica Awards (TEAs) pre-party to begin.
Even though it was relatively calm outside, indoors the party was starting to kick into gear. The stairs of the Bardot opened up onto a big, classical veranda that I only noticed was outdoors when I looked up and saw the heat lamps speckling the parachute-like ceiling. There were plush couches by cordoned-off, VIP-looking tables and on either side of the room were columned porticos leading to other areas.
The brightest thing in the main room was the step-and-repeat in the back, flooded with light and flanked by a group of photographers. Shutters clicked. Lights flashed. The TEA Show weekend, in its tenth year, was off to a big start.
I found XBIZ Brand Ambassador of the Year and Grooby Productions Marketing and Editorial Director Kristel Penn running around near the media wall. She was dapper in a black suit, her hair neatly combed back and her eyes purposeful and determined despite some harried body language. "I'm very grateful that so many people come just to hang out with us on a Sunday night," she told me. "I'm really happy for where we are at this point, it feels like a family event. I know that sounds very dorky. I also know that our event is still growing, and I love that people support it and everybody wants to cheer everyone else on."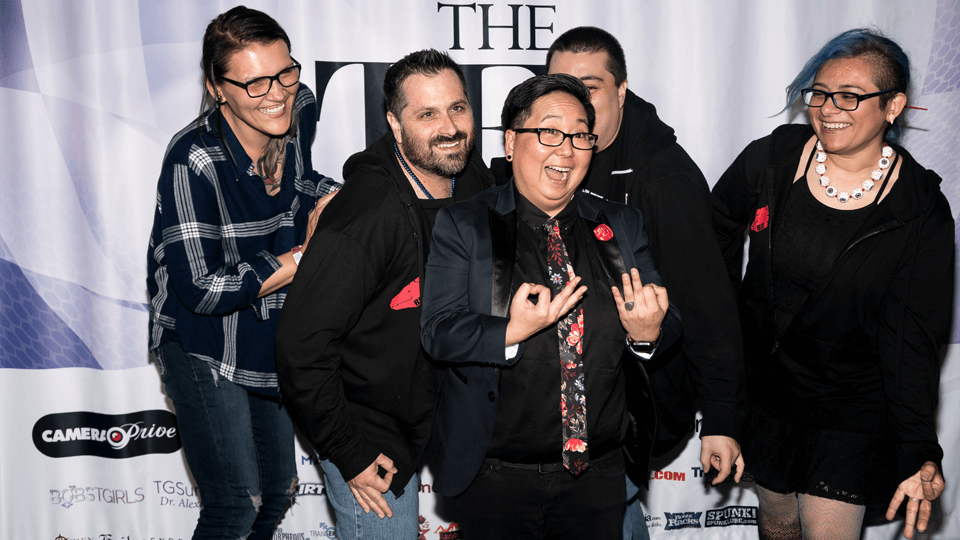 I was also lucky enough to catch Steven Grooby, CEO of Grooby Productions, which runs the TEA Show. "Kristel is just really — she has a head on her." Naturally and rightfully he was confident about the weekend, comforted by a sense of familiarity with the yearly event. "It's the fourth year we've done it here, we pretty much knew what we were doing. We've got the formula for this amount of people. But if we grow any bigger, we'll have to look at other things.
"We've sold more tickets in advance than ever before this year," he continued. "We're quite excited by how many people should be there on Sunday: over 400. That's probably gonna max our venue out."
Natalie Mars, who was nominated for six TEA Awards and went on to win Best Internet Personality, as well as Best Solo Model, was a stunner in a strappy cocktail dress, her adorable banged haircut framing earnest blue eyes. She leaned over into my recorder so I could hear her over the loud music. "I'm having a pretty good time, just hanging out with friends and getting to see everyone from around the country. It's cool to see who wins what. I'm excited to see if I win anything."
"Oh," I said, "So, nominated for everything?"
"Everything, Nominated for everything." She laughed.
I wandered over to where the DJ was, tucked into a side room with yellow walls sprinkled with soft odalisque paintings of nude women. Nominees and gawkers were scattered around the room, splayed out on couches and leaning against walls, observing or waiting for friends to show up.
2017 XBIZ Trans Performer of the Year Aubrey Kate, who garnered eight TEA nominations this year alone, was lounging casually by an armchair in a black jacket emblazoned with a light-up EL wire sign of her name. She stood near the XBIZ staff, chatting and showing off her luminescent garment. "I am having a lot of fun," she told me, "I think the best part about this is seeing all my friends and all my sisters throughout the years. Finally seeing everybody all at once dressed up looking beautiful and like the princesses and queens we all are." Kate ended up winning the coveted Best Hardcore Performer and Fan Choice awards.
I went up to a girl wearing a leatherette red dress and a collar, curious about her look. "My master gave it to me," the statuesque blonde, River Enza, said of the metal choker onto which she'd attached a blue puffball. She explained her intentions: "This weekend is just about networking with many other trans women, sex workers and producers as possible to really show my support for the industry and get myself out there as well." She told me she's jumping onto the porntrepreneurial train and working to create a "totally trans-inclusive ABDL site called Sweet Life."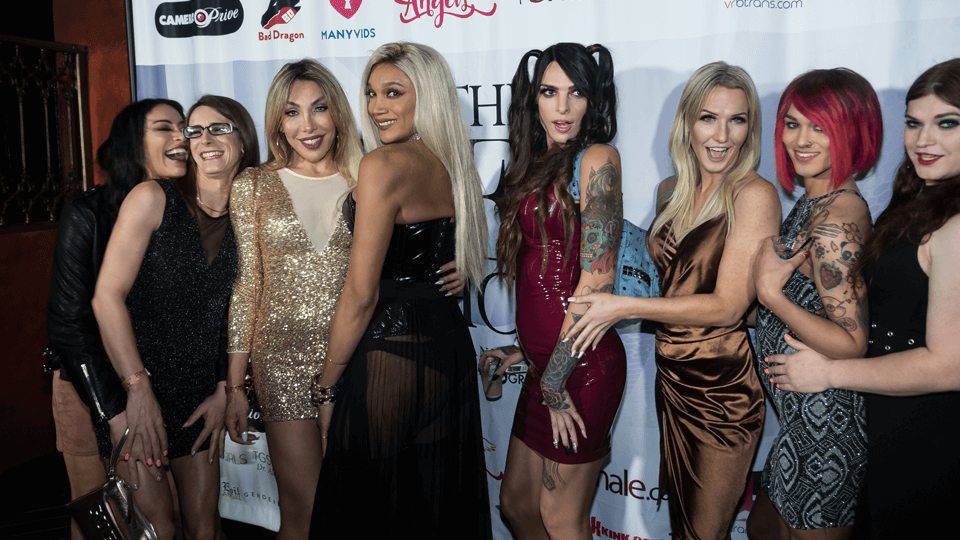 I moved across from the DJ booth and into the bar, which had a blue and black circus tent ceiling that cast a moody darkness upon the room. The only lights in the room were sconces shaped like hands holding torches, fingers jutting out from the fabric-covered wall in articulated bronze. The bar was swamped, both women resplendent in dresses and men bedecked in casual garb grasping the edge of the bar and leaning over in an attempt to get drinks.
A woman sitting across the room immediately caught my eye: Sadie Satanas, a tall redhead sporting a sequined red bikini and matching lipstick. Her tattoos were out in full force — Baphomet on her stomach, a devilish face on her leg, the Misfits skeleton on her arm — and so too were the bright red horns on her head.
"I'm having a lot of fun," she said, "total fun. I got nominated for most unique, so I'm hoping I win."
"How are you feeling?" I guessed, based on her demeanor, "Confident?"
"Yeah," she laughed, "I think so. I am."
When I turned to XBIZ 2012 Trans Performer of the Year Jesse Flores, a busty blonde with Caribbean Sea-colored eyes and dressed in a shining silver dress, I expected similar confidence. But, she admitted to me, "I'm not a party person. A lot of times I just come and I stand around because I don't drink or anything." She smiled, "I'm the good girl. I've just been working on my site, some special stuff coming up in a couple of days. Can't say yet because it's a secret!" I probed her, curious about the mystery, but she wouldn't budge except to giggle and admit that the awards were "part of the secret." The mystery was revealed on Sunday, when Flores was presented with a Lifetime Achievement Award at the show.
Best Hardcore Performer and Best Scene nominee Lianna Lawson wore the customary silver too, a disco ball-like low-cut scoop neck with a short black skirt that she lifted for media photos. Her blue eyes shone under her blonde bangs, black chandelier earrings framing high cheekbones. "I'm looking forward to the awards show," she beamed, "I can't wait to meet everyone who's nominated."
To the other side of me was the diminutive Janelle Fennec dressed, of course, in silver sequins, straight blonde hair flowing onto her shoulders. "It's my first TEA," she smiled, "and the pre-party's been a blast so far. I've never been around so many trans women in my life, and it's been great. Super good. The awards are great, it's fantastic to see our industry celebrated — and especially celebrated just for trans people. It's so great that we have our own awards show too."
She's been busy, she explained, shooting late nights. But it didn't bother her one bit, she said: "I just enjoy doing porn so much."
That seemed to be the overarching sentiment at the TEA pre-party, full of people who were mostly about to embark on heavy two-day shooting schedules. Despite the impending business, everyone's demeanor sparkled like the multitude of silver dresses in the room. Nominees and attendees alike were all brimming with excitement as they discussed how much TEA and transgender visibility and rights have advanced in the ten years since the show began as an online-only event. The room was bubbling with possibilities and the comfortable air of camaraderie amongst old friends. It was before the awards and anything — everything — seemed possible.
To see photos from the event, click here.