LOS ANGELES — For online advertisers and publishers, Valentine's Day 2018 is not just a day for love and romance, it is their last chance to get prepared for the impact of tomorrow's major update of Google's market-leading Chrome web browsing software — an update that will help reshape the online user experience.
Featuring an integrated ad blocker, Google Chrome is set to take on "aggressive advertising" head-on, by preventing the display of a variety of intrusive ad types that have long agitated viewers, distracting them from their desired objective, and often doing so in a less-than-scrupulous manner. These include pop-up ads, auto-playing videos with sound, excessive amounts of ads, and "misleading" ads that may mimic system notifications, or other actions.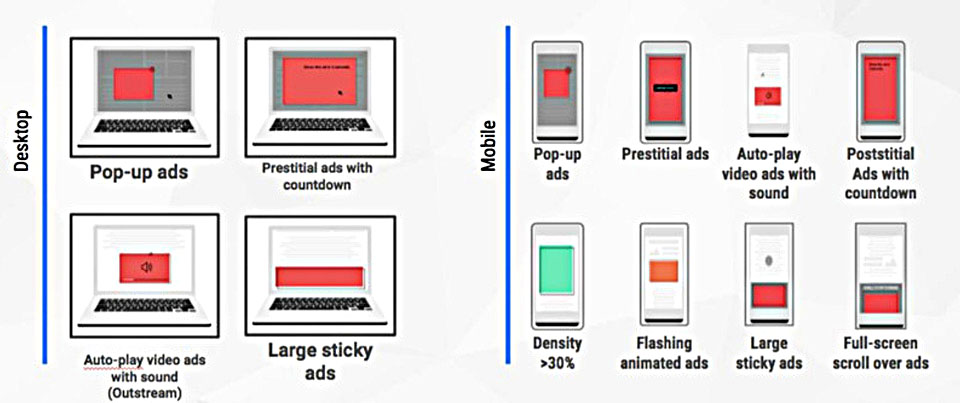 Image courtesy of Coalition for Better Ads
Although typical website visitors will notice little if any difference while patronizing properly behaved properties (outside of a potential speed boost on sites with blocked advertising), many publishers are concerned over potential revenue loss, while advertisers are scrambling for new traffic sources as they fear declines from non-displaying ads.
Unlike tools such as the popular AdBlock Plus that seek to bar all ads, Chrome's new function exclusively targets ad types identified by the Coalition for Better Ads as harming the quality of the user experience.
The system also reportedly incorporates EasyList filter lists, which according to its publisher, "are sets of rules originally designed for Adblock that automatically remove unwanted content [such as unwanted frames, images and objects] from the internet, including annoying adverts, bothersome banners and troublesome tracking."
Fans of intrusive ads will still get to "enjoy" them if they wish, as Chrome will employ a pop-up to alert users of a blocked ad, and allow them to override the block.
The irony of using a pop-up to notify viewers that a pop-up was blocked, is not lost on this observer — after all, "aggressive advertising" exists because it works.
Ryan Schoen, Google's product manager for the Chrome Web Platform, told TechCrunch.com that it is the publisher that has to take responsibility for ad quality.
"The publisher can decide which ad networks to do business with but ultimately for us, the users, by navigating to a specific site, they enter a relationship with that site," Schoen said. "We do think it's the responsibility of the site owner to take ownership of that relationship."
Despite the fear and uncertainty among some "forward-leaning" advertisers and publishers, it is worth noting that Chrome will block less than one percent of online advertising — which isn't significant — unless your ad is among that elite group.
Stay tuned to XBIZ for a comprehensive report on Google's newest restrictions on online advertising.
close
E-mail this to a friend
'Adageddon' Approaches as Google Rolls Out New Ad Restrictions
Email sent. If you wish to send to another person, click here.