LOS ANGELES — A storm is coming, the likes of which this industry has never witnessed. Fueled by an all-seeing eye, whose unblinking gaze orchestrates sorcerous lightning bolts that strike down heretics and supercharge worthy disciples, 2018 XBIZ Female Performer of the Year Romi Rain now wields the ultimate power.
Hundreds of adult movies with just about every studio? Check. Millions of fans on social media? Check. Feature dancing? High-profile acting credits? Live camming? Major sex toy deals with Fleshlight and Kiiroo? Metal-as-fuck, with slick tattoos, yet well-spoken and widely beloved? Fuck yes. Check, please!
Romi Rain does it all, exceptionally well, to great acclaim.
And while the title of XBIZ Female Performer of the Year does not have a checklist of requirements, Rain has both the numbers and the multi-faceted track record to prove she can rule the Seven Kingdoms of adult entertainment.
Hers is a crown that gleams not just with one gemstone (cut from shoots), nor with two jewels (cut by an official website and hardcore gonzo skills), but with many gleaming shards of brilliance, cut from just about every domain of this wondrous XXX carnival … reflecting her uniquely peerless stardom.
Not to mention, she is one of the warmest, realest stars in the biz. Fake, she is not. If she smiles, it shines truthfully. If she laughs, it sounds belly-deep and rich.
See, Rain is neither the homecoming queen nor the valedictorian — she is the rebellious misfit, outclassing the too-classy, too-smooth politicians, with fiery artistry and a devil-may-care bounce to her step. She is dangerously amused mayhem, tied in a silken bow and packaged by the very best.
That is why she rides this Thompson submachine gun bullet train, garbed in the winning team's sapphire colors, rocketing past junkyards and used car dealerships. For there is no derailing this monstrous machinery, this endlessly morphing metaverse of Machiavellian machinations, switching gears at the drop of a hat to leave behind earthly constraints and ignite hyperdrive thrusters.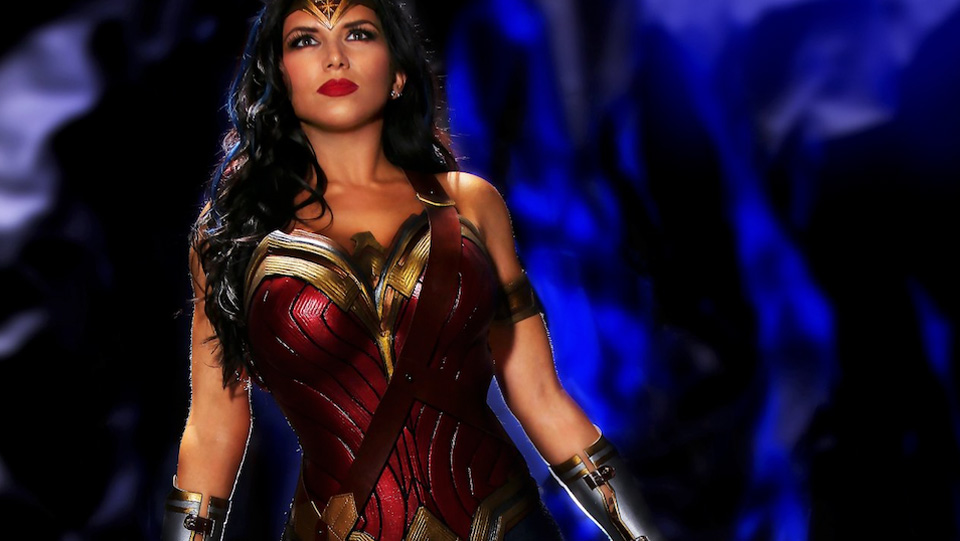 "Justice League XXX: An Axel Braun Parody" photo courtesy of Wicked Pictures.
Advanced beings of Rain's caliber ascend on such evolutionary gales, riding the revolutionary scales of great dragons, breathing such incendiary flames that business-as-usual is reduced to smoldering ashes. She is an unholy (and thus, truly sacred) fusion of Daenarys Targaryen and Melisandre of Asshai, breaking the wheel as she banishes terrors from the darkest nights. And as a fallen empire burns, with all the sacrificial ardor of an offering to R'hllor, the Lord of Light, the Heart of Fire, the God of Flame and Shadow, its final bacchanalian festival exhaled a wagon-maker's creaky last gasp.
So it is, that Rain's third-degree seductive badassery, can-do attitude and tireless work ethic, all but guarantee this 2018 XBIZ Female Performer of the Year is always in high demand. Is it any surprise her lengthy filmography spans numerous big-budget scripted blockbusters, many of which earn as much critical praise as they do commercial success? No. In fact, a few of her favorite titles this year included Brazzers' multi-XBIZ Award-nominated parodies "Power Bangers" and "Queen of Thrones," not to mention Axel Braun's XBIZ Award-winning "Justice League XXX."
"I feel so lucky that I was part of so many amazing movies this past year," she told XBIZ. "It's really hard to choose which ones were my favorite! 'Power Bangers' was an experience full of laughter, since I was a fan of the original show when I was younger, so I had a blast being my version of an x-rated Rita Repulsa, and being able to say, 'Damn you, Rangers!' with conviction!"
Then, she was swept away to a distant land filled with greenery and a full-fledged castle for Brazzers' latest "Game of Thrones" parody, "Queen of Thrones," which was an equally elaborate follow-up to 2016's "Storm of Kings." During the shoot, Rain and her co-stars — like 2017 XBIZ Male Performer of the Year Xander Corvus — seized the social media spotlight with gorgeous (and sexy!) behind-the-scenes photos taken amidst awesome ancient architecture and vibrantly verdant scenery.
"'Queen of Thrones' was shot in the U.K. by Brazzers and it was my first opportunity to travel overseas, so that was an incredible experience!" Rain reminisced. "I had so much fun, that I stayed several days longer and am planning on going back again soon!" In the movie, she played "vixen witch" Red Strumpet, the diabolical parody version of the infamous sorcerous Melisandre — though, it must be said, Rain's curvaceous physique and spellbinding beauty outshone the mainstream version. Sorry, Carice van Houten!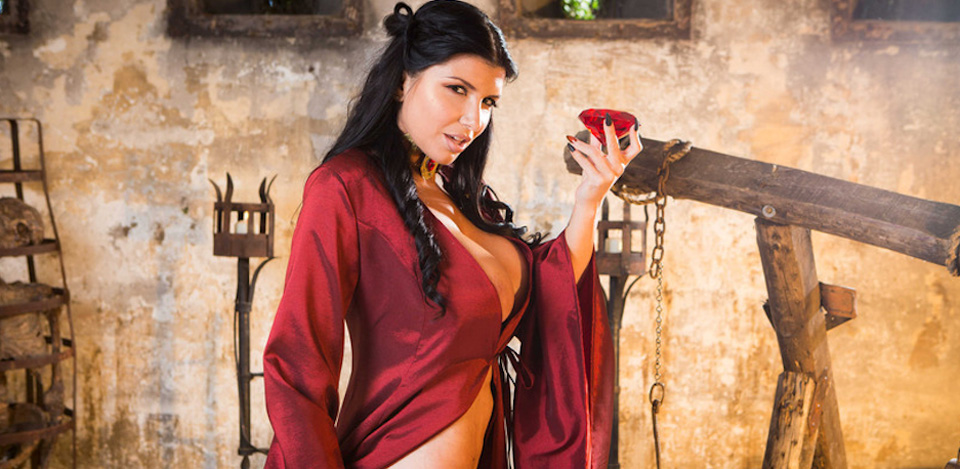 "Queen of Thrones: A XXX Parody" photo courtesy of Brazzers.
Further cementing Rain's mega stardom for the year was "Justice League XXX," where she portrayed leading lady Wonder Woman. Step aside, Gal Gadot!
"I have to say, the movie of the year for me was when I got the opportunity to star in a Wicked feature as Wonder Woman!" she highlighted. "Dressing up and acting as such an iconic, strong female character is kind of the role of anyone's career … especially considering I was a geek that went to many Comic-Con expos before porn.
"The fact that people actually promote photos of me as Wonder Woman and say I did the character proud really makes me light up inside and I don't take that for granted," Rain underscored, before reflecting on the past 12 months as a whole. "I was able to expand my horizons this year, travel to new places, meet new beautiful people, gain more fans all over the world and really challenge and improve myself both personally and professionally. I'm so excited for what the future has to bring."
Beyond her stellar shoots, Rain was also honored to host the 2017 Inked Awards. "A huge compliment this past year was being asked by Inked Angels to host the 'Inked Awards!'" she shared. "I was so flattered and had never hosted an event or show before on that level. They trusted me and gave me the confidence to really go for it, and it was almost entirely an unscripted show, so it was a completely different kind of 'being in the moment' than shooting a scene.
"I loved the challenge and felt almost more excited once it was over because it was a big accomplishment for me — I used to be really nervous about speaking at all in a crowd, but I do get off a little bit on the rush of trying something new," she explained. "You never know what you are capable of until you try. Now I want to try my hand at hosting something again!"
From hosting to non-stop movie releases, Rain has amassed one of the mightiest social media presences in the entire industry, with more than 500,000 followers on Twitter and nearly 2 million on her one-and-only Instagram account. Such celebrity status is a boon she never takes for granted, instead cultivating its densely muscled strength and global reach to achieve newfound heights.
"Social media can be an incredible tool in any kind of entertainment … you can market yourself any time of the day, from anywhere, to the entire world," Rain underlined. "It honestly blows my mind I have so many fans from places I've never even heard of sending me love notes in beautiful languages I can't read, it's wildly flattering! Quick shout out to all my fans for really being the ones who have brought me so much success by following my pages, joining my sites and paying for your porn. You are all the real MVPs."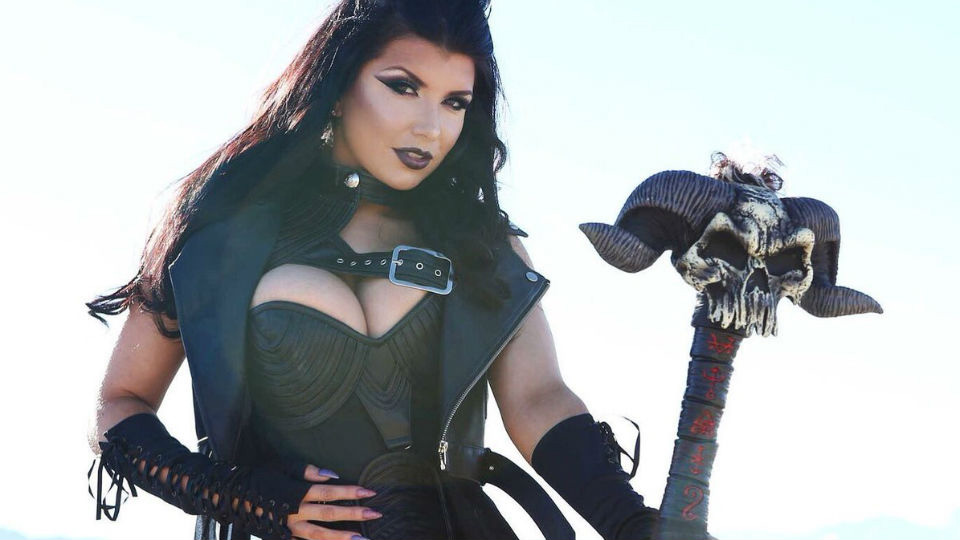 "Power Bangers: A XXX Parody" photo courtesy of Brazzers.
As for how she encourages those rabid legions to return again and again with insatiable appetites, Rain said, "I've just always made sure, even from when I was just a dancer and cam girl, to always interact with my fans and post every time I was doing something like a show or new scene, to get folks excited and let them know where they could find me online. Many of my fans genuinely like me, because I'm just myself!
"I love a good photoshoot and the burlesque-style 'art of the tease,' so I try to always leave folks wanting a little more … also, I love posting silly pictures with my tongue out and the occasional silly meme," she imparted. "Social media and websites are how you show your fans who you really are and the things you truly like. If you're just trying to have fun and do well, without hurting anyone else, a lot of other people will wanna have fun with you too!"
Stepping back from a powerhouse year of endless greatest hits, Rain took a swaggering stroll down memory lane, harkening back to her earliest days and how far she has traveled to reach the pinnacle of success. "I love the adult entertainment industry," Rain told XBIZ. "It really has been my life for over 10 years now, off and on. I started nude modeling at 18, exotic dancing at 19, camming at 23 and was in triple-X movies by 25. It's been a wild ride that I've had a blast with so far, but I still take my job seriously. I care about the quality of work I put out there and absolutely encourage everyone else to as well."
Her perfectionism is certainly evident in each scene, where Rain lets loose like a cyclone of sex, whipping her raven-haired mane around and looking more and more scintillating as sweat coats her with a steamy gloss. She knows that outlasting fair weather players means buckling down for the long haul, and that rising above even the uppermost echelons requires an edgy personality.
"I had a lot of people tell me I might not be successful and that the industry can be hard to navigate, especially when it comes to creating long-lasting success on your own terms," she noted. "And that is all truth, but I completely believe that overall success comes from the hard work of the individual."
Rain also attributes her enduring stardom to a healthy appetite for sex and helping others reach the next level in their careers. "I love sex and getting 'filthy' for the camera, but I do respect myself and other's bodies, as well as their time, and I'd like to think people remember that," she pointed out. "I like sharing my stories and history with others, because I think truth is valuable, and if I want to be in a thriving industry, I have to push that and help if I can.
"A few nuggets of advice or sharing personal experiences can make someone's day and even prevent a lot of confusion or trouble," Rain continued. "I know that, because I've been there and honestly wished more people helped me out too. I truly do consider myself lucky, but I've busted my ass. I always wanted to be a good representation of the adult industry because I love it … and ever since I was a child, some of the coolest, most accepting, most interesting and beautiful people often came from unconventional backgrounds and artist lifestyles."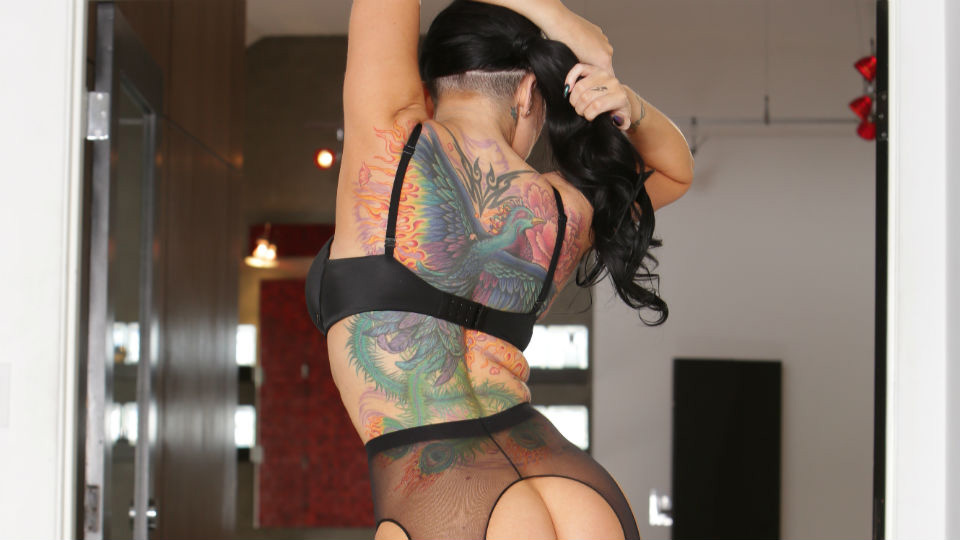 Photo courtesy of Chris Streams and Romi Rain.
Taking a more introspective tone, Rain observed that this is the one industry where she can truly unfurl all her resplendent feathers and be authentic to herself. "I am a strong, intelligent woman who was on her own, paying her bills since she was 18," she said. "Occasionally, I cry at movies and I play video games. I'm also a bisexual, tattooed porn star from Boston, with a strong opinion. That's why I'm so happy and proud to be able to be myself and actually get awarded for it. Now, I will share my stories with anyone who wants to talk to me. I've also spoken to Sandra at OC Modeling — my agent — that I'm more than willing to have the 'nitty gritty' conversations with girls new to the industry. There's no reason for a girl to be confused about this business. We are already each other's resource, if we choose to be, and again, I want the industry I've worked in so long and love to thrive."
Now, as the reigning XBIZ Female Performer of the Year, Rain is positioned for greater success than ever before, with more than a few ambitious plans up her sleeves. "I'm really excited to get better at cinematography, directing and editing this year!" she told XBIZ. "That slightly more technical realm is an area I haven't explored too much yet. I've really only been experimenting with it this past year and I recently invested in new camera equipment. Also, I'm slowly getting the hang of making cool BTS or themed videos for my YouTube channel, which has been so much fun. There are so many new skills I need to hone!
"RomiRain.com and my ManyVids store have and will continue to get meatier — hehe — so I'm very excited about bringing my own ideas and visuals to life!" she continued. "I'm also writing more, which is something I used to do all the time when I was younger. Slightly dark short stories were my forte in high school, so I'll be using that as another form of expressing who I am.
"Huge XXX projects are in the works as well, I'm not going to stop shooting anytime soon and I'd love to play a bit more with acting … maybe even push my limits a little further sexually," Rain concluded. "Also, I'm planning another mix between a work trip and vacation to the U.K. in the spring to shoot movies, BTS and have an overdue belated birthday and awards celebration — I am so grateful and proud to be XBIZ Female Performer of the Year, thank you all again!"