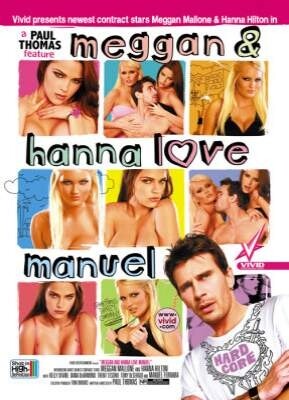 Hanna Hilton is hard-selling Manuel Ferrara on a Marina del Rey apartment while Meggan Mallone tries to drown her sorrows in a sleazy Hollywood bar, pouring out her troubles about her boyfriend to sympathetic bartender Tony DeSergio.

When Mallone says, "He's got a big dick" you have some idea where this is going. When Ferrara starts coming on to Hilton, undressing her with his eyes, you're sure. After Hilton and Ferrara close the deal, we cut back to the Hollywood bar, where Dana DeArmond and Mallone get up on the bar and get down with each other, and with DeSergio and Trent Tesoro. DeArmond takes the lion's share of the scene, and it's a good one.

In the new apartment, Hilton and Mallone confront Ferrara and each other. Hilton splits, Mallone sulks in the bedroom, and Ferrara follows Mallone for some makeup sex before they all get together for a three-way finale that illustrates the title. A light but likeable introduction to two new Vivid Girls with none of that irritating wait-an-hour-for-the-star-turn stalling. The previously girl/girl-only Hilton takes to Ferrara's dick like a duck to water, without the coyness or reluctance one could expect from a performer who has taken that path.
Synopsis:
Hanna is a real estate agent who meets Manuel while showing him an exclusive seaside apartment. She sells him the place, and her pussy, closing the apartment's lounge to fuck his brains out. Being Manuel, the next day she finds him in bed with Meggan. This scalding hot 3-way is worth the price of admission alone.