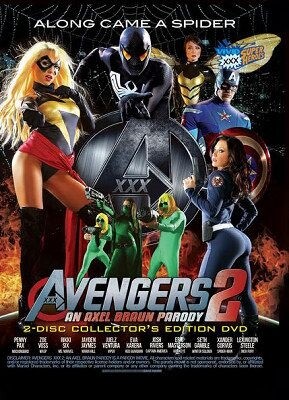 This two-disc Vivid XXX Super Heroes installment/parody has virtually nothing to do with the relatively recent Hollywood "Avengers" sequel, "The Age of Ultron," starring Robert Downey, Jr. and Jeremy Renner — but the women in "Avengers XXX 2," for the most part, do rock. Only problem? While the super heroine costumes are neat and fetching, they also largely wind up staying ON the female characters rather than being cast off during actual penetration, leaving much (in the way of fine femme flesh) to be desired.
Starting things off, and to help Captain America (Josh Rivers) "adjust to the modern world," Jayden Jaymes bangs our boy in, of all places, a dark, empty saloon (probably a leftover Vivid set). Jaymes is an excellent cocksucker/choker and absolutely an energetic fuck. But her alluring outfit has merely a slit for her twat and ass. Ridiculous, indeed, to waste such a sizzling body, but director Braun nonsensically does just that.
In one of the hornier scenes, the amazingly delicious Zoe Voss (playing super heroine "Wasp") is wearing an ultra-seductive, skintight black leather outfit, as Lexington Steele (playing boss Nick Fury) heatedly hammers her. Again, while we appreciate Zoe's slick and shiny costume, it shields her awesome figure. We don't even get to see her tits! Still, some nice positions and heavy doses of upbeat energy salvage this sequence — which had the definite potential of being dangerously molten!
Next, Hawkeye (Eric Masterson) and Spiderman (Xander Corvus) are bickering, before the dickering of Rikki Six a la Hawk's cock. Unfortunately, Rikki sucks dick like she wants to get it over with, while absurd John Williams-esque music blasting in the background. At least her outfit reveals more of her body, especially in the cowgirl position.
We finally get some plot going as, through a bizarre toxic chemical inside Hydra's (the enemy's) secret base, Spiderman is transformed into a darker, figuratively, character, who starts off his evil junket by fucking the shit, literally, outta Juelz Ventura. While we're treated to Ventura's big, hefty juggs, her juicy cheeks are monstrously obscured, yet again, by a cock-blocking costume. Her face is also half-covered by a stupid veil. What the fuck?! At least she takes it up the ass and is quite the wondrous cock-gagger (with some arousingly rude sounds), making up for the other fuckups in this scene.
After a gratuitous fight sequence — to give this action movie a little…ACTION! — one of my favorite current porn stars, Belgian whore Eva Karera (playing "the Red Guardian"), bones Seth Gamble in (next to the Voss/Steele coupling) one of the movie's most passionate trysts. Karera, eternally horny, gives a killer bj, ultimately fucking like it's her last time ever. Two major drawbacks here, however, are that — yet again! — much of her body is idiotically hidden by a sexy-yet-stifling outfit (we don't even see Eva's dynamite tits and luscious ass!), while this same Euro-buttfuck queen doesn't even get butt-fucked! Absurd.
There's very little by way of storyline in "Avengers XXX 2," even though it's, supposedly, a feature (disc two, by the way, contains BTS, photo gallery, and a non-sex version); and there's far too little anal, as well as the aforementioned paucity of visible female flesh. Adding insult to injury, the extremely fuckable Penny Pax, highly billed here, doesn't even fuck! — or even take her clothes off!…then again, do any of these fine bitches? Strictly for couples and/or Marvel Comics geeks only.
Synopsis:
The long-awaited sequel to legendary director Axel Braun's blockbuster parody is finally here! In this new sexy spoof, the superhero team splits into groups in order to battle a creature known as Onslaught and find a toxic chemical inside Hydra's secret base. But their biggest challenge will be battling one of their own, transformed into an evil version of himself. Just when they thought they were safe…along came a spider!