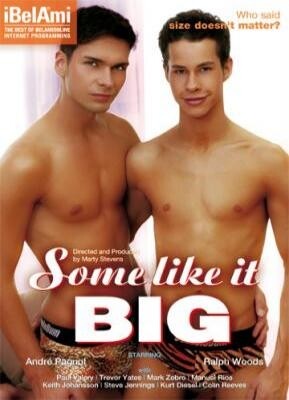 Attention size queens! (And you know who you are.)

Have I got a film that will send you into convulsions….

The newest release from European powerhouse studio Bel Ami is a sure bet for anyone's blues. "Some Like it Big" features some of the studio's most well-endowed models taking their aggressions out on the other well-endowed studio models. Seriously, there's a lot of dick here.

And if you like your big dicks attached to youthful, energetic young men — as I do — then this movie is already in your library.

Former Falcon exclusive Ralph Woods begins his new Bel Ami career with a rocket launcher. His scene with costar cover boy Andre Pagnol is electric and both boys take each other's massive members while barely batting an eye.

Mark Valery, already a huge favorite — pun intended — with the Bel Ami crowd, has two sizzling scenes. The first, a terrific fuck of young Colin Reeves, is one for the history books. The other, which starts out as a stroking trio (including Keith Johansson and superhung Mark Zebro), ends up with little Johansson getting speared by both big boners.

Bel Ami has done it again.

Director: Marty Stevens

Cast: Andre Pagnol, Ralph Woods, Paul Valery, Trevor Yates, Mark Zebro, Manuel Rios, Keith Johansson, Steve Jennings, Kurt Diesel and Colin Reeves.
Synopsis:
An instant classic from Bel Ami, proving SIZE is all that matters. Not for the meek or weak at heart, but only the brave and adventurous who crave BIG satisfaction. Bigger IS better.