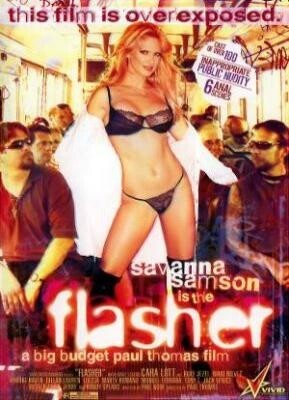 Sigh. If only there were flashers out there as hot as Savanna Samson.

Flasher begins where it ends and follows the disturbed Laurie (Samson), who has a problem; she feels a compulsory need to flash people in public. This problem is instigated by her stressful life, part of which is induced by her businesswoman mother (who inherited her riches from a deceased husband). Laurie's being arrested at the start of the flick, then we flash back to see how this entire sordid affair began in the first place.

Laurie first discovers her need to disrobe at a college party (wait, don't all women learn this at college parties? Zing!). It's not long before everyone's naked, and a mini orgy takes place.

Though everyone's going at it, Laurie is nowhere to be seen after her brief flash. She wakes up naked in bed with a monster hangover and can't recall the rush she felt when her clothes were coming off. Her roommate (Brooke Haven), who has a mad crush on her, tries to explain her exhibitionism but doesn't get through.

Suddenly we're thrust into a lesbian romp that I'm still not sure actually happened (I'm thinking it was just in Brooke's mind). They lick each other's lower lips, then out come the toys. They dildo one another into seventh heaven.

There's a lot more story here than what you're probably expecting, but it doesn't make the film any less interesting. Shorter segments and longer sex scenes would have been nice, but I don't fault the filmmakers for taking the story seriously and wanting to deliver a compelling narrative.

This is a relatively solid flick, especially the quality performances by Randy Spears and Cara Lott. And since this is a Vivid release, there are a ton of worthy extras, including five bonus scenes.

Starring Savanna Samson, Cara Lott, Roxy Jezel, Nikki Nievez, Brooke Haven, Dillan Lauren, Luccia, Marty Romano, Manuel Ferrara, Tony T, Jack Venice, Buster Good, Jerry and Randy Spears.

Directed by Paul Thomas.

Extras include positions room, behind the scenes, Vivid girl extras, photo galleries, Vivid previews and web info.
Synopsis:
This film is over exposed! Cast of over 100. Inappropriate public nudity, 6 anal scenes. There are a million stories in the naked city. And some are actually naked. Paul Thomas presents the twisted tale of a woman who was not complete unless she was naked in public. At the bank, on the bus, at the carnival, all over town. Welcome to a major film with over 100 actors, made by adult's most awarded director, Paul Thomas and featuring a superstar at her peak, Savanna Samson. Flasher. It's yours. In a flash.