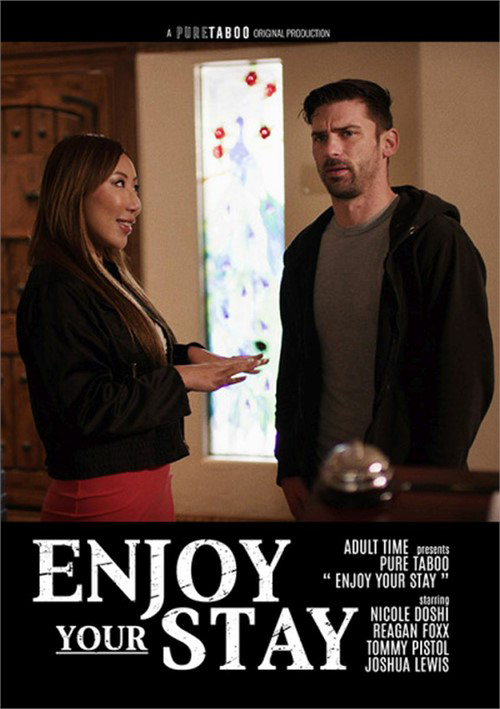 "Enjoy Your Stay" offers two strange, erotic tales from Pure Taboo, with Nicole Doshi especially shining (as usual) in her own particularly marvelous high-energy sequence.
In the title story, Nicole and her on-screen hubby show up at a tasteful but eerie hotel; it's an unsettling place in that there's absolutely no one present — except, that is, another couple who suddenly pop up out of the blue. Nicole ultimately gets down and dirty with the husband of the other pair of customers, played by Tommy Pistol. Specifically, Tommy and Nicole stay behind in her room, while Nicole's husband and Pistol's wife go to see if they can somehow fix Pistol's suddenly inoperative car. Nothing seems to be going right in this seemingly haunted/cursed place. And I don't want to give away the reason why Doshi and Pistol wind up fiercely banging each other; that would be giving away too, too much. Let's just say it seems like a fairly justified reason. Anyhow, there are absolutely no bad positions with Nicole.
She looks amazing and performs incredibly during doggie, reverse-cowgirl, spoon, and missionary. Actually, I do think my favorite is cowgirl, especially when Nicole's perfectly shaped butt gets all wet, slick, and shiny from sweat. Also, she consistently shows what a magnificent deepthroater she is, going all the way to the base of Pistol's throbber, while always getting oodles of saliva everywhere. Doshi is especially impressive in the oral department when Tommy has her head upside-down on the edge of the bed and mercilessly dick-dunks her ever-open gullet, as well as during a raging session of 69, during which Pistol furiously face-fucks her. Wow! Additionally, the acting between Doshi and Pistol is superb, and there's even a fully satisfying twist ending.
In our second weird tale, titled "Returned," the younger Joshua Lewis somehow convinces buxom, taut-bodied MILF Reagan Foxx that he's the reincarnation of her late husband, leading to some truly molten mattress action. Foxx is, at first, suspect of Lewis, understandably categorizing him as a crank and a fraud. And yet, Lewis keeps bringing up extremely private, intimate facts that only she and her dead hubby would know about. Her skepticism makes the story all the more believable. But it's nice when Foxx finally breaks down and lets Lewis have his way with her.
For her own reasons, Reagan is, like Nicole, particularly memorable during cowgirl, mainly because she exudes so much passion and energy during that stance. Also, while not as orally off the scale as Doshi, Foxx does suck a mean cock. And while Joshua isn't the most experienced thespian, Reagan is quite good, fully covering for her male performer with her sharp on-screen acting chops. Lastly, the story, like its predecessor, has a nice shocker of a conclusion.
Both of these tales are worth checking out due to provocative storylines, relatively good acting, and truly horny sex. And the dynamic, delectable, downright decadent Doshi is the true selling point of the movie.
Synopsis:
Beth (Nicole Doshi) and her husband Frank arrive at a resort to celebrate their anniversary. They have been working to move past a "rough patch" in their relationship, so relaxing together at a beautiful resort sounds like just what they need. They run into another couple, Tommy (Tommy Pistol), and his wife Olivia. They say they were having car trouble and came here to get help. Frank agrees to help fix the car, and leaves with Olivia. Tommy and Beth stay behind, but eventually wonder what's taking Frank and Olivia so long. Tommy starts leading Beth to his car, but from a distance they can see signs that Frank and Olivia are having sex in it! Beth, hurt and angry, storms back to the room. She confesses that the "rough patch" in their relationship was because Frank cheated on her before. Tommy looks sad and sympathetic, saying he wishes they had a way to make Olivia and Frank feel the way THEY feel right now Susan (Reagan Foxx) gets a surprise visit from an unfamiliar young man who introduces himself as John (Joshua Lewis), and acts as if he knows her. But that doesn't make any sense to Susan, because the only John she knows is her husband, who died over 18 years ago. However, the young man says he IS that John, and that he has been reincarnated!
Copyright © 2023 Adnet Media. All Rights Reserved. XBIZ is a trademark of Adnet Media.
Reproduction in whole or in part in any form or medium without express written permission is prohibited.