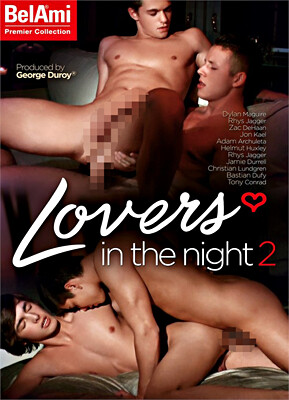 A quintet of condomless match-ups ostensibly taking place at night allow director Marty Stevens to set a moodier, more romantic lighting palette and play a bit with shadows. The BelAmi hotties who earn MVP include Dylan Maguire, Rhys Jagger and Tony Conrad.
Wholesome Dylan Maguire brings an eager-beaver quality to most of his onscreen sexcapades for BelAmi, including his hookup here with handsome jock-next-door Jon Kael. They kiss slurpily and the sexplay includes more attention than usual to such details as ass-eating. The condomless fucking is aggressive and ends in a sticky facial.
Long, lanky and shaggy-haired beauty Helmet Huxley (one of BelAmi's starrier discoveries of recent vintage) is paired with veteran horndog Adam Archuleta for a straightforward, no-frills matchup. Watch for Archuleta's propulsive cumshot here.
Elsewhere, Christian Lundren and Rhys Jagger are a strong pairing. They're both sensual stunners with an incredible physique and their kissing and body contact, leading to a strong fuck session, is among the best sex of the bunch. Jagger is a confident swordsman with a hint of a twinkle in his eye.
Jamie Durrell and Bastian Dufy are both boyishly gorgeous pups who could be horny cousins; there is a tentativeness to their foreplay but both studs come to life, as usual, when they get to fucking, which progresses quickly to wham-bam speed. Tony Conrad is a compact, brunette stunner with a beautiful face and a kinky angel demeanor; he services handsome jock Zac DeHaan with a careful eye.
Synopsis:
In such a night as this, five night episodes for the incurable romantic.