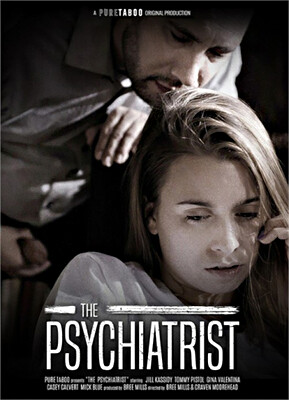 This is a dark tale, expertly crafted and well-performed, with sinister sexiness. It consists of two vignettes, "The Psychiatrist" and "Don't Talk to Strangers."
In the first, Jill Kassidy is confined in a devious institution, where a wicked shrink — played by the stellar Tommy Pistol — psychoanalyzes her. He asks her about herself and her past, in a series of probing questions, before the true probing begins.
After a solid 20 minutes devoted to narrative flair and intriguing setup, the sex begins in earnest. When it does, fireworks fly, especially given the fine performing of Kassidy and Pistol.
"Don't Talk to Strangers" is even more scintillating, for the darkly inclined, featuring a straight-up abduction story. Innocent Gina Valentina is lured into a ride by Casey Calvert, locked up and forcefully persuaded to have sex with her and her partner Mick Blue. Performance value is high and it leaves audiences fond of such twisted tales truly aroused, for Valentina cannot help but succumb to the cum.
The ending is definitely an exquisitely shadowy affair, which I shall not spoil. Praise to Bree Mills for her iconoclasm and risk-taking. As usual with Pure Taboo, good technical elements all around.
Synopsis:
Sheila (Jill Kassidy) has been charged with attempted homicide. When Dr. Powell (Tommy Pistol) asks her questions, she doesn't respond. She just sits, staring blankly at the wall. When he reminds her why she's actually there, she gasps in horror. He informs her that she's looking at some hard time as she's most probably going to be tried as an adult. What they have to figure out together is if her actions were voluntary or involuntary. When he asks her if she knows the difference, she nods. His diagnosis could get her out of this entirely and when she realizes that he wants to fuck her, she complies with his advances.