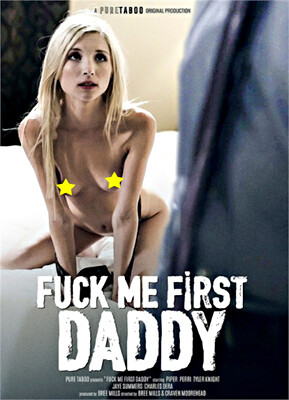 Two twisted tales of torrid tail-gunning, featuring blonde spinner Piper Perri and classical beauty Jaye Summers in "Fuck Me First Daddy" and "Bad Uncle," respectively, with both ladies brilliantly showing what arousing little tarts they are.
"Fuck Me First Daddy" involves Piper's obsession with her black stepfather, Tyler Knight, leading to, you got it, one helluva humping. Both Tyler and Piper play their parts convincingly, with Knight being sincerely appalled by Perri's whorish advances towards him behind his wife's/her mother's back. "Haven't you always wondered what it would be like to be balls deep in your stepdaughter's 18-year-old pussy? Don't you wonder how tight it is?" she asks Tyler once she begins to blackmail him (seeing as he lost his job and didn't tell his wife), and they're alone, and they're naked. A good build up to what amounts to somewhat of a grudge fuck on Tyler's part.
When we get to the porking, Knight makes Piper choke on his black trouser weasel, with lotsa saliva, engages in a little standing 69 with the randy hussy, with her tight pussy clamping onto his prick during cowgirl, while he ties her hands behind her back when he's doggie pounding her, which is most definitely one of the movie's best moments, what with Piper's ass looking so delectable when it's fully bent over; while missionary gives us a tantalizing view of her ultra-taut figure before he comes inside her cunt. "Look, it's like daycare down there," she wickedly tells him before we ultimately see what a fucked-up wench she really is.
"Bad Uncle" features Charles Dera as the bent Uncle Joe who's obsessed with his best friend's daughter, namely the amazingly gorgeous/suckable/fuckable Jaye Summers, whom he gets alone in his pad and winds up (yeah!) slamming the living hell outta. Dera is perfectly cast in this part because he plays the weird and scary uncle (especially with his '70s male porn star moustache) so realistically, so believably. They're at his house, planning on going on a hiking trip, when Dera tells her that, since she's 18, there's no problem in their sleeping — just sleeping — in the same big double bed together. Yeah, right buddy. Consequently, later that night, Dera is awake on his back, looking at Jaye's back and stroking his dick, until he moves closer and closer, hugs the nervous but curious babe, against whom he finally rubs his cock, at which point she begins stroking the wrinkled sax. Total turn-on! "I'm gonna put it inside you now, princess. Is that okay?" he tells her, to which she hesitatingly responds, "Yes." Major turn-on!
Dera first humps Summers spoon style while cupping her mouth, and it's a great angle, with Jaye seeming quite tight down there, what with her panting and wincing and all; he then French kisses her, sucks her succulent snatch, and sticks it into that perfectly shaped pussy missionary style, with Summers moaning oh so hornily; that's followed by, finally, a deep and gagging blowjob with lots and lots o' spit; while afterwards it's high time for doggie and then more spoon, some reverse-cowgirl, part of which is even done standing; back to missionary, giving us a delicious view of Jaye's delicious body; more deepthroating, more spoon, more doggie, with the latter being slow and deep, while at times hard and fast; then we're treated to cowgirl, where we get a full view of Summer's sweet little anus, while her juicy butt cakes undulating all over the place. Lucky bastard Dera!
Standing missionary also gives us a naughty view of Jaye's butthole. She then delivers another excellent round of deepthroating, with even more spit, before Dera has her lay down on her back, at which point he fingers her asshole, sticks his prick in her quivering cunt missionary, bangs her like there's no tomorrow, eventually pulling out and blowing dick snot all over her luscious belly.
All in all, this title from PureTaboo is a good one for couples, seeing as it's not too heavy, while it's also good for pervs, simply because both Piper and Jaye are so believable in their respective raunch roles as teens dying to get slammed by some veteran sausage.
Synopsis:
Piper Perri has the hots for her dad but Tyler Knight is really uncomfortable. He loves his wife and wants Piper to start dressing appropriately and stop walking around the house half naked. Piper insists that if he loves his wife so much perhaps he could love his daughter equally and give her the attention she craves. He downright refuses at first, but Piper has some tricks up her sleeve and it gonna make sure she get what she wants. Jaye Summers always had a great relationship with "Uncle Joe". Charles Dera was her dad's best friend but once Jaye turned 18, Joe changed and became obsessed with her. Getting her alone in a secluded place, he finally gets what he desires.