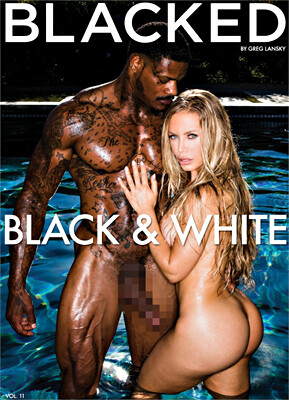 Director Greg Lansky really packs his latest volume of the popular interracial series "Black & White" with some of the best female stars in the business, with all four of 'em putting in superb performances, particularly luscious brunette Valentina Nappi and striking blonde Makenna Blue.
I'm not exactly sure about the story set-up in the first tale, but, in a nutshell or nutsack (take yer pick), DVD cover model Nicole Aniston (playing a photo-calendar/catalogue editor, I gather) has the hots for tatted-out Jason Luv (here cast as a model who's appearing in the calendar/catalogue), with the two fuck buddies absolutely burning up the sheets. Aniston might not be all-natural, but she has a marvelously sculptured body, really putting it to fine use during both doggie and cowgirl, with our boy Jason popping his nut off inside her during the latter. And you can't blame the understandably horny dude one friggin' bit, neither!
In one of my favorite scenes, Italian babe-a-roo Valentina Nappi (big ass, big boobs, et. al) plays a foreign journalist who's just interviewed a famous rapper, in the form of Julio Gomez, and wants to cunt-summate their meeting with a down-to-earth meating. Valentina does, indeed, try her damndest to get that huge Julio hose down her gullet, and she looks amazing in each and every position, be it missionary (check out those luscious thighs and that succulent cunt), doggie (the bitch was made to bend over and get bang with a booty so booty-ful as hers!), and cowgirl (which lets her full butt cheeks wibble and wobble with total abandon). Additionally, I love how she purrs in Italian when go-go Gomez is grinding down on her during doggie.
Next is another one of my favorite scenes, featuring one of my new favorite porn stars Makenna Blue, who's not only cute (especially with that tasty punkette haircut), but both ripped and blessed with one helluva juicy butt, as a lucky punk (here playing her personal fitness trainer who) gets to slam his swollen sword into her hungry mouth and sopping cunt when the sneaky slut's husband is away. Blue, like Nappi, also tries her best to get this fella's own black behemoth down her throat, and it's actually kinda sweet to watch: She's so orally (and, soon, vaginally) accommodating, even though she's playing a cheating hussy. And not only do you get a marvelous view of her wildly in-shape body during missionary, but you'll definitely blow yer load during either doggie or cowgirl, positions highlighting her prominent butt cakes which are moving, undulating, swaying with a mind all their own, as the stunt cock pounds and smacks the shit outta those bad boys.
And, finally, we have the always-welcome Abigail Mac, playing a "fitness celebrity" who gets down and dirty with her personal masseur, in the form of a big hulking bastard named Davin. It's a joy watching Abigail suck down Davin's dark destroyer, with her cheeks blown out, looking as if she's about to blow the chunks. She's extremely animated during cowgirl, but you definitely wanna catch her during doggie, where she basically (along with her deliciously gelatinous butt cheeks) fucks Davin himself rather than the other way around. Awesome stuff.
"Black & White 11" is a true winner, with a special kudos to big-booty babes Valentina and Makenna, the latter, I think, being one of the best relatively new finds in XXX. I also gotta give cred to all four featured brothahs, as they obviously know when it's right to let the ladies do some of the fucking themselves — especially during doggie and cowgirl — thus allowing us viewers to get a full view of those great female butt cakes, all of which really do keep this wonderful wide world of XXX rotating (in more fucking ways than one!).
Synopsis:
Greg Lansky, brings you Black and White Vol. 11! The celebrated series is back once again, showcasing the absolute hottest interracial sex with the most beautiful women in the world. International Superstar Nicole Aniston headlines this collection as a fashion mogul unable to resist the BBC of one of her models. Also featuring debut IR performance of the stunning Makenna Blue as a housewife looking for satisfaction; Italian beauty Valentina Nappi as a reporter whose curiosity gets the better of her; and the perfectly sculpted Abigail Mac, as a fitness celebrity squeezing some fun into her tight schedule. All wrapped in BLACKED.com's signature attention to detail and unparalleled production standards, Black and White Vol. 11 is collection NOT to be missed!