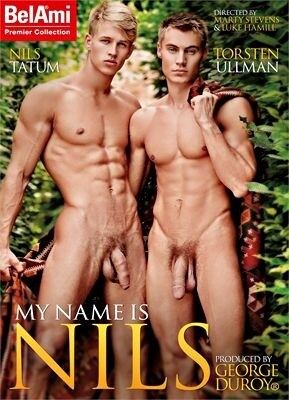 Outrageously handsome Nils Tatum — tall and blonde, jock body with ridged abs and muscular thighs, thick cock — anchors his own showcase, featuring more eye-poppingly good-looking BelAmi studpups.
Tatum bottoms skillfully and hits all of his marks, as evidenced by his extensive BelAmi training with various stablemates like Rhys Jagger and Torsten Ullman, both lean and smooth with muscular swimmer's physiques and long, uncut boners (the former declares the blonde beauty to be more than ready for more sexcapades).
Ullman actually appears to share the most volatile erotic chemistry with tall, brunette jock Antony Lorca. Their sexplay is teasing and sensual and they make love with what appears to be genuinely friendly chemistry.
Elsewhere, beautiful babyfaced Christian Lundren — his thick, gorgeous hair is almost its own character — has a lovely assignation with Ullman, who can't seem to keep his hands off the lovely pup.
Filmed on location in and around various golden, sun-drenched Greek locales, the condomless sexplay features plenty of spurting uncut cocks splashing stretched-out holes, cheekbones and/or abs.
Synopsis:
Body perfect. Meet Nils Tatum - Bel Ami's new golden boy.