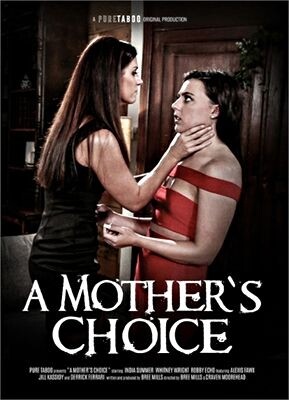 A pair of torrid tales featuring four foxy tails (two fine harlots per story) from Pure Taboo; with 42-year-old MILFs India Summer and Alexis Fawx playing the bad and good stepmothers, respectively, of 26-year-old Whitney Wright and 20-year-old Jill Cassidy, also respectively. And the results — thanks to engaging storylines and our quartet of horny, attractive vixens — are totally volcanic.
In our first story of stepmother/daughter decadence, India Summer plays a choice, slightly older whore who, literally, sells out the bodacious body of her stepchild, Whitney Wright, to her fiancée's son, Robby Echo, basically/desperately bribing him to silence him and, thus, not reveal to his rich father her sideline prostitution activities. Ultimately, Summer does join the nasty activities; with her sweet and, in turn, understandably resentful stepdaughter ultimately taking cunt-rol of the ménage a trois. Both women look fantastic in all positions, with doggie being my own personal fave, while it's great watching Wright actually force Summer's head down upon Echo's prick during one of numerous far-out suck-off sessions during the course of Robbie's delightful double drilling. And the story's ending, unlike most porn movies which abruptly finish immediately after the pop shot, is also quite satisfying.
In the second story, Alexis Fawx plays a fetching MILF who's broken up with her husband, but takes in his daughter/her stepdaughter, the incredibly luscious Jill Cassidy, with whom she's happily living; until, that is, mommy's weird boyfriend, played by the bizarre Derrick Ferrari, moves in, starts making secret moves on Jill, who stoically offers to have sex with the creep if he stops harassing her and promises to never reveal his feelings (let alone their deceitful actions) to her stepmom, whose heart would be broken; and their semenly clandestine tryst is going fine, until Alexis walks in on 'em, at which point the erotic fireworks really X-plode. Any position Cassidy takes is hornily matched by Fawx, both of whom are equally powerful fuck monsters.
This sequence, actually, has even more energy than story #1, with angry and betrayed stepmom Fawx calling the shots (a direct, much appreciated contrast with story #1, wherein stepdaughter Wright is in charge). Again, my favorite position here is doggie — with both ladies! And, at one point, Fawx's clam is so wildly slammed by Ferrari, you'll undoubtedly spill yer load right there and then. Also, the double BJ lucky Derrick's dick receives from both young and vintage tarts is incredible. And I love the twist ending here. Won't ruin for you, though.
Yes, there may only be two stories here and four women, but the results — once again, thanks to the engrossing storylines and photogenic, fuck-suck-hungry ladies — are nothing less than boner bursting. Interestingly (and I don't know if it was done purposely or occurred strictly by accident) all four women have, at least partly, Native American roots in 'em, which merely makes 'em all the more scrumptious in this perv's opinion. Yep, this one's absolutely worth checking out by experimental couples and hardcore smuthounds!
Synopsis:
Charity (India Summer), and stepdaughter Jessica (Whitney Wright) pull up to their new life with Charity's new husband. Eager to be out of the place they once were, it proves a sensitive topic for bitchy and physically abusive mother Charity. But secrets are only so secret in a small world, and her spying new step-son Robby Echo soon learns everything she's trying to bury.