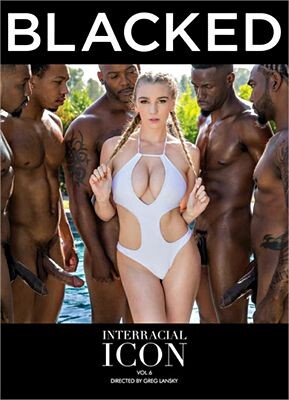 This sixth edition of the always-arousing "Interracial Icon" series from Blacked.com might just be the most volcanic volume thus far, with four tales, six delectable white chicks, no lass taking on less than two cocks, and one exceptionally blistering bitch — namely, the amazing Kendra Sunderland — taking on five (count 'em, five!) bruthah vines. Whew!
And, hell, what better way to either start (or end!) a porn-manteau like this one (or a gonzo period!) than with a gangbang, which is just what we've got here, with none other than big- 'n' lush-boobed blonde vixen Kendra Sunderland taking a quintet o' dark dicks. In an almost non-storyline, she plays a chick who just broke up with her boyfriend and is now enjoying a steady diet of hard black salami. Cunt-sequently, she totally whores out at a party, letting her new boyfriend and his four buds lick and stick her.
And after a brief but bawdy blowbang, Kendra does a horny missionary train with the gents (giving us an amazing view of her equally amazing body) — during which she cunt-tinues to stroke and suck cock — followed by a doggie train (one of the movie's true highlights, in which Sunderland's tight little butt is booty-fully spotlighted), reverse cowgirl (during which there's, basically, another blowbang), and then the messy (as all of 'em should be!) pop shot, times five, with all the bros spurting off (splat! ... splat! ... splat!-splat!-splat!) one after the other. Definitely one of the best scenes o' 2017.
Next, the delicious Ariana Marie catches her stepsister, the always-welcome Megan Rain, with two black guys (Prince Yahshua and Rico Strong) in her bedroom, with the ever-seductive Rain ultimately cunt-vincing Marie to make the dirty threesome a (yes!) rockin' foursome. After the two sluts share sucking duties, they ride each guy cowgirl style (yes, the little tramps switch fuck buddies), then reverse-cowgirl (with the boys really drillin' away!), followed by another suck session, a doggie venture (the problem here being that Marie is in the background, so she's not as well covered as Megan in the foreground; but director Lansky makes up for this techno shortcoming with the scene's hottest segment, which is), Rico Strong soon doggying each girl (Yahshua, for some odd reason, disappears, briefly, perhaps to buy a new pair of hiking boots), with Rain and Marie taking turns licking the other's anus while Strong rear-bangs each step-sis. Yahshua does return (where were ya, dude?) to blow bro' butter, along with Monsieur Strong, upon both girls' mugs. And can't you just tell that anal princess Megan was positively dyin' o get her shithole plugged by each black bone (and even do a DP) during the entire scene!
Next, the ever-desirable Anya Olson plays a Facebook whore who'll do anything to get more followers, including sucking and fucking some famous dufus (at least in this porn story) called John Johnson, with Anya ever so generously (more like deviously) bringing her round-in-all-the-right-place friend along, the underrated Cadence Lux, to also service John and the johnson attached to his pal. After Anya gives a killer BJ to both boys, Cadence appears, with Anya focusing her oral skills on John, while Lux mouth-massages Jason's rod. Both girls get top points, by the way, for their suck-off abilities, with Cadence getting plenty of stringers in the mix.
The highlight of this entire segment, however, is each girl taking turns eating the farts of a brother while the other girl sucks off the same lucky bastard. Nasty!
Reverse cowgirl, cowgirl and doggie follow, with Anya really gettin' a groove during cowgirl, while I found it hard to take my eyes off o' juicy blonde Cadence during doggie, her plentiful, undulating ass cheeks just perfect for this position. I don't quite understand, however, why only John gets to pop on the girls. Whatever. This ebony-on-ivory foursome is still one helluva showstopper.
And, lastly, we have the very cute, wiry in a highly practical (and, better still, horny!) fashion Tali Dova not able to get enough o' dat dark meat and, in turn, using the internet to hook up with/take on Jovan Jordan (yes, it's actually a porn dude and not a men's cologne) and Moe Johnson. I like the fact that Tali doesn't mind kissing, while she similarly delivers lusty oral tokens to each lucky fuck (when she isn't using her hands, that is). And speaking of fucks, Tali rocks in the both the mish and reverse-cowgirl positions, with doggie being my favorite screw-stance, as the ravenous Dova just keeps suckin' away while she's being rear-plugged. I also love how she squirts like a geyser when Jovan is slammin' her during a second round o' mish, before he blasts bro' batter all over Dova-clam, with our man Moe soon frosting Tali's facial cheeks. Whew!
Each one of these four episodes has tons to offer, especially since each of the six featured vixens is so incredibly tasty, particularly the fantastic Kendra Sunderland, who should definitely be nominated for her opening (in more ways than one!) five-greasy-black-cock gangbang. Love ya, Kendy baby!
Synopsis:
BLACKED.com and Greg Lansky, bring you the next installment of its cornerstone series - Interracial Icon Vol. 6! In this group sex special edition of the series, we've brought together the best talent the world has to offer in IR scenes you can't find anywhere else. Cover model Kendra Sunderland absolutely sizzles in her first Interracial Gang Bang as a newly single college student looking for new adventures. Also featuring group sex IR performances of the stunning Ariana Marie and Megan Rain; Cadence Lux and Anya Olsen; and Tali Dova taking on two guys at once! All wrapped in BLACKED.com's unparalleled production and storytelling standards, this special edition of Interracial Icon is NOT to be missed!