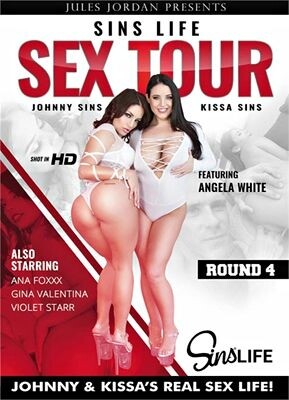 Kissa Sins and Johnny Sins are some of porn's finest — Kissa's gorgeous as fuck, and Johnny is what I wish all men in porn looked like. "Sins Life: Sex Tour Round 4" takes us into the wondrous world of the extremely hot couple as they travel the world and double team beautiful women. This raunchy excursion features 2016 XBIZ Foreign Female Performer of the Year Angela White, beautiful as ever Ana Foxx, stunning Gina Valentina and foxy newcomer Violet Starr.
First up is Angela, wearing clear high heels, and a white bodysuit with a wide opening for her cleavage to be on full display. Similarly, Kissa wears a white fishnet bodysuit and clear high heels. Johnny, to keep up with the theme, also wears a white shirt. Kissa and Angela have amazing chemistry — they're both all smiles while they makeout, then Kissa reaches for a bottle of lube. Kissa jiggles Angela's boobs for the camera, then coats her ginormous tatas completely with lube.
Angela bends Kissa over, and spreads her pussy open for the camera. Eventually, Kissa ends up on her back, where Angela completely devours her pussy. Kissa brings her own legs behind her head, and practically squeals in ecstasy. To get her to come a second time, Angela fingers Kissa's asshole, which makes her giggle. Johnny finally joins in, and gives both girls a hard fucking. Highlights include Kissa riding Johnny while Angela eats out her asshole, and Johnny face fucking Angela, while she's on her knees, and Kissa's face is in between her tits. Sexy, sexy scene!
Next, Ana Foxxx, dressed in white undies and a white wife beater, joins the couple, likewise dressed in white! Once again, the duo brings out the lube. This time, they've also brought in a kiddie pool filled with balls for some added fun. The girlies roll around in the lube, then take turns eating each other out. Johnny, wearing white boxers shorts, joins in.
Laying on his back, Kissa hops right on top of him, also on her back. In this position, Ana gets a perfect view of Kissa's open pussy, and can jack off Mr. Sins with ease. From there, the trio mess around with positions, eventually ending up with Ana riding Johnny reverse cowgirl style, while he sits on the ledge of the pool, and Kissa tonguing at his balls. I love Ana, and she's always a standout in her scenes.
Next, brunette beauty Gina Valentina gets her turn with Mr. and Mrs. Sins. I was a little surprised when Gina showed up wearing black booty shorts and a gold top, but … she looked gorgeous nevertheless! Gina and Johnny get a game of pool going before Kissa enters the picture. Immediately, Kissa tends to Gina's ass, bending her over the pool table and tonguing her butthole. There's a lot of hot blowjob action in this one, with Johnny laying back on the pool table and Kissa and Gina both wacking him off.
The girls each get a good dickin' from Johnny's large member. First, Kissa sits on Johnny's dick, while he lays back on the pool table. Gina cutely kisses his cock every time he thrusts out. Then, Gina gets to lay back on the table while Johnny plows into her and Kissa gives her a big smooch. To end the scene, the menage a trois moves to a couch located directly next to the pool table. There, they switch between doggie and various cowgirl positions. Hot!
Last, but certainly not least, is fresh faced Violet Starr, who in my opinion, has what it takes to be a big star. She's cute, super sexy and you can tell she loves a good fucking. In this scene, all three performers wear onesies. Violet rocks a "Thing 2" onesie, while Kissa dons a unicorn onesie. "Daddy's here," Kissa tells Violet, prompting Johnny to get closer with the camera. Since Johnny's got the camera, you can't see the kind of onesie he's wearing, but both girls look sexy getting his zipper down.
Both girls immediately get down on their knees, sucking Johnny off. In the final matchup, Kissa and Johnny bring out a pink double sided dildo, which is handled by both the Sins and used on Violet. They stick it in her mouth, then bend her over and slide it right into her pussy. Highlight of the scene is when Kissa gets the camera, and records both Johnny and Violet eating her out, then kissing. Violet is really one to watch out for, and this scene proves it.
Johnny and Kissa are really living their best lives. They're hot as hell together, and are both wonderful performers. "Sins Life: Sex Tour Round 4" is something on the market that's different, fresh and fun.
Synopsis:
Step inside the REAL sex lives of pornstars and real life couple Johnny and Kissa Sins and come on The Sins Life: Sex Tour!! This week Johnny and Kissa fuck four new incredible sluts and bring a camera with them to share the experience with you!! Angela White and her giant tits covered in oil, Ana Foxxx in a rainbow ball pit full of oil, Gina Valentina on their pool table, and a naughty onesie party with Violet Starr!! Ever imagine what it's like to have your wife bring home girls for you to share? Now you can with Johnny and Kissa's REALITY PORN!