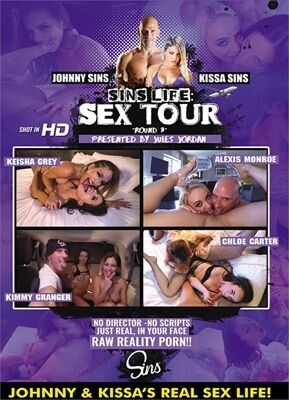 In various hotel rooms — and even the back of a van, to add a little danger to the inherent exhibitionism — somewhere in America, porn couple Johnny and Kiss Sins shoot rough-and-ready POV gonzo stuff (four scenes, each with a different "visiting" porn starlet), made all the more potent via the highly bangable babes accompanying them — and Kissa's big juicy ass!
Actually, you really can't start a movie any better than with the awesome Keisha Grey, which is the situation here. After some petting between Kissa and Keisha, you get some awesome cowgirl, with Johnny getting a wild ride from Keisha (talk about a juicy ass!), terrific doggie action with Kissa (jiggle them patty cakes, baby!), female asshole eating a la Grey, doggie with Keisha (a true highlight and what we, and Johnny, have been waiting for!), with Johnny spurting off on one of KG's incredible butt cheeks.
Next, it's delicious blonde Alexis Monroe's turn with J&K. The scene starts with the ladies providing a luxurious double-suck o' Johnny's joint, then switching to Monroe eating Kissa's cunt doggie style. Aside from boner-bursting doggie action with Alexis, two other show-stopping moments include Kissa riding Johnny cowgirl (shot from the front by Johnny and the back by Alexis), and Alexis herself doing cowgirl, with Johnny eventually coming on Kissa's booty and Monroe lickin' it all up.
Next, the pair team up with sizzling spinner Kimmy Granger in the back of some big van. After the ladies blow Sins' sword, Johnny brilliantly doggie-humps Kimmy (some nice grinding action from Le Grange here), while I love Kissa's cowgirl on Johnny, what with her big greasy ass cheeks flowing everywhere; ditto for Kimmy, who adds some grinding fun to her cowgirl romp. Also rewind-worthy is reverse- cowgirl from Kimmy, displaying her exquisitely wiry body (and more much-appreciated grinding). After mish with Kiss, JS blows on her cunt, with Kimmy gobblin' up the boy paste, though democratically sharing a bit o' sperm via kisses with Kissa.
Lastly, the Sins' treatment is hornily applied to luscious, fair-skinned Chloe Carter, wearing amazing fishnet stockings, which beautifully frame her fine booty. Doggie with Carter is un-fucking-believable, while you also don't wanna miss Chloe doing cowgirl, complete with more undulating ass-cheek action. More molten positions follow with both ladies, leading up to Johnny pounding Chloe mish style, before erupting man-goo onto her twat, with Kissa hungrily licking it off/up.
While the roving and stationary (tripod-secured) shots aren't at all bad here, it's the superb choice of women — Keisha, Alexis, Kimmy, Chloe — which makes this Sins' Tour (and, yes, Kissa's meaty buttcakes) really rock!
Synopsis:
Go behind closed doors into Johnny & Kissa's private sex fantasies and see your favorite girls get fucked like never before!