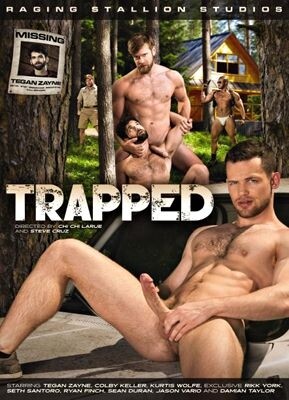 Furred otter Teagan Zayne is kidnapped by nefariously hunky Colby Keller while distraught boyfriend Kurtis Wolfe tracks him down and various cops and locals spend more time doing the suck-and-fuck than aiding in the search for a kidnap victim.
Zayne is appealingly lean and lightly furred with dark curls and a bubble butt. His sexplay with onscreen boyfriend Kurtis Wolfe – brawny and handsome – is solid and pleasurable but it appears both gents have a submissive side that bubbles up when good ol' Colby Keller appears. He fucks Zayne with sweaty abandon, aggressive and passionate, and later dominates both Zayne and Wolfe in an aggressive, sizzling and cum-splattered threesome. The devilish twinkle in Wolfe's eye as Keller pounds Zayne tells the story.
Elsewhere, stoic and broadly muscled Jason Vario whips out his tree trunk of a boner for full servicing from fiery Sean Duran, a sparkplug of a performer who really goes to town when he's feeling motivated. They bang outdoors on a shaded porch and although Vario is taller and much bigger than Duran, the latter stud is in complete control, bellowing and growling as he takes Vario's plus-sized cock.
Hotbod Seth Santoro shares a potent chemistry with Ryan Finch atop a pool table — they barely notice as Keller manages to abscond with a woozy Zaybe — and turns up again in a down-and-dirty threesome with inked, bearded stud Rikk York and similarly furred Damian Taylor. Delicious cock worship is on display and York remains in full dominating control as he allows his hole to be stretched, serviced and plugged.
The lush forestry and secluded cabins (clearly without air conditioners, as the cast drips with sweat) are eye-catching. Keller is a strong, charismatic actor and, like Duran, really pops onscreen. They are the MVPs, as usual (even with a decidedly downbeat ending). The nonsex acting is otherwise wobbly, but the erotic interplay delivers in spades.
Synopsis:
Is it love? Is it lust? Either way, Tegan Zayne is 'Trapped' in this exciting sexual journey. Will he discover the answers? Will he escape his captors and all the unanswered questions? Find out in the latest steamy Raging Stallion featured from the minds of award-winning directors Chi Chi LaRue and Steve Cruz. Kurtis Wolfe and Tegan Zayne are fucking on the couch. After taking each other's massive loads in their mouths, Kurtis proposes to Tegan. Tegan is unsure and decides to take a soul-searching trip to the woods to sort things out. After arriving at his destination, Tegan finds a local watering hole. All is well until he meets a handsome stranger and soon finds himself as a prisoner in a secluded cabin in the woods. Meanwhile, Seth Santoro and Ryan finch are back at the bar. Seth sucks Ryan's dick before he gets his own hairy hole serviced by Ryan's expert tongue on the pool table. Officer Sean Duran and Detective Jason Vario are working Tegan's missing persons case. When they disagree on how to proceed, the only way to remedy the situation is for Jason to prove that he has the bigger dick and then fuck the cum right out of Officer Sean. After being held by Colby Keller for almost two weeks, Tegan is ready for some action. He seduces his captor with a nice long blowjob before Colby rams his big cock deep inside his prisoner. Is Tegan falling for Colby or is it a classic case of Stockholm Syndrome? Damien Taylor, Rikk York, and Seth Santoro are camping in the woods. After the guys take turns stretching each other's holes and gobbling up all the cum they can get, Seth and Rikk get lost on a hike. One of the strangers in the woods who helps them on their way looks familiar. Can Seth figure it out before it's too late? When Kurtis gets a tip from Detective Jason on where Tegan is staying, he shows up at the cabin. Tegan is unable to choose between Kurtis and Colby so Kurtis suggests that they all love each other. After Colby fucks both hung studs, the cum flies and the aftermath begins. Will the three new lovers make their new arrangement work or is Tegan 'Trapped' again in an entirely new complicated situation. See it all unfold in 'Trapped' and let your inhibitions loose.