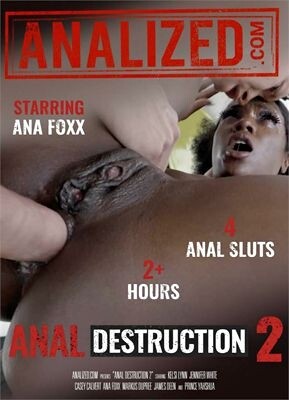 Director/performer James Deen (through his Analized.com) slams the crapholes of two young ladies (Kelsi Lynn and Casey Calvert); while a black babe (Ana Foxxx) is left to the perverted moves of Markus Dupree; and another white sweetie pie (the amazing Jennifer White) gets the interracial treatment from Prince Yahshua. The best scenes are absolutely those filthy episodes featuring Jen, Ana and Casey. These chicks are A-mazing ass-fuck tramps — and good-looking bitches, at that!
Jennifer White, other than looking incredible in all of her all-natural foxiness (including killer ass, sweet lil' tits and delicious face), takes on Prince Yahshua with sizzling results. Glad, too, that Yahshua (or director Deeno) doesn't neglect White's cunt before reaming her rectum. Yahshua really goes diggin' for the brown nuggets during doggie, with Jen never shying away from gnarly ATMs during all butt-fuck positions. Cowgirl anal is just as scorching, as is White's second shot at doggie (the latter with Jen's face smashed against the carpet and her ass way, way up in the air … awesome!); ditto for spoon and missionary anal, the latter giving us a grand view of White's ultra-tight bod. Love this sparkling White piece of ass!
Tattooed slut Kelsi Lynn is next, here getting seriously salami slammed in the shitter a la Deeno himself. Natch, Jimbo has to be Mr. Tough Guy and get a lil' rough with the bitch, including a wee bit o' choking, tit-slapping and (face-shoved-into-the-) toilet training. After blasting out Lynn's tonsils, Herr Director, actually, goes straight for the A, obliterating her poo-poo doggie style while standing; and it's even better when she's on her hands and knees. Lynn is also quite animated in the cowgirl and reverse-cowgirl anal positions. She definitely has a tasty bod. And I like the attention she applies to ATMs and eating Jimbo farts.
Next, we have a fiery interracial ass-fuck scene with black babe Ana Foxxx and Russian dick-wagger Markus Dupree. I love Ana's spinner bod, right down to her bite-sized titties, with her upbeat attitude making it all work beautifully. She also a terrific deepthroater (check out how she does it upside-down; though she's not too prolific at ATMs) and excels in doggie with her tight little butthole. I also love her all-around butt cheeks, which are equally small, tight, but still (thankfully!) somewhat juicy; well highlighted during spoon anal, too! And, like Jennifer White, Ana gives us a marvelous view of her way-in-shape figure during mish anal, during which Markie Mark blasts Moscow man juice all over her dung dumpster. Ana also regularly displays a nice winking brown eye, while she's similarly impressive at gapes. Umphh!
Lastly, we have one of my all-time favorite porn starlets, Casey Calvert, taking it deep down the gullet and way up the crapper from the lucky Deeno man himself. Case doesn't mind at all being suffocated, choked, gagged and getting her ass cheeks and tits slapped. And, unlike Kelsi, Deeno doesn't waste Casey's cunt, pounding that slit a bit before he hits the shit. Never a bad position with Casey, who's as pretty (even when her make-up dissolves throughout the course of her coarse ride) as she is sexy. I'm not crazy about her using her too much wrist during oral, but Jimbo makes sure she gags a bit, too. She delivers some fine gapes during doggie, while enjoying her share of ATMs; and, again, not a bad position here; though I think Jimbo should have utilized her better during doggie, getting more of an ass-cheek-gyration groove goin'. Still, it's Casey Calvert. She's just such a delicious whore! Slurp!
James Deen has included enough attractive, filthy female talent in this gonzo to make it absolutely worth catching. That is, you'll wanna pick it up for the fine looks/nasty antics of Jen White, Ana Foxxx and Casey Calvert. These suck-fuck vixens rock the people's cock!
Synopsis:
A regular ass-stretching won't do for these anal sluts. We've picked the dirtiest girls, and they need their buttholes destroyed! First up is the big-assed, anal starlet, Jennifer White. She's in the mood for big black cock shoved straight up her guts and a huge load of cum shot down her throat. Tattooed, hipster slut, Kelsi Lynn, wants bathroom sex in the roughest way possible. She likes spit on her face and a hand around her throat, and her ass to be pummeled until she's ready for cum. Athletic, black beauty, Ana Foxx, teases her butthole and then opens it up. She gapes her little butthole wide and uses it to jerk a lad into her ass. Finally, the brunette, anal-porn-whore, Casey Calvert, gets her clothes ripped off and shoved in her mouth. All the while, she takes cock inside her ass like it's her last day on earth. She won't stop until she cums from her asshole getting wrecked. These ass sluts are the real deal. Watch their holes open for ~~Anal Destruction~~~