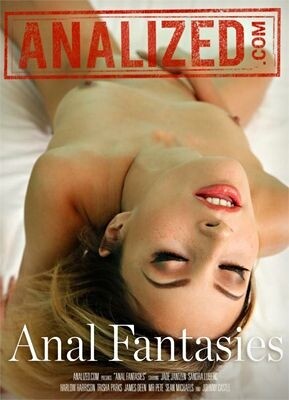 Aside from DVD cover girl Jade Jantzen's ass-fuck sequence, the other highlight in this gonzo (from performer/director James Deen) is the way nasty double penetration of tattooed harlot Harlow Harrison.
And that's not to take anything away from Sandra Luberc and Trisha Parks. Actually, Sandra's butt-bang tryst with Johnny Castle is the movie's most intimate episode, with Sandy really rising to the passionate anal-invasion occasion. While Trisha Parks, aside from always providing a truly gnarly blowjob, delivers a strong final sequence, with the returning (since he's in scene #1) Mr. Pete (yes, he's still humpin' away after all o' them thar years) heatedly wrecking her rectum.
Of course, you can never really go wrong with Jade Jantzen, and her scene with Herr Deen is no X-ception to the J.J. rump-rompin' rule. Jade has an exotic look to her that's ab-so-fucking-lutely tasty, while her all-natural body is flawless. The bitch loves nothing better than getting her culo crammed fulla cock, too! Doesn't mind ATMs, either (and ditto/ditto/ditto for all our other three featured lascivious lust bunnies!).
But the opening Harlow Harrison DP stands well on its own, right up there next to Jade's jaunt with Jimbo. The opposite of Jade, Harlow has no makeup (same with Sandra and Trisha), while flaunting totally augmented big boobies. Yet like J.J., H.H. is just such a whore, it's a beautiful thing watching her choke on the wrinkled gristles of Sean Michaels and Mr. Pete, as well as doing a mini anal train with both lads, loving her ATMs, and diggin' the highlighted double penetration (doggie and reverse cowgirl) like she's been dreamin' of it for decades. "Treat me like a cum dumpster," she coos. "That's all I'm good for." Harlow is a harlot purely made for such harrowing hardcore heights. And I love the garter gear she's wearing, with her big, juicy ass cheeks just sticking out for the world to pummel.
All four ladies here — especially Jade and Harlow — do their jobs well, sucking and fucking cock and (hoo-ray!) taking it up the ass. I find it funny, though, how the girls whom Deen doesn't fuck — namely, Harlow, Sandra, and Trisha — don't have a pinch of makeup on, while Jade, whom Deen saves for his little ol' self, is glowing with a delightfully made up mug. Hmmm.
Synopsis:
Four beautiful sluts open up and reveal their deepest desires; their dirtiest fantasies. At least, those that have to do with getting fucked in the ass! Big boobed brunette, Harlow Harrison, is at the top of her anal game, but still hasn't been double penetrated. So we make her dreams come true by filling her up with two cocks and making her ass and pussy cum together. Euro ass slut, Sandra Luberc, needs a strong man to hold her down and fuck her ass while his hand is on her throat. She's always wanted to jerk a cock off with her butthole until it's ready to spray her tits with cum. All natural nympho, Jade Jantzen, ahs been want to fuck James Deen since she first heard his name. She wants his cock in her ass, and to tease him with her butt before he gapes her little hole. Finally, the skinny, anal starlet Trisha Parks, shows how she likes to prepare for a good ass pounding -- how she showers and dressed up for her man. Then she wants it nice and rough before she takes a load to her face. Watch these anal whores make their fantasies come true!