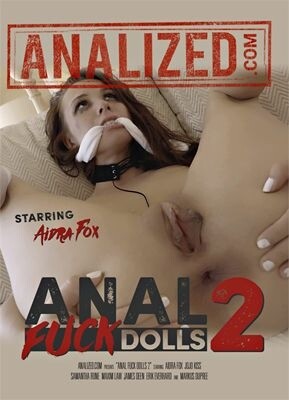 Two porn veterans — James Deen and Erik Everhard — and one young gun — Markus Dupree — take turns ass-fucking some fairly filthy fucking floozies, with foxy Aidra Fox and (va-va-voom!) Maxim Law being stand-out sluts, indeed.
Everhard first gets to ravage the ever-ravishing Aidra Fox. After some nice standing vaginal plugging, Aidra gives up her anus to Mr. EE doggie style, starting slow, and quickly working up to a rockin' reamin'. Cowgirl anal is even better, with Aidra's big ass cheeks even more oh-so-hornily visible. There's even some standing anal mish style, followed by both piledriver and reverse-cowgirl sex up Fox's fudge hole; some standing doggie anal, cowgirl vaginal (showing off, once again, that big fat Fox booty), doggie anal with ATMs (no cheating, either) and some marvelous gapes. She's a keeper, alright. But Aidra, and her butt, aren't dung yet.
Aidra then gives James Deen himself some soppin' sphincter sex, with her mascara soon running all over the fucking place (check out the DVD boxcover). She regularly gives the lucky prick some great deepthroat BJ action, with Deeno eventually invading her rectum doggie style, with our girl producing some nice gapes. Reverse-cowgirl anal is next, then spoon style up the wazoo, more doggie ass-bangin', some mish vaginal pounding, more spoon vadge and anal (giving us a fantastic view of Aidra's ever-awesome ass), before Jimbo blasts Deeno dreck all over Fox's shithole. Nice.
Next, Everhard invades Samantha Rone — and, but(t) of course, her rectum. Cowgirl vaginal is quite memorable, what with those big Rone butt cheeks cascading like mad, before we get some fine spoon anal; some decent reverse-cowgirl up the ol' Sammy shitter; ditto for missionary anal, with Everhard's hard-on going back and forth 'tween cunt and crapper; some more slammin' spoon anal; even better doggie poo-poo pounding, complete with rousing red gapes, as well as, some more back-and-forth action 'tween slit and shit; more impressive gapes; and Rone getting a cumbath on her face. Good whore.
Slinky Maxim Law follows, and she's one of my faves here, putting in a filthy scene with returning geezer Deen. There's something about Law which is just so real. She looks like a sweet, average chick, but she still has a lusciously killer bod, and loves to get her clam hammered and her shit split. Spoon anal is way horny, with Law lovin' every nasty moment. Reverse-cowgirl anal is no less dick-hardening, with Maxim diggin' the ATM action. I also appreciate how Deen-boy doesn't neglect her way-juicy cunt, going back and forth from stink to pink. But it's doggie with Maxim that's one of the movie's true highlights, her ass being just so scrumptious, and Deeno quite obviously thinks the same, as he un-cunt-trollably spews goo all over that amazing posterior. Don't blame him!
And we end with Russian Markus Dupree having his way with the very compliant and sexy Jojo Kiss. It's not my favorite scene in the movie, but it's still quite wankable, seeing as Jojo's delicious bod just won't quit. She likes getting literally choked and also doesn't mind gorging on some farts. Additionally, Jojo's a grand deepthroater, though doggie anal — with gapes et al — is her scene highlight, for fuckin'-A sure. Standing doggie-anal is pretty good, but not as much of a turn-on as regular doggie with Jojo, who always puts in a strong scene. And check out how she licks up that still-steaming Russian dressing off a shiny tabletop. Good slut!
With a flavorful dosage of light bondage, "Anal Fuck Dolls 2" is solid buttfuck porn with, again, lotsa points going to Miss Fox and, even more so, Maxim Law (love the bitch!), of whom I absolutely wanna see more.
Synopsis:
Last time around, we thought we'd found the most submissive anal sluts on earth. but this new batch of anal fuck dolls has brought asshole service to new heights! Aidra Fox is a natural brunette who loves submitting ot her master. She starts bent over, with a ball gag in her mouth. Then her ass is eaten out and her guts are filled with massive cock. But she's not done. There's another cock waiting to fuck her mouth and ass, and she's more than eager to serve! Samantha Rone is another submissive slut who spends most of her time chained up, waiting to be fucked. but once this blonde nympho sees a cock, she slurps it up with her mouth and makes it cum with her little asshole. Maxim Law is an anal fuck toy who needs some lube and a little warmup. But once her butthole is slick and gaping, she needs to be choked and tossed around, and fucked up the ass until she's ready for a load inside her hole. Jojo Kiss is a petite little fuck slut who wants to be examined -- her mouth pulled back and her asshole stretched open before she's jackhammered with cock, and made to drink up cum. Each one of these fuck dolls was designed to serve her master. Their assholes-gaped-by-cock could be the next wonder of the world!