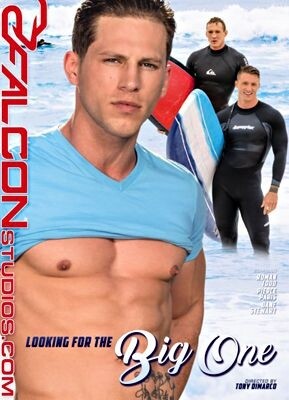 Well-hung surfers and beach bums along the sunny California coastline with another strong performance from JJ Knight. He and his famously thick, curving python anchor two strong scenes opposite frisky, cock-hungry Addison Blue and Casey Jacks.
JJ Knight, older and suave, clearly enjoys the chance to ravage younger, compact pup Addison Blue. They peel off their clothes and get right to work in an energetic match-up that has Blue gasping and groaning with anticipation — and amazed disbelief — throughout. He sucks down quite a bit of Knight's cock and opens wide to take the rest of it.
Elsewhere, Knight shares a spirited bout of oral-only sexplay with Casey Jacks in the back of an SUV. Knight is typically stoic in allowing himself to be serviced, but he is more physically engaged and energetic with Jacks, just as he was with frisky pup Addison Blue, and gives him a sticky facial as a reward.
Jacks also turns up in another vignette to have his bubble butt plowed by an intense, focused Alex Mecum. They fuck on a deck, sweating beneath the bright blue sky. Mecum is square-jawed and muscular with a lightly furred chest and a good match for the more compact, frisky and vocal Jacks. They maintain direct eye contact and keep the energy level high throughout.
Michael Delray is slender with tousled brown locks and red, sensual lips while Pierce Paris is blonde and chiseled, stoic and all-business. Delray's features twinkle with pleasure as he sucks off Paris and the two trade off on assplay and then flip-fuck. Paris groans like he's about to burst while Delray exudes an unforced, youthful sex appeal.
Roman Todd, attractively photographed on the DVD insert, is double-teamed by Dane Stewart and Tyler Roberts. Todd displays a natural masculinity with a muscular physique and square-jawed good looks. Typically he'd be the topman, so it's an exciting flip of the usual script that he gets his butt plowed. Stewart and Roberts are both broad-shouldered, well-built studs; the former is also heavily inked. All three men focus on the job at hand; assplay and tongue-fucking is a highlight.
Synopsis:
When a group of hunky buddies gets together to rent a beach house on the Cali coast for the summer, their season of surf, sex and sand quickly turns into a summer of bliss. What starts out as searching for the biggest wave aggressively turns into a search for the biggest cock, and these studs will never be done 'Looking for the Big One'. JJ Knight and Addison Blue pull away from the group of studs to get some one-on-one action. When JJ flashes his uncut monster cock, Addison opens both his mouth and his ass to ride JJ all the way to a creamy finish. Pierce Paris and Michael Delray 69 until Michael opens Pierce's ass with his tongue. The two studs flip fuck and finish up by cumming at the same time all over Michael's tight and toned body. JJ Knight is peeling off his wetsuit by the side of the road after surfing when Casey Jacks walks by and notices JJ's big dick dangling between his legs. After some quick and flirty eye contact, Casey gets on his knees to service the hung surfer and the two strangers suck each other off in the back of JJ's SUV next to the beach. Alex Mecum and Casey Jacks meet up in the back yard on a hot and sunny day. After a passionate session of making out, Casey offers up his tight hairy ass. Alex happily accepts the offer and the two studs fuck outside until Casey is covered in fun. After a day of surfing, Tyler Roberts and Dane Stewart are chilling on the couch. Roman Todd enters and starts up the action by rubbing each of the hung studs. The guys suck each other off before Dane and Tyler take turns tag teaming Roman's tight ass. Summer and surf are always fun, but studs on the beach and big hard dicks will always be number one in 'Looking for the Big One'.