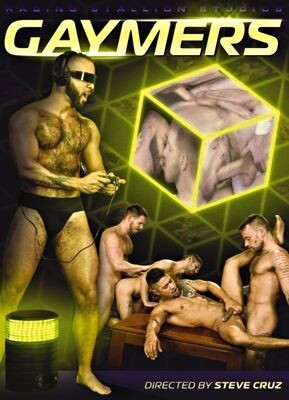 An amusing play on virtual reality that finds video game avatars acting out their own fantasies and roleplaying "gaymers" adding their own erotic rules to the roll of the dice. High-energy sex with lots of spit and cum drenching hairy chins, chests and balls.
Rikk York and Fernando Del Rio are well-matched, both of them bearded, inked and scruffy otters who share a similar erotic intensity that plays into director Steve Cruz's preferred aesthetic of loud, vocal appreciation, kissing that feels genuine (a Cruz specialty), spit-soaked blowjobs and a wham-bam flip-fuck session that includes overhead shots of slick boners slamming into hairy chutes. Good stuff.
Another flip-fuck features Eddy CeeTee (a real firecracker) and Daymin Voss, an African-American hunk with broad shoulders and impressively furred chest and legs, as video game characters who find solace in each other's arms. CeeTee is a bearded scruffy pup with an eager smile and a bubble butt framed beautifully by a jock strap. He grins and smiles as he services Voss and moans appreciatively as if it's the best sex he's had in years. That kind of enthusiastic rapport is appreciated, and visually demonstrated by wet, splattery cumshots.
Ty Mitchell entices Xavier Huxx, Spencer Whitman and Hoytt Walker to abandon their role-playing game for a down-and-dirty fourgy. Cock worship and assplay leads to an impressive double-penetration of Walker by Whitman and Huxx; attentive camerawork doesn't miss a moment of coverage. Lean, scruffy Mitchell closes out the party by taking each cock in turn and he is doused in cum from each of his buddies as a parting favor.
Whitman pops on a pair of VR goggles to observe Buck Richards (bearded and uniquely inked) and Eddie West (sporty with a well-worked, athletic physique) worship each other with sweat and spit and cum; they seem to share genuine sexual chemistry. Meanwhile, a horned-up Whitman enjoys his own personal VR fantasy featuring Del Rio in an intense, energetic session of cock worship with plenty of kissing, sweat and a pair of facials.
Synopsis:
Welcome to the world of 'Gaymers', where games, role play and virtual reality all come together to blur the lines of real-life interactions and online and electronic fantasy. 'Gaymers' keeps you guessing whether the steamy action is happening face-to-face or mind-to-mind, but it's always balls out, intense and energized. Director Steve Cruz guides a cast of 10 hung and horny 'Gaymers' through his alternate plane where they play out their hottest sexual dreams in video games, fantasy board games, and go balls deep into the world of virtual reality.
Every game they play brings each of them closer together with enough cock sucking and hole plunging action to keep them all occupied for hours. After Rikk York beats his online opponent while 'gayming', Fernando Del Rio enters the room feeling a little left out. Rikk shows his love for Fernando by sharing a super-charged flip fuck session until they both blow their massive loads all over each other. Daymin Voss and Eddy Ceetee are characters in a video game. After Daymin gets his ass handed to him in defeat, Eddy helps him off the floor and the two fuck away any hard feelings they may still harbor from the game. Spencer Whitman, Hoytt Walker, Xavier Huxx and Ty Mitchel are playing a fantasy board game when all the talk of big swords and conquering quests takes over. The four studs take turns fucking with double penetration and plenty of cock sucking action to go around for everyone. Buck Richards and Eddie West are the objects of a virtual reality fantasy being watched by Spencer Whitman. The two muscle studs take turns fucking for Spencer's viewing pleasure until they both cum all over Buck's sweaty, hairy body. When Spencer finishes watching Buck and Eddie fuck, he gets a dirty video text from Fernando Del Rio. After watching Fernando jack off, Spencer puts his headset back on and meets up with a virtual Fernando. The two studs suck each other off before they both get a nice thick facial. 'Gaymers' never know who they'll hook up with or when, but when they do, they take it to the next level and sometimes real life is hard to distinguish from that of the virtual world of hardcore sex.