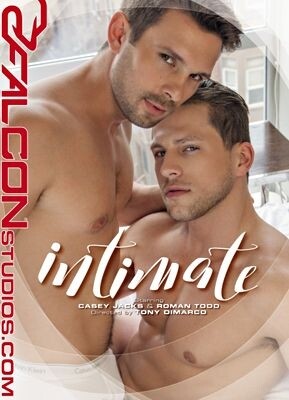 Four romantic vignettes featuring young studs bulging out of clean, tight white briefs in the classic Falcon aesthetic. Ryan Rose and JJ Knight, as usual, steal the show.
Ian Greene, sensually handsome and dark-haired with a swimmer's build, can hardly believe his eyes when Knight's imposingly thick, curving python dangles in front of him. Fans of cock worship will be pleased. Knight's customary slow-build erotic tension ends in a terrifically intense deep-dicking session.
Elsewhere, it takes both Gabriel Alanzo — lean and built similarly to Greene – and Jake Archer, boyishly handsome, to take on square-jawed stud Ryan Rose. Both trade off his cock as the topman moans and groans and then take turns sharing his boner. Both, particularly Archer, are a good match for Rose, whose erotic intensity erupts when he has a scene partner (or two) who can keep up with him.
Lean and blue-eyed young hottie Jack Hunter and his impressive cock are suitably teased, sucked and slathered with spit by scruffy Logan Moore in a sensual oral-only vignette while the final match-up, featured on the DVD insert, has muscular studs Roman Todd and Casey Jacks rolling in the sheets in front of a broad, open window with views of the city. It's straightforward meat-and-potatoes sex with an emphasis on eye contact and familiar sensuality, as if between longtime lovers.
Synopsis:
What turns men on and what do they like to do when they're behind closed doors? Find out when seven hunky studs give an 'Intimate' look into their private sex lives. Pull back the curtain to hear what turns them on the most - from soft to hard, tender to rough - and then watch as they live out their own passionate fantasies. Ian Greene and JJ Knight are lounging in their tighty whities. They get each other worked up with a long session of making out and heavy petting before Ian offers up his tight body for JJ to enter with his big curved member. Logan Moore and Jack Hunter let down all inhibitions in an 'Intimate' embrace before they pleasure each other intensely. Jake Archer, Gabriel Alanzo, and Ryan Rose know how to get each other worked up. Jake and Gabriel take turns working Ryan with their mouths before he enters each horny stud from behind. The guys happily share Ryan in a threesome that leaves Jake on the receiving end of everyone's passionate grand finale. Casey Jacks hops on Roman Todd's thick, hard pole to ride it in front of a window overlooking the city. Roman pumps away until Casey erupts in a hands free geyser and opens his mouth wide to take every last drop that Roman has to offer. There's nothing quite like playful muscle hunks getting erotic with other men in their own environments. When they decide to get 'Intimate' with you, there's no stopping the passion and sensuality they share.