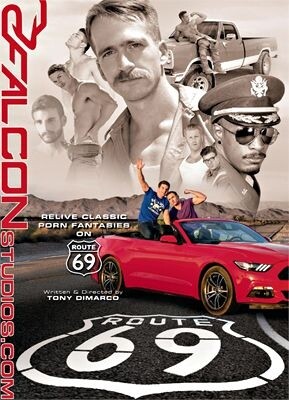 A cleverly constructed movie-within-a-movie celebrates Falcon Studios with a pair of young studs on a mysterious road trip along Route 66 that finds them stumbling into recreations of famous scenes from Falcon's storied history. One of the year's best.
Tony Dimarco has been the prime creative force behind a number of excellent blue movies in the past decade and he was the perfect choice for this ambitious seven-scene (count 'em) romp. The attention to detail makes it worth multiple rewinds and will send viewers on a deep dive into Falcon's vaults as they compare how Dimarco and his design crew recreated sets and costumes, camera angles, the soundtrack and even cheesy dialogue from classic sexpics intercut into the current-day footage.
Fane Roberts and Dustin Holloway are prototypical fit, handsome college jocks whose burgeoning romance slowly unfolds as they embark on their various sexual escapades. They are finally paired together to close out the film and as Holloway bounces on Roberts' boner, the pair themselves become a part of a Falcon movie (which they are already, from the point-of-view of the viewer, of course). The film-within-a-film conceit really does work.
A pair of oral vignettes has affable, adorable Holloway trading glory hole blowjobs in a bathroom stall opposite mature, uniformed Derek Maxum while Holloway blows gorgeous Alex Mecum while the latter is driving his truck down the highway. They pull over for more oral-only action along the side of the road.
In a nicely recreated roadside diner, Holloway fantasies about being fucked by their waiter, who is played by stunner Ryan Rose in an only-in-a-porn-movie scenario. Elsewhere, JJ Knight is a seedy motel manager and the look of shock and delight on Roberts' face when Knight's plus-sized python pops out of his pants is a highlight. Both are great scenes.
Another superb encounter finds Holloway slipping into a fever dream outdoors when Skyy Knox appears like a desert mirage to initiate another roadside encounter; elsewhere, the young men happily watch as horny mechanics — naturally, all mechanics are horny in these kinds of films — played by musclebod Johnny V and Nate Stetson engage in a sizzling fuck recreating another Falcon classic. Stetson's mustache and period styling, especially, set the mood (he's prominently featured on the DVD insert and he could have stepped out of a 1977 photo shoot).
Kudos to Dimarco for the attention to detail — the classic silver rotating bird-of-prey VideoPac teaser even makes an appearance — that whets the appetite for more adventures down the rabbit hole into the Falcon Studios archive.
Synopsis:
Pack your bags, grab a buddy and hit the road - you never know what can happen on "Route 69!" College buddies Fane Roberts and Dustin Holloway set out on casual a road trip down California's legendary Route 66 but little do they know it will be a journey the will never forget. As they drive their Mustang convertible through the desert the conversation turns to sex and Fane confesses he spent one entire summer jacking off to his favorite classic Falcon porn scenes. As he describes the action to his horned-up travel companion the radio experiences interference and starts playing 70's gay porn music. Suddenly Route 66 becomes "Route 69" where classic gay porn scenarios come to life, reenacted by today's hottest stars.