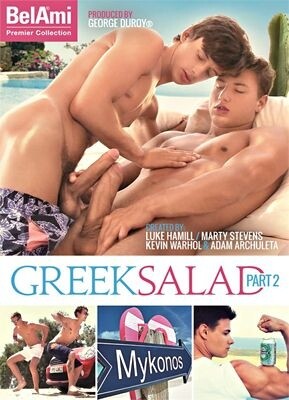 Lean, lithe BelAmi beauties — all of them young, hung and full of cum — soak in the Greek sun, splash in the sparkling blue waters and pair off for a bit of friendly, condomless suck-and-fuck action in gorgeously appointed cabanas, pools and beach houses.
Jerome Exupery is a real find. He's smooth, lanky and lean with tight blonde curls and a twinkling, naughty-angel demeanor that BelAmi producer George Duroy finds irresistible. He's paired with Hoyt Kogan, a painfully beautiful young man with dark brows, sensual lips and a smooth bubble butt. He could be a fashion model on the runways of Milan. The camera loves him but he can be a bit cold without someone like Exupery to draw him out. His buddy easily dominates their friendly sexplay.
The other marquee matchup is a threeway in which sensual, dark-haired musclebod Andrei Karenin and BelAmi superstar Adam Archuleta double-team hunky stud Jeroen Mondrian. Karenin, in particular, appears to enjoy indulging in a healthy streak of exhibitionism. He teasingly maintains eye contact and relishes having someone else explore his beautiful body (Mondrian could be his twin or lookalike cousin). He and Archuleta contribute wet, gushing cumshots.
Elsewhere, shaggy-haired cutie Bastian Duffy easily dominates his matchup with studly, square-jawed Peter Annaud, carving out a watermelon to slide onto his buddy's thick, torpedo-like boner and then backing onto Annaud's erection and fucking himself with it. Meanwhile, the comely, lanky pair of Rhys Jagger and Jamie Durrell contribute an intense, quick, all-business suck-and-fuck culminating in a pair of wet pop shots.
Framed as private video diaries from the Greek isles, the B-roll shows off the frequently shirtless young studs as they tease and flirt, lift weights, go boating, play beach sports and engage in wholesome horseplay (like ducking behind a car for a public wank session in the bright sun).
Synopsis:
Four sun-drenched episodes, and the most candid, most fun video diaries ever!