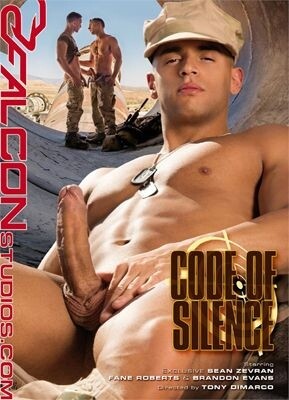 Falcon and director Tony Dimarco head deep into the sweltering desert for a tale of bored, horned-up soldiers with nothing to do but repeatedly hook up.
Fane Roberts and Brandon Evans are similar types, lean and relatively smooth jocks with boyish good looks. They are a pair of soldiers whose romance blossoms furtively under the eye of roguish superior officers Ryan Rose and Sean Zevran.
Roberts and Evans trade solid blowjobs inside a cramped tent that is buffeted by winds; later, they find time for a fuck session outdoors in abandoned ruins. Soon enough, Zevran uncovers the secret romance and demands to be serviced by Evans (who, admittedly, doesn't put up much of a fight). Zevran, the reigning XBIZ Gay Performer of the Year, bald and muscular and a real sight for sore eyes, bends Evans across a table and deep-dicks with businesslike precision.
Elsewhere, lanky stud Kyle McMillan stumbles across rugged, handsome Pierce Paris working out his aggressions with a Fleshjack, which he trades for McMillan's hands, eager tongue and, eventually, his tight chute. Their sweat-soaked rut inside another tent with limited space crackles with erotic heat.
McMillan treats Zevran to a zesty, enthusiastic blowjob while they are on patrol, sweating in the sun, while dreamboat Ryan Rose full-on devours preppy-gorgeous Tommy Regan's alluring bubble butt. They trade hungry blowjobs and Rose rides Regan's ass with his customary intensity. Regan is a stud to watch in future skinflicks.
Director Dimarco is a skilled technician and takes good advantage of the evocative found location. Art direction, costumes and props lend an authentic vibe without feeling like a drag show, which is where military-themed sexpics often go. Camera angles and editing emphasize the tone of the piece, from the Roberts-Evans romance to Zevran's all-business intentions.
Longtime porn fans might see callbacks to another of Falcon's erotic desert adventures, 1994's "Flashpoint: Hot as Hell" with Hal Rockland, Scott Baldwin and Brad Hunt.
Synopsis:
The brotherhood of Marines has a code, a Code of Silence. What happens between Marines stays between Marines, and for this hot, horned-up platoon stationed deep in the desert there's plenty to keep quiet - that no one dare speak of all the intense fucking and sucking they do. Tony Dimarco commands this extremely sexy desert unit to deliver action hotter than the desert they patrol. The helping hands, hard ons and hot holes of these soldiers help relieve the stresses of military life.
While most of the grunts just want release with their fellow infantry, Marine buddies Fane Roberts and Brandon Evans realize their bond runs deeper than their fooling-around friendship, so they vow to keep their romance secret. All the while, Sergeant Sean Zevran is onto them, and he's willing to use his authority to get any satisfaction he desires. Ryan Rose and Tommy Regan are on a military patrol in the hot desert sun. There's no one around for as far as the eye can see. Ryan commands his subordinate to remove his pants and then has his way with Tommy's perfectly toned ass. Sergeant Zevran and Kyle McMillan are on a mission at a deserted post. Sean takes out his big uncut piece and orders it be serviced. Kyle takes the order of his superior and gives an intense blowjob.
With a newfound romance, Brandon and Fane find themselves alone in some desolated ruins. Brandon takes Fane's manhood inside his mouth before Fane bends his lover over and goes for deep penetration in Brandon's bubble butt. Kyle sneaks up on Pierce Paris with a camera only to discover him playing with a Fleshjack. Kyle gives Pierce a helping hand and soon Kyle is bent over taking Pierce's thick dick deep inside him. Sergeant Zevran grabs Brandon from behind and blackmails him into sexual submission by revealing he knows of Brandon and Fane's romance. Brandon doesn't want his secret out so opens both his mouth and his ass for the domineering Sergeant to claim as his own. Hot desert landscapes combine with steamy, sweaty Marine sex to strengthen the bonds between military brothers and the Code of Silence they keep.