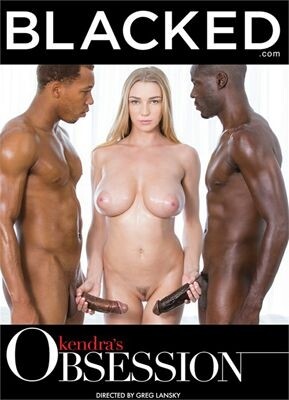 Greg Lansky is no stranger to star showcases and "Kendra's Obsession" is yet another example of the 2017 XBIZ Director of the Year's fantastic work. Vixen Angel of the Year Kendra Sunderland is featured in four IR scenes and several firsts. Not only does the viewer get a fantastic exhibition of her fucking abilities, but also a first-hand experience of her generous breasts.
Kendra plays a college-student-turned-model whose boyfriend, Eli, is super into fantasizing about her sleeping with other men. Despite Kendra's initial confusion, she soon realizes sleeping with other men can be less of a fantasy and more of a reality ...
In the first scene, Kendra's boyfriend practically throws her into the lap of horsehung, model Jason Brown. Petite and pretty Kendra takes his whole cock into her mouth, and even taps it against her tongue at his request. "Do you think it's gonna fit into my tight pussy?" she asks. He grins and replies, "I'll be gentle." His hard-on is dripping with saliva when he finally shoves it insider her. All this is happening while her boyfriend secretly watches from outside … and he's taking pictures!
And, the cuckolding ain't over, folks. Far from it! Because the next scene brings a similar scenario, only this time Kendra is personally invited by swinging couple Jessica and Michael (played by Jillian Janson and Isiah Maxwell) to have fun. Kendra kisses Jessica first, while her boyfriend watches from the lounge chair next to them, and then Michael. They take turns sucking Michael's cock outside near the pool before heading upstairs to the bedroom. Michael fucks Kendra reverse cowgirl style while eating out Jessica. Then, he double dips and fucks them both doggy style, one after the other.
The third scene flips the switch and places Kendra with another model, Ana Foxxx. As Eli takes pictures of both girls, it's clear where the situation is going … They start kissing the moment Eli walks out, when he comes back in, Anna exclaims, "Oh I'm so sorry!" He just laughs and says it's okay. Eli watches as Ana rides Kendra's face, fingers her and cums all over her.
The last scene rounds out with Ricky Johnson and Jason (again). Right before the action starts, Kendra calls her boyfriend and places the phone on a table so he can listen. The trio fondle each other outside before taking it upstairs, Kendra's phone in hand. They take turns fucking her, one inside her while the other kisses her. "You want me to cum all over your cock?!" "Yes, yes, yes!" Jason demands, then he cums inside her. It's exactly what her boyfriend wanted!
Synopsis:
Blacked.com is proud to present Kendra's Obsession, an epic adult feature film from the mind of Greg Lansky. Kendra Sunderland plays an adventurous college student turned model discovering a new side of her sexuality with her photographer boyfriend, Eli. For as long as they've been dating, Eli has has been turned on by the idea of Kendra having sex with other men. But one fateful afternoon, that fantasy becomes a reality. After a photo shoot, Eli encourages Kendra to seduce the model she worked with while he watches from afar. From that day on, exhibitionism, voyeurism, and planned cuckolds all collide, resulting in sexual experiences that will forever change the nature of Kendra and Eli's relationship. Exclusive model Kendra Sunderland is absolutely scorching in these career defining performances. Kendra's Obsession sets the new standard in quality for adult feature films and is not to be missed!