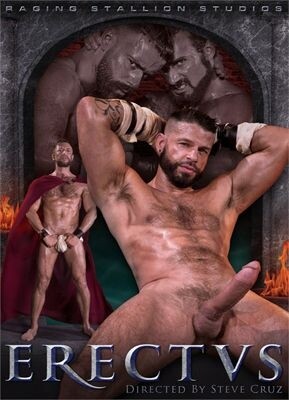 Four superb all-male vignettes themed after ancient Roman or Greek gladiatorial combat. Jaxton Wheeler and Teddy Torres, both burly and hairy, grapple with each other as their sexual chemistry boils over into sexplay. Torres services Wheeler, the winner of their wrestling bout, but does not submit without a fight. He matches Wheeler, thrust for thrust as handsome Ace Era watches and jacks himself to climax.
Era, with his tight curls, athletic physique and handsomely cleft chin, would be right at home on a Roman coin. One can easily imagine him as the sexual plaything of a horny emperor. He's right at home as the meat in a sandwich between Torres and furry, thickly hung Tex Davidson; the latter stuffs his imposingly thick python into Era's plush ass with gusto.
Like Narcissus, Ian Greene savors his own reflection — hard to blame him — until singly-named Bulrog breaks the spell. The latter is quietly intense with a lean, muscular physique and an eye-catchingly thick, pierced cock. He and Greene worship each other's boners in a strong oral-only encounter that ends with Bulrog dumping a thick load onto Greene's eager lips.
Greene returns for another strong threesome anchored by a returning Wheeler with sexual dynamo Bruno Bernal. Both power-bottoms bring out the best in Wheeler, who puts his muscled thighs, shoulders and back to good use to drive every inch of his cock into them.
High marks for art direction, set design and lighting, particularly during the Wheeler-Green-Bernal threeway, that includes a reflecting pool, columns, shadows of a helmeted Roman gladiator thrown across the wall and fiery braziers that expertly set the scene without tipping into campiness.
Synopsis:
Transport yourself back to an ancient time when men were heroes and demigods. The Golden Age of the champion, when magic and myth were still alive and lust was not a sin. Marvel at the virile athletic form celebrated as living art in the stunning, hedonistic Raging Stallion feature, 'ERECTUS'. Male sexual desire kept the ceremonial flame forever burning and director Steve Cruz invites you to the orgies of Ancient Rome in his monumental interpretation of the sexual appetites of Herculean men. He assembles a cast of seven god-like studs whose physiques and sex drives haven't been equaled since the times of Sodom and Gommorrah. Jaxton Wheeler faces off against Teddy Torres in a sweaty wrestling match; when Jaxton wins the match, he takes Teddy as his prize and delivers a rough, powerful pounding while Ace Era watches. Ace steps up for a three-way oral session with Teddy and Tex Davidson before Tex gives Ace a ride he won't soon forget. Ian Greene is saved from Narcissus' curse by Bulrog and his massive, pierced cock: Bulrog rims Ian's tight hole, and Ian returns the favor by sucking Bulrog's girthy cock and taking his load right in the face. Jaxton Wheeler returns to pummel both Ian Green and Bruno Bernal, leading to a sweaty, cum-laden climax. Prepare yourself for the godly physiques, visceral intensity, and masculine passion of 'ERECTUS.'