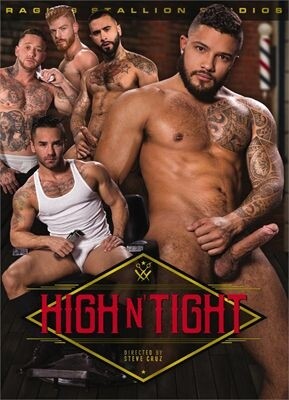 Handsomely bearded-and-inked Ryan Cruz, also thickly accented and hung, admonishes horndog Bruno Bernal ("Hey, eyes up here!") when the latter, waiting for a haircut, allows his attention to wander to his barber's crotch. But it's of little use. Bernal has the enviable ability to burn with sexual desire no matter where he turns up or with whom he is paired. He worships Cruz's cock like he's never seen or felt anything so incredible and rides it like a bucking bronco. He is flat-out great sex, every time.
Mick Stallone – all testosterone, as his stage name might suggest – is the confident anchor of a threesome featuring burly, furry, heavily inked barber Rikk York and assistant Jackson Grant, boyishly handsome. Stallone is briefly tended with the clippers before the traded blowjobs and sweaty fucking begins; Stallone proves himself an intense, focused topman. He proves this ability in a second pairing opposite Ace Era; the tease that begins their sexplay is particularly erotic as the handsome studs eye each other in the barbershop waiting room.
Elsewhere, Bennett Anthony, another sexual firebrand like Bernal, virtually devours the colorfully named Gage Unkut. The latter, also heavily inked, barely finishes his opening dialogue before Anthony is on his knees. Anthony chokes and gags on Unkut's cock, drooling spit, and howls with pleasure as Unkut drills him in the barber's chair.
Steve Cruz directs with his customary attention to detail. High marks to the thoughtful, well-lit scenic design.
Synopsis:
Leatherman barber Rikk York is working on a High n Tight cut for his client, Mick Stallone. They make conversation about where to go out and what the local guys are like. Rikks assistant, Jackson Grant, overhears the conversation and shares a knowing glance with Mick through the mirror.
As Ryan Cruz sweeps the floor, Bruno Bernal sits in the High n Tight barbershops waiting area, fixated on Ryans ass. When Ryan comes over to ask Bruno what hes looking for, its clear that what Bruno really wants is Ryan. As they make out, Bruno unbuttons Ryans jeans and grasps Ryans thick cock. Pushing Bruno down on the couch, Ryan pulls down Brunos pants and dives face first into his round, firm ass.
As the clippers of the High n Tight barbershop buzz in the background, Mick Stallone and Ace Era cruise each other in the waiting room. Mick unbuttons his shirt, showing off his hairy chest and tight abs. He yanks out his hard cock, and Ace eagerly gets down on his knees to perform oral worship. Ace strips off his shirt, revealing his athletic physique. Mick guides Ace by grasping the dirty blond hair on the back of his head.