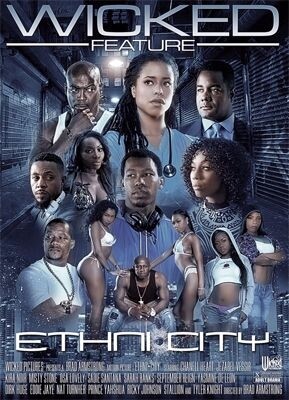 "Ethnicity" is as gritty, confident and daring as Brad Armstrong, the beating heart of Wicked Pictures, whose visionary filmmaking transcends genre-mimicry with wholly original masterpieces. Who else possesses the triple-threat gravitas of seasoned actor/multi-faceted director/meticulous screenwriter, with a litany of hard-won awards and well-executed creative works to show for it?
To take on such a charged concept as ethnicity itself, with an all-black cast, and do so with as many smoldering sex scenes as there are riveting displays of acting prowess (Kira Noir, in particular), requires the utmost finesse. One false turn, one slip of the mask, and such an effort could have crashed and burned with horrific effect. Yet, "Brad Armstrong" is not some glorified brand name, riding on the coattails of pseudo-mainstream marketing blitzes or relying on camera-savvy underlings to do the heavy lifting. He does not seek the vapid adulation of faux godhood accorded by subtle farce or slime-drenched politics, nor does he yearn for the easy riches of plundered intellectual properties. Respect, above all, is paramount. If the trophies do come (and they do, often) he only wants those that honestly reflect skill, untarnished by ego-stroking notions of "too big to fail" or sugar daddy bootlicking.
And so, riding high on the success of "The Preacher's Daughter," which swept most of the prestigious 2017 XBIZ Awards categories, earning its status as the best movie of the year unequivocally, Armstrong ratcheted up the ambition with "Ethnicity." While the title is not graced with his charismatic acting presence, the fingerprints of a virtuoso auteur are unmistakable.
It opens with expertly shot portraitures of L.A. grime. Graffiti-riddled buildings jaggedly dagger the sky, abandoned in industrial purgatories amidst other fossilized architecture. Traffic races past forgotten corridors and broken housing complexes. Pigeons flap ashen wings as pallid as the litter-strewn asphalt below, where gusts blow about human detritus and withered plant life with equal disdain. When the bullet punches through the middle of "Ethni" and "City," the violent division speaks volumes. Were the logo of "The Wire" to flare instead, none would arch an eyebrow.
Cut to bespectacled defense attorney Tyler Knight, strolling alongside newly-released criminal Nat Turnher in the hallowed halls of a courthouse. Throughout the course of their conversation, exposition is fluidly delivered via the natural banter of old friends, revealing that their characters grew up together in the hood and hinting at ancient debts paid by slick litigation. This foreshadowing will later pay off.
When Knight cautions Turnher against reprising his outlaw lifestyle, the ne'er-do-well retorts, "Don't hit me with that OG shit… When you in this game, it's a wrap, you in it for good, there's no way out." Knight presses, warning Turnher not to do anything stupid, but is met with hostile envy. The charismatic gangster scoffs at the high society lawyer admonishing him, telling him to go back to his fancy house. Armstrong clearly draws a distinction between two men raised in the same dangerous side of town, separated only by the choices they've made.
Hip-hop music pulses as the scene changes to a delectable Chanell Heart and Yasmine De Leon giving Prince Yahshua a blowjob in his bedroom. He kisses them and eats out De Leon. She sensually sucks him off, her thick lips trading spit and dick with Heart. The big silver crucifix hanging from De Leon's chain glints like the bling on Yahshua's hands, alluding to an all-star athlete lifestyle (football, as it turns out). De Leon sits on Yahshua's face, her legs shaking with quivering joy, before she gets to licking Heart's ready vadge. The hulking linebacker puts on a rubber while Heart fingers herself in the background. He doggies De Leon, gripping her curved ass, and Heart bites her own lip, cooing, "Yesss, fuck her pussy." Heart smiles radiantly, eyes glittering expectantly. De Leon's cheeks get rosy and flush with the heat of the moment. Then, Heart sucks De Leon's nipples, offering her resplendent ass to the Prince. "Ohhhh shit, uh huh," he barks. "Oh, my pussy's so tight, oh fuuuck," cries Heart, her mouth open with panting lust. Few things are as musical as Heart's moans and sighs while she gets drilled. De Leon purses her lips while Heart eats her out, entranced as much by the cunnilingus as by the doggie slamming of her fiendish oralist. Yahshua seems on the verge of nutting as Heart bounces her ass up and down, and it's hard to blame the guy. De Leon fingers herself silly.
Yahshua lays down and De Leon gets all cowgirl on him, her asshole doused in Heart's spit. She fucks with more aggression and hunger than the more sensual Heart, before rolling off her steed. Heart removes her high heels and rides Yahshua cowgirl. Her ass is mesmerizing and perfectly curved. Yahshua is noisy and talkative throughout the scene, portraying a man in the throes of an epic threesome with two of the finest booties in the biz. De Leon flips to reverse cowgirl, eyebrows shooting up. Heart contributes more spit and rubs De Leon's clit, sucking her nips. Their pierced, naturally perky tits are insanely hot. De Leon dismounts and she teams up with Heart to give Yahshua a double BJ.
He does Heart in doggie as De Leon licks her pussy beneath, offering Yahshua an opportunity to dip into her mouth, then back to Heart's petal-soft vadge. Sidling forward, Heart eats out De Leon 69-style, before Yahshua gets to fucking De Leon on the bed as she fingers Heart, who offers oral in return. They trade dick with impressive deepthroating a la De Leon. Then, Yahshua positions Heart on the bed in mish, splaying her legs out diagonally and ravishing her. The balletic fuck-dance continues, until Yahshua stands up to nut on their faces, trading cum.
Trusted confidante Eddie Jaye runs in after, shouting at Yahshua. "You gotta get these bitches outta here right now." De Leon pipes up. "Who you calling bitches, motherfucker?" Without missing a beat, Jaye snarls, "You bitch, now get dressed." The source of mayhem? Yahshua's wife (in the form of Misty Stone) is home early. The lovers are pissed and Yahshua tries hustling them outside, but it's too late. Stone walks in, dressed to the nines. "You sorry motherfucker," she rages, with sizzling ferocity. Yahshua blubbers about the situation not being what it looks like, wondering why she is home now and futilely falling back on what is apparently a well-worn excuse — that he's a sex addict. All three women by now have turned on him, amidst utterances of his being a "shitty lay." Stone storms out.
Cut to Kira Noir putting on makeup, dancing in her skivvies. Is she a stripper? Nope. Once she slides on medical scrubs, the sly defiance of expectations and shrewd challenging of stereotypes is unveiled. Well played, Armstrong, well played. Ricky Johnson rolls up then, acting hard. "You don't have to be so gangster all the time," she laments, though her eyes emote endearing warmth. Their dialogue is heartfelt, a brother and sister dynamic it turns out. Noir tells him to offer a greeting to their mother. He encourages her to call "mom" up, with a sardonic reply about there being things called cell phones these days. A rift in the mother-daughter relationship is thus revealed with clever subtext and typical Armstrong nimbleness. Rusty iron bars and coppery walls serve as the hardened ackdrop.
In the next scene, Dirk Huge sits with Sarah Banks and September Reign on cushy sofas, with a big pizza box in front of them and the trappings of a warehouse/loft surrounding them. Nat Turnher swaggers in, oozing as much charisma as the ladies, and soon enough, the harlots are oozing slobber courtesy of Reign getting mischievous on Turnher with a sensual BJ, before guilt tripping Banks to follow suit with Huge. The girls suck them off like it's a casual afternoon in the hood, massaging balls, pop-sucking the tip and making shafts vanish past their scintillating lips. The empty pizza boxes make it clear these girls are hungry for more than pepperonis. They want BBC-style sausage. Banks decides to double team Turnher, but the considerate Reign soon splits off, waltzing over to Huge. Positions and pricks swapped, they start getting messy, ratcheting up the tempo and heat with aggressive lust. Armstrong catches a priceless angle of Banks' whale tail and tatted ass peeking out of her jeans. Goddamn.
Soon enough, Reign strips off her jean shorts and top to reveal a petite and nubile bod, wearing only a backwards-turned black baseball cap on her luscious locks. She rides Huge with equestrian grace, his massive member plunging deeply into her tight pussy. Banks does the same, pulling her pants down before saddling up to mount Turnher. Her round ass is muscular and just loose enough to jiggle. The camera angles back and forth from shots focused on one couple versus both in the same frame, as they grind cowgirl-style. Reign turns around, revealing a plush bush as she leans her head back, moaning in ecstasy and visibly enjoying herself. The gents recline, letting the ladies do the hard work for a spell. Then, Turnher flips Banks over on her side, doing her from behind, while Reign goes back to cowgirl, extending her left leg out in a way that highlights its leanness. Turnher does Banks slowly, sliding in and out of her moist pussy. Her pierced nipples bounce. The deviant dames trade positions, jumping on their new partner in cowgirl. Banks shows off stripper-like skills with her smooth rump rodeo, while Reign keeps it rough, taking Turnher like a bronco.
The scene transitions to the boys doing the girls from the back, with Turnher sidewinding his sidewinder inside Reign, while Huge deposits his junk in Banks' slit via doggy. Turnher can't hold it in any longer, especially when Reign gets all giggly and smiley, her head arching back from pleasure. He pulls out and unloads a geyser on her flawless pearly whites, much to her delight. She sucks the tip off for good measure, then moves over to Huge, who is busily releasing river rapids worth of cum all over Banks, with plenty to spare for Reign, who proceeds to lick the rest off of Banks' ass. My god.
Cut to Yahshua wondering how he's going to get out of the doghouse with Stone, with Jaye shaking his head at the suggestion that ice and bling will heal all wounds, like it has in the past.
Then, we get a glimpse of the lovely Osa Lovely on silky sheets with Knight. Playing into his moralist crusader persona, Knight quotes the Bible to justify his next defense case, before Lovely expresses doubt about his clients coming up with the required $400 an hour. He owes Turnher for getting him through school, Knight confesses, the earlier foreshadowing paying off, but Lovely says Turnher is a lost cause. Idealistic to a fault, Knight vows to keep Turnher on the path of righteousness and out of jail. Lovely gets tired of the convo and mounts her husband, seducing him. He lays her back, licking her big round breasts and legs, in what is truly a couples-themed scene with a fine degree of eroticism. Once again, Armstrong demonstrates his directorial range, by juxtaposing this sex scene against the previous group frenzy in the warehouse.
Knight kisses Lovely's pussy, verily macking out on it. You can practically taste it, he's so tuned in. "Get that pussy," she coos, closing her eyes and leaning back, before tilting forward to watch him lick and lick and lick, calling him "daddy" over and over. He rubs her clit and kisses her passionately, their chemistry tangible and their onscreen marriage absolutely sold. He slowly removes his clothing and she touches his muscled abs, marveling at his physique. She pulls out his cock and gives him a soft BJ, as he sweet talks her. He asks her to sit on his face, and she obliges, laying her womanhood on him and sliding her crotch up and down his mouth. "Damn daddy," she murmurs.
Then, she turns to a 69 position on top of him, going balls deep, as the rhythm increases. "Tongue fuck me," she beckons. Her breasts slide up and down on his cock, before she is so moved to cries of ecstasy, that she stops sucking him for a moment. Transitioning to cowgirl, she bounces gleefully on his BBC, her buttcheeks clenching when they aren't rippling. She leans on her side and he does her from the back. "Pound that cake," she encourages. He lifts her leg over his right shoulder, grips it in a bear hug, and lets her have it. Her tits bounce wildly as she grabs onto the bedsheets for dear life. "Oh my God, oh my God," he exclaims, before sidling up to her face to let her have the money shot.
Cut to Turnher scolding thug-in-training Johnson for thinking of pursuing options off the streets, in a shady dirt lot. Turnher and Huge play up their OG characters with expert aplomb. Suddenly, Noir pulls up in a dusty car, commanding Johnson to "get in the car, do not test me on this." Her emotion is raw and visceral as she lays into him about getting his life together. She says she's seen plenty like Turnher coming through the hospital, foreshadowing potential tragedy. Johnson argues that Turnher has a "sweet ride," while Noir drives a "shit box" and suffers from "student loans up to the eyeballs." He underscores that Noir isn't better than them. Her downcast eyes and thoughtful tone tugs at the heart strings, especially when a cutaway shot of Noir consoling her mother at a grave manifests, with Johnson posturing in the backdrop, seemingly unmoved.
Next scene, Stallion is attending to a patient, when Noir walks in. Her cheerful bedside manner and smiling rapport is a stark contrast to the grave emotions from the previous scene. When the patient shows his true colors, acting like a mouthy punk, she shuts him down with cutting wit, then proceeds to laugh as she gives him a shot in the ass. The macho fella is forced to wince.
Then, we're back at the warehouse headquarters of Turnher and Huge, with the couch even more smothered in foxy ladies — regulars Reign and Banks, plus Sadie Santana and Jezabel Vessir. Turnher beckons Johnson to sit down, asking him if he's game for their nefarious criminal plans (unspecified, at this point in time, creating tension and suspense). To ease any further uncertainty, Turnher tells Santana and Vessir to take him to the back and suck him off … to give him a taste, but not the full treatment (presumably, the reward for pulling off whatever heist or madness they have planned). Santana purrs, observing Johnson is "the quiet type." They lead him downstairs to a crumbling basement. Vessir makes out with him, as Santana sucks Johnson deeply, fondling his balls. Then, the buxom Vessir kneels beside her, sharing the left side of Johnson's Johnson, as Santana licks the right, exposing her tits beneath a shirt appropriately emblazoned with "Bad Girl." Vessir takes him in her mouth fully, his cock now dripping from the girls' collective drool. He jerks off onto them, splooging heavily all over Vessir's tongue. Santana ducks in for a taste too.
Cut to Lovely getting dressed, donning heels and black lingerie. Knight saunters over in their well-lit and spacious bathroom, garbed in bowtie formal wear. Clearly, they're preparing for an upper class party or dinner of some kind — as usual, Armstrong knows how to show without telling. Knight tries coaxing Lovely out of her underclothes for a pre-festivities quickie, but she resists, slipping on a shimmering golden dress. They hold hands, smiling, before walking out.
In contrast, we next witness Jaye polishing the chrome wheels of one of Yahshua's fancy cars, as Stone strolls up, asking where her hubby is. Jaye says he's probably buying something sparkly. Stone says that isn't going to work. Jaye says he's heard her make such claims before, when all is inevitably forgotten. Stone is having none of it, affirming it won't be like that this time around. She rhetorically muses whether or not she's a bad person for wanting to "key these motherfucking cars." Stone's dominant presence becomes momentarily tinged with contemplative melancholy, as she queries whether Jaye is likewise tired of getting taken advantage of. He deflects the question back to her, pointing out that at least he gets paid. With a trace of empathy, he admits he wouldn't do his girl like that. On sexual cue, Stone asks, "How would you do me?"
Unrepentant, Jaye wastes no time taking her in his arms, kissing her long and grabbing her ass. He rubs her pussy over her thong, as she leans back onto the car's hood. Pulling aside the silky cloth, he proceeds to lick her vigorously. She turns around, exposing her ass and pussy to him. He laps it up and down as she moans, leaning her face against the car. Pulling her panties off the rest of the way, she moves closer to the edge of the car and turns around. He unzips her dress and takes it off, slides his own garments off and sits back on the hood as she kisses him, tugging that D before sliding down to lick his balls. Then, she's sucking him off on her knees, undoing her bra and tossing it aside carelessly. The camera pans up her back, which is now glistening in sweat. The way she slurps him is sexy as hell. Soon, she sits on his dick, moving up and down in reverse cowgirl. "Oh fuck, that's some good fucking dick," cusses Stone, filthy language continually spewing from her mouth in fine revenge-fuck form. He leans her on the vehicle for mish. "You want me to fucking feel it? … I just want some fucking attention," she squeals. He seizes the back of her neck, pulling her onto him. Then, he flips her around, slamming it from the back as her cursing intensifies. He slaps her ass, demanding her to "c'mere" before releasing jizz all over her face. She drips it onto her tits, gripping them in her hands, before getting a few last licks in.
Yahshua walks in, bellowing with bewilderment at Jaye's betrayal, after all he's done for him. Turning jealous eyes to his guilt-free wife, Yahshua seeths wrathfully. She is clearly enjoying the reaction and parrots back to him the same words he used on her about it not being what it looks like. She gets in his face when he pipes up, saying "What? You gonna throw me around?" She says she'll post it on the web. He says, "Fuck this!" and bounces. Jaye walks out angrily too, knowing he's been used. Cut to Yahshua in the car, furious, with hip-hop blasting in the background. The camera is angled diagonally upwards, allowing Yahshua's gesticulations to have more dramatic impact. He nods to himself, raising his fist in frustration, and shakes his head. Spiraling out of control internally, only the steadiness of his hand on the wheel is constant.
Suddenly, we're thrown into a hospital locker room where Noir is making out with Stallion, in the throes of unbridled passion. Clearly, this has been going on for a while. He pulls her pants off without preamble and she slides her panties to the floor unceremoniously. He licks her pussy and she moans appreciatively. She stands, taking off her top, enjoying a few licks on her tits, before stripping him down and giving him a BJ, with some rub and tug for good measure. He bends Noir over and does her doggie. When he first enters her, she arches up, as if shocked by the pleasure. Her ass is red from the slapping. She turns her head around, making eye contact with him throughout the lovemaking, as his balls slap her nether lips. Then, he lies down, welcoming her in cowgirl. She is an energetic fuck. He lays her on her side, doing her from the back, as he lightly chokes her. He finishes on her ruby red lips.
Cut to police sirens and red-and-blue lights flashing behind Knight in his convertible, where Lovely raises her head, fresh from a road BJ. The officer (Rob Piper) walks up, claiming that Knight has been driving erratically. Lovely says they were at a charity event for the mayor and wonders aloud why he doesn't have anything better to do. Piper walks away and Knight hisses at the missus to stop mouthing off.
The scene pivots, then, to Turnher huddled with Huge and Johnson, planning their criminal act. Turnher promises Johnson that the girls are waiting for him back at the crib. Huge and Turnher suit up with ski masks, as Johnson walks into a ramshackle convenience store to scout the terrain.
Meanwhile, Yahshua is cruising, eyes all teary.
Cut back to Knight and Lovely, with Piper asking the attorney to sign and date a ticket. Through these rapidly shifting scenes, Armstrong signals a climactic crescendo. "C'mon now bro," pleads Knight. "Not your bro," retorts Piper, who seems to have a chip on his shoulder. "Do you know who my husband is?" asks Lovely. Now, the source of tension is revealed, as the officer says, "Yeah, he gets criminals off, I got grilled on the stand." A victim of effective cross-examination, apparently. "Was just doing my job," Knight replies, prompting Piper to parrot back the same. He asks Knight to step out of the vehicle and takes him to a wall, backing him up menacingly and vowing to administer a field sobriety test.
Yahshua pulls up in front of a convenience store. Inside, Johnson asks the clerk the price of an item, distracting him. Turnher and Huge run in, with a gun to the cashier's head. "You know what this is motherfucker … How do you open this?" Turnher growls, demanding the cash register be emptied. Yahshua pulls up, parks and walks in. Huge points a gun at him. As tensions mount and events spiral out of control, storylines and lives collide. Suffice to say — without ruining the dramatic gut-punch ending — Armstrong succeeds in keeping his legacy alive and well. The montage finale and gushing emotions that ensue cap a nom-worthy flick, with Noir certain to score a Best Actress nomination come the 2018 XBIZ Awards season.
Synopsis:
Award Winning Director Brad Armstrong and Wicked Pictures bring you one of the most highly anticipated movies of the year. ETHNICITY is that rare adult film that seamlessly blends intriguing storytelling with passionate, meaningful sex. ETHNICITY examines a diverse group of people as they navigate the ups and downs of life. Then one fateful night their destinies collide with tragic consequence.