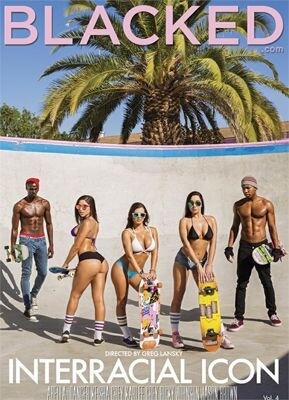 Four steamy Blacked.com interracial stories, with highlights being the fiery three-deadly-white-bitches-cuntsuming-two-black-cocks orgy sequence and the way-horny Kimberly Moss (she's such an irresistible sweetie!) one-on-one with massively endowed Joss Lescaf.
Director Greg Lansky smartly starts his movie with the most scorching episode, as a trio of randy lasses pick up a pair o' well-hung BBC-equipped skateboarders; the sequence featuring three of the most luscious babes in the jizz biz — namely, Keisha Grey, Karlee Grey (no relation to one another… I think) and Abella Danger, all of whom have the best pairs of ass cheeks in the Valley, while Keisha and Karlee possess, quite possibly, the best sets o' all-natural boobies in town. After killer blowjobs from the three ladies on Jason Brown and Ricky Johnson, this triad o' twats 'n' tonsils is truly mesmerizing to watch in action, as they get slammed silly, each licking female anus or pussy, if she isn't getting heartily hose-hammered herself. And it's awesome viewing these meaty tarts bent over and getting their choice cheeks pummeled. You'll also love witnessing luscious Karlee and Keisha's tits swirl/gyrate while the ladies are all lined up, on their hands and knees getting doggied. Whew! The whores also know how to properly work their molten muffs during cowgirl, as well.
After a bitter divorce, Lena Paul's whorish Aussie friend (who else?) Angela White shares her black boyfriend's (Jason Brown's) boner for a fairly spirited ménage a trois. What you'll really dig is not just these Rubenesque women's butt cheeks flowin' all over the place, but their big, all-natural tits hornily floppin' around whilst getting reamed during doggie and mish. The ladies are total sluts, too, when it comes to sucking Brown's branch (lotsa saliva!), as well as happily fucking said stick with their bountiful bosoms.
In the next two interracial scorchers… while the photo crew breaks for lunch during a shoot, the two models — Sophia Leone and (yet again) Jason Brown — get it on upstairs, with Sophia providing some hot sucking sounds during her BJ and looking damn good whilst lazily reclined upon her back as Brown dunks his massive vine deep into her slightly hair twat.
But even more exhilarating is seeing cute, big-lipped, freckled (make that so cute!) Kimberly Moss in her boink scene with Joss Lescaf, who plays her cheating stepdad. It's a total turn-on seeing lil' Kim tease the poor slob, endlessly, mercilessly jerking his joint, before (finally!) putting that thick prick into her famished, velvety mouth. Yes, those big lips of hers were definitely meant for sucking cock! And what a bod on Kim! So svelte yet similarly succulent. And watch out! — this sweetie is not only magically effervescent but magnetically seductive in a marvelously dangerous fashion. "You like how I ride that cock, huh?" she sluttily moans while bouncing on Joss during cowgirl. Kim has a fantastic pair o' tight little butt cakes and equally fine brace of deliciously petite tits to match. The kinky wench likes being spanked, too. Love this hussy! — so does (understandably!) lucky-fuck Joss.
While it's bookended by a pair of great scenes — the Karlee/Keisha/Abella orgy and the Kimberly Moss meltdown — "Interracial Icon, Vol. 4" is a wanking pleasure to view from blistering beginning all the way thru erotically nuclear finish.
Synopsis:
BLACKED.com proudly presents Interracial Icon Vol. 4 to you. Envisioned by two-time Director of the Year Greg Lansky, this series features the hottest models in incredible interracial sex scenes. Gorgeous cover girls Abella Danger, Keisha Grey and Karlee Grey deliver a high-end erotic experience like never before. Also starring beauties Angela White, Lena Paul, Sophia Leone, and Kimberly Moss in their own iconic scenes. With the high-end production value, breathtaking locations and captivating stories associated with Blacked.com, Interracial Icon Vol. 4 is the mind blowing experience you've been waiting for!