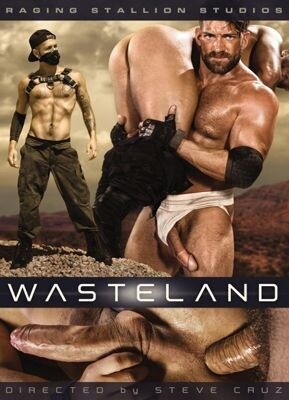 Aggressive, dominating sexplay in a well-designed apocalyptic future where it's so steamy the men resort to wearing only shiny codpieces and a harness (plus the occasional dirty jock strap). All the better to fuck more efficiently in a world where resources are scarce.
Burly stud Bruce Beckham — who looks damned good in a close-cropped beard — doesn't cotton to Bruno Bernal escaping from his dog cage and doesn't have to work hard to have him submit to punishment that includes sucking on his oversized cock and submitting to a deep-plunge from an oversized black dildo. Properly stretched out, Bernal's chute is ready for Beckham's python. He's locked back in his cage afterwards, but can't resist a sly smile.
Talon Reed, lean and wiry, can't suppress a grin of his own when he comes across supplies in the desert and is rewarded by jacked, ruggedly handsome older stud Myles Landon. That thick cock is an impressive weapon of its own. Assplay is particularly good as Landon feasts on Reed's hole and then proceeds to pound a load right out of him.
Boyishly cute Rafael Lords, compact and crazy-adorable, stumbles across Ryan Cruz, inked and stoic. Lords' bubble butt is barely contained by his jock strap. They're supposed to be avoiding armed guards, but they begin kissing hungrily and all sense of danger understandably goes right out the window. More kissing precedes another round of vigorous, hungry ass-eating. Cruz uses Lords' camera phone during their sexplay, including when he plunges Lords' plush ass. Watch for his gushing fountain of a cumshot.
Lords tries to sneak away in the final scene and he's still doused with semen when tall, bald and brawny Sean Duran accosts him and takes what he wants (Lords is seriously irresistible to a horny topman). Duran licks Lords' neck at one point and it's actually rather erotic. He's an intense, focused topman and the younger power-bottom is putty in his hands.
Points to Cruz and his creative team for nicely photographed use of desert locations as well as lighting and art direction that doesn't overdo the apocalyptic theme.
Synopsis:
Not too far in the future, things take a turn for the worse. The continent becomes a barren hellscape, a 'Wasteland', where the only valid currencies are food, water, shelter, and hardcore fucking. From the mind of director Steve Cruz, 'Wasteland' is the story of the rough, ruthless survivors who wield their big muscles and big dicks to stay on top of the food chain. Knowing that his only chance for survival lies in pleasing his captor, Bruno Bernal submits his holes to the brutal pummeling of muscle god Bruce Beckham. Talon Reed discovers some much-needed supplies, and when he brings them back to the compound, his reward is Myles Landon's massive cock. After days of wandering in the desert, Rafael stumbles into the compound, unaware of the danger he's just stepped into. Ryan Cruz offers Rafael his protection - for a price. After taking Ryan's cock, Rafael attempts to sneak out, but he's apprehended by tatted-hunk Sean Duran. In this 'Wasteland,' with no law and no order, it takes extreme measures to survive, and these rugged men are willing to do whatever it takes to stay on top.