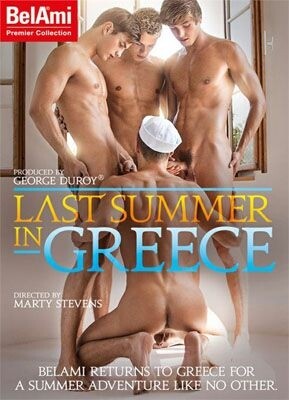 Ten beautiful young bucks, smooth-chested and hung, cavort amid the sun-kissed sand dunes and picturesque villas of Southern Greece. What more do you need to know?
A spirited game of nude football on the beach leads to a six-man sexfest as the young studs pair off into three separate groupings and get down to business: kissing, a bit of assplay, oral and condomless fucking, in that order, executed skillfully. The blowjobs have improved as several of the BelAmi studs learn to deepthroat, while several cumshots are particularly nice.
The six hotties are Adam Archuleta (who blasts himself in the face with his own semen), Roald Ekberg, Marcel Gassion, Brian Jovovich, Robin Michaux and Marc Ruffalo.
The garrulous trio of Helmut Huxley (lean and lanky with floppy brown hair and big puppydog eyes, not to mention an oversized cock), Jerome Exupery (high-energy with curly blonde hair) and Hoyt Kogan (a serious dreamboat with dark eyes, red lips, flawless skin and enticing bubble butt) and their sexcapades form the vague plotline.
They spot the six-man orgy and instead of watching what happens they sneak off for their own threesome. Kogan and Huxley double-team Exupery, who grins like the Cheshire Cat. They jump into the shower and have barely dried off before they begin round two and give young stud Huxley a double-dose of cock.
Later, they nap on a nude beach when Kogan's head is understandably turned by the sight of Torsten Ullman atop a rock outcropping over the ocean, resplendently nude save for a jaunty sailor's cap. Kogan quickly ditches his buddies and without much effort seduces the sailor. Their sexplay is sensual and romantic. Ullman deepthroats Kogan and they flip-fuck easily.
Later, Kogan is lured away under false pretenses so Exupery and Huxley can double-team Ullman, who does not protest for a second. He doesn't share the same chemistry with them as he did with Kogan, but they are a gorgeous trio.
Some B-roll footage has the young guys wandering the shops at night, chitchatting and telling jokes. They drop into a clothes shop and buy new outfits; Huxley quite adorably can't figure out how to make his new shirt work properly.
Kogan ducks away again and bumps into beautiful Adam Archuleta, who knows a good thing when he spots it: Have I mentioned that Kogan is seriously gorgeous? Archuleta is a well-trained sexualist; he maintains eye contact, teases with his tongue and more. It's one of BelAmi's stronger sex scenes of recent vintage.
Synopsis:
BelAmi returns to Greece for a summer adventure like no other.