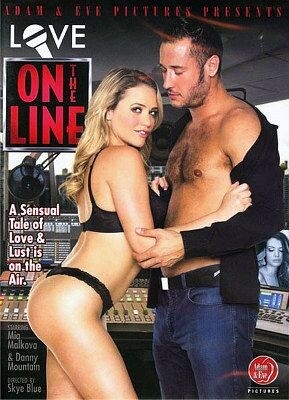 Good couples fare. Mia Malkova plays Dr. Molly Feels, host of the Intimate Secrets radio chat show, with off-screen partner Danny Mountain as Dr. Jack Romance, a fellow sex therapist with a crush on her. Before they meet and mate, Dr. Molly's listeners reveal some "dirty little secrets" of their own.
Blonde Alexis Monroe, who has a perfect body, makes eyes at the takeout delivery man (Van Wylde) and fucks him standing up in the kitchen. Dr. Molly reminisces about how her ex-husband (Ryan McLane) was seduced by a neighbor (Kat Dior). She gets a call, anonymously, from Dr. Jack, who tells her about a hot threesome he and his wife (Cherie DeVille) had with her friend (Reena Sky).
Dr, Molly meets Dr. Jack when he joins her in the studio as a guest. Caller Elena Koshka describes her private acting lesson from a radio soap star (Lucas Frost.) Molly recognizes Jack's voice as one of her callers. He tells her he masturbates to her show, and she jumps his bones. This porn couple have a potent sexual chemistry and the scene is scorching. The actors have fun with Melissa Monet's script under Skye Blue's direction, and it's all extremely well shot by Hank Hoffman and Alex Ladd.
Synopsis:
Lust, love, infidelity, sex...it's all in a days work for radio talk show host Dr. Molly Feels. Her horny listeners relate tales of torrid three-ways, hooking up with the delivery guy, and deep-throating a television star and the beautiful doctor is always there to listen. But, when she experiences her own heartbreak, Molly calls on divorce relationship expert Dr. Jack Romanc. Will he be just another expert guest, or will he be everything Molly needs as she lays Love On The Line?