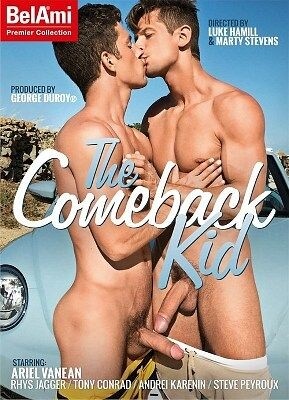 Adorable, affable Ariel Vanean, one of BelAmi's notable discoveries a half-decade ago, returns to the fold after several years out of the spotlight with this showcase that includes a JO, several duos and an orgy.
Vanean returns as lean as ever with a lightly muscled swimmer's build and scruff on his chin for his opening interview (with BelAmi founder George Duroy) and wank session. During a photosession, he cutely owns up to being nervous. He's bashful and tender and admits to needing time out of the spotlight to ponder his personal life and deal with the notoriety that accompanied sudden erotic stardom.
During his masturbation vignette, he gently fingers his hole and works his lovely, thick boner to climax and grins for the camera. His first duo is with Tony Conrad, a lean and wiry babyfaced young buck with the sides of his head shaved (they banter about Conrad trying to sell Vanean an obviously wrecked car).
A flip-fuck with masculine matinee idol Rhys Jagger takes the handsome duo across a variety of picturesque settings (they're also featured on the DVD insert). Jagger projects a more focused, forceful intensity. He's clearly a good match as a topman for Vanean and raises his game. Vanean's stated preference for oral play is evident as he enthusiastically down's Jagger's cock.
The closing fourgy brings back Jagger and features sensual muscle stud Andrei Karenin and Steve Peyroux, blonde and lean with a playfully kinky demeanor. That's a lot of eye candy. Peyroux is the MVP in this scene but it's a pleasure to have Vanean back in action.
The sexplay is clean and brightly lit per the BelAmi playbook with straightforward, unobtrusive camerawork. Duroy mentions during the opening interview that Vanean had filmed approximately 15 new scenes and that a handful of unreleased vignettes remain in the studio vault from the fan-favorite studpup's first tour of duty.
Synopsis:
Ariel Vanean is back after 2 long years, and he's better than ever!