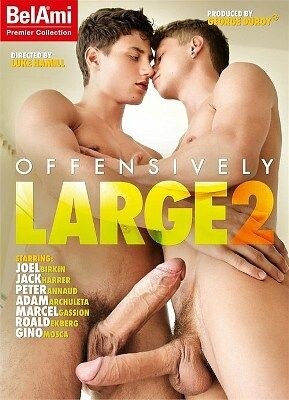 The continued sexcapades of "offensively" hung post-twink pups Jack Harrer and Joel Birkin and their pals. Birkin's thick cock is a thing of beauty but charismatic, charming Harrer nimbly walks off with the movie once again.
The guys flirt and play with an English translation app and transition into sex. Birkin is not new to BelAmi, but he's still wooden while Harrer is adorable and exudes playful charisma. He's a sensual kisser and a passionate bottom. Their fuck session starts off slowly and really picks up steam when Harrer is able to take control as he climbs into Birkin's lap and rides Birkin's giant boner. He blasts out a load of cum onto his abs and then jacks off his buddy.
The pair returns for a threesome costarring raven-haired cutie Gino Mosca and featuring some kind of storyline where they don't know each other. Harrer and Mosca eagerly take turns servicing Birkin's boner. Mosca bottoms for both gents and at one point they spin him back and forth on a swiveling stool. Mosca seems more interested in cock and kissing than bottoming, but points for ingenuity.
Later, the randy pair adorably argues in several languages over which BelAmi studs to invite to an orgy. They settle on Marcel Gassion and Roald Ekberg. Both are fit and muscular and easygoing sex partners, but blonde, brawny Ekberg is flat-out gorgeous. Harrer and Birkin maintain eye contact as they compete to suck off and fuck their buddies, lending an added bit of erotic spice to their sexplay. Harrer contributes a spurting geyser of a cumshot, but Birkin is deemed the winner. They mildly argue again and return to the orgy, where Birkin jams his thick cock into his buddy's tight bum again and all is well.
The fifth and final vignette is unconnected to Harrer/Birkin's adventures and details blue-eyed Adam Archuleta, lean and boyishly beautiful with a pleasingly kinky vibe, as he instructs newcomer Peter Annaud. The pre-sex interview session is awkward as usual ("we'll make him feel good," the vet promises) and the newbie relaxes under the spell of Archuleta's lips, hands and cock. He's a confident, sensual lover and it's the best sex of the film.
A sixth bonus vignette includes roughly ten minutes of a photosession and JO featuring Harrer and Annaud, who is leaner and more relaxed than the earlier scene.
Synopsis:
How much can they take? Jack, Gino, Roald and Marcel ride BelAmi's largest dicks...