The Unstoppable Dylan Maguire
Bel Ami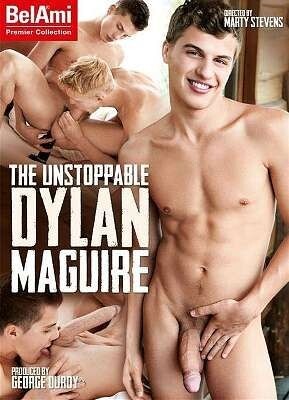 Bel Ami bills topliner Dylan Maguire here as "the wildest of our sexual dynamos." He's lanky, thin and smooth with an oversized cock and gleaming smile and an innocently playful demeanor that belies an impressive sexual toolbox that includes a bit of dildo play and an easygoing, up-for-anything attitude.
Maguire, who resembles Canadian sex star Pierre Fitch, is a pleasant change of pace for a studio whose studs, while inevitably beautiful and well-endowed, can sometimes appear to be enacting a business transaction rather than actually having fun in the sack.
A couple of flip-fucks include lanky blonde Ronny Lamarr, very lean and ripped, who brings out the dildo to have Maguire briefly ride it; and fratboy-handsome Peter Annaud, who seems equally entranced by Maguire whether fucking or being fucked by him.
Tim Campbell's cocky, playful demeanor matches Maguire and he surprisingly turns out to be dominant. He takes his time stripping Maguire, sucking his cock and exploring his body and Maguire shows a submissive side as he easily relents. He tops Campbell, but the interplay is on equal ground.
Final two scenes pair Maguire with lean-and-lanky Jeff Mirren, another measured, romantic match-up, and Arne Coen. While the previous quartet of scenes occur in bright airy rooms, Coen and Maguire make love in a darkened, moodily lit bedroom. Although Maguire is billed as "wild," it's clear he responds to romance and sensuality and seems most engaged with a partner, like Coen, who enjoys it, too.
Synopsis:
Naughty unruly unbridled meet the wildest of our sexual dynamos.