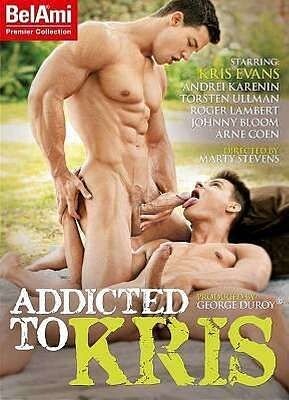 Who in their right mind wouldn't be addicted to BelAmi godling Kris Evans? This sexual buffet offers a delectable sampling. He's tall and ridiculously handsome, with a humble, bemused demeanor and perfect skin, sky-blue eyes, white teeth, great hair — plus he's bulging with muscle and sports low-hanging balls and a firehose of a cock that spurts fountains of cum.
The marquee scene is the fourth vignette featuring sensual, plush beauty Andrei Karenin. The young stud has a flawless physique with a buzzcut and bee-stung lips that he bites seductively. He knows how to work a camera. He and Evans lounge on a mattress beside a small lake and languorously kiss and stroke each other's perfect bodies and then jack themselves to climax. Later, they explore a crumbling barn, encounter an odd piece of artwork and make love outside in the shade of sun-dappled trees.
The first vignette is a flip-fuck with tall, lean Torsten Ullman, who is all business as he efficiently moves from blowjobs to bottoming for Evans and a cumshot. The scene continues as he attempts to deep-throat Evans' thick boner and then smoothly fucks him.
A threesome between boyishly adorable Johnny Bloom, also tall and lean and on the bashful side, and the puckish Arne Coen, has a likable, playful energy. Evans is relaxed and all smiles. The sight of those perfect, muscled bodies intermingling is real fuel for erotic fantasy.
Evans also has a poolside hookup with burly Roger Lambert whose thick torpedo of a cock is eye-catching. The sex is workmanlike, but nevertheless enjoyable. The final vignette is a photo session that allows the camera to drink in Evans' beauty and culminates in a J.O.
Evans has matured over the years into a relaxed performer and has greatly expanded his sexual repertoire. Although assplay is still rote, for the most part (true of most BelAmi performers), Evans has shown he's capable of delivering truly connected sexplay when he's paired with an equally sensual partner, like Karenin.
Synopsis:
You know you can't get enough of Kris Evans: hung and more ripped than ever...