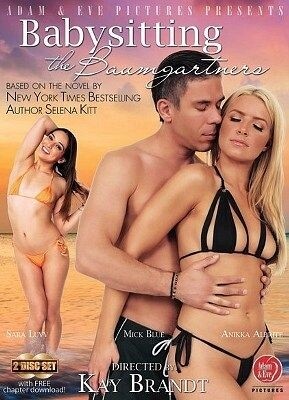 It's not often that an adult filmmaker gets to adapt a bestselling novel, but that's what happens in director Kay Brandt's rendition of Selena Kitt's titillating book about an 18 year-old girl's sexual education at the hands of the attractive, affluent couple she babysits for.
"I loved the Baumgartners… and they loved me," sighs Sara Luvv as Ronnie, who accompanies her employers to their seaside vacation home and springs to sexual attention when she accidentally sees them fucking. What better way for a young girl to learn about sex than from the glamorous, charismatic pair of Anikka Albrite and Mick Blue?
There are 16 sex scenes on two discs, mostly comprised of the three primary performers, although AJ Applegate (as a neighboring nanny) pops up for a girl-girl scene with Sara. Most of the action is threeways, all arousingly performed, thanks to Mr. and Mrs. Blue's powerful sexual chemistry. Sara is convincing in her innocence.
Memorable moments include Anikka shaving Sara's bush — very erotic — Sara's first seduction by the couple and losing her anal cherry to Mick, with Anikka's suave assistance. The movie is well-filmed and acted, boasting a plethora of sex scenes, in what is not only a top-notch production, but also superb couples fare. Anikka with her sly seductive smile and sumptuous butt is certainly a standout.
Synopsis:
When Ronnie (Sara Luvv) joined Doc and Carrie Baumgartner (Mick Blue and Anikka Albrite) on their beach vacation, she never expected to join them in bed too!
After Doc and Carrie catch a curious Ronnie watching them have sex, they decide to seduce the innocent college coed. Sensual massages and fun in the hot tub lead to naughtier and naughtier games until Ronnie leaps into their arms. And things get even wilder as Ronnie starts exploring her new desires and fantasies with the Baumgartners!
A leading contender for adult movie of the year, Babysitting the Baumgartners balances soft and sensual seduction with intense passion as a curious college coed transforms into a sexually confident woman. The story and acting are both top-notch, creating memorable characters and a movie you'll love watching over and over again. Babysitting the Baumgartners is strongly recommended for couples and fans of erotic novels. 2 discs. 16 sex scenes. 243 minutes, plus extensive bonus material.
close
E-mail this to a friend
Babysitting the Baumgartners
Email sent. If you wish to send to another person, click here.