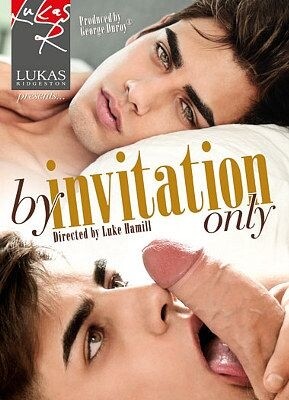 Newcomers to the Bel Ami scene learn the ropes from a variety of practiced professionals in this condomless, six-scene effort from star-turned-director Luke Hamill. DVD cover model Rafael Moretti, brawny blond Roald Ekberg and muscular Andrei Karenin are among the highlights.
The sexplay in each scene follows a very specific, perhaps too-rigid formula — a bit of kissing, traded blowjobs, a bit of assplay and fucking in several positions, followed by a cumshot on the butthole and tongue. The eye candy and their personalities have to be what pushes the vignette into something more memorable.
Cover model Rafael Moretti is seriously beautiful (scene five). He's tall and lean and nicely hung with ink across his upper chest. There is little awkward chitchat with scenemate Garrett Dornan, who has hardware in his earlobes and a thick, floppy cock. They share a sensual chemistry with more kissing than usual and an intimate connection.
Elsewhere, scene four's Roald Ekberg is the opposite of Moretti. He's bubbly and talkative with irresistible dimples, shaggy blond hair and a brawny wrestler's physique. His buddy Jerry Bogdanovich is skinny and lanky and they share a playful chemistry.
The final pairing of Andrei Karenin and Garrett Dornan is a winner. Both are handsome and brawny with muscular physiques (they talk about meeting in the gym and sharing a protein shake). Dornan, dimpled with some body ink, is bashful during the interview but a more dominant side immediately takes over when the sexplay kicks off. He charges through the scene and Karenin, who is delectably handsome, clearly enjoys being serviced. He groans pleasurably as Dornan slams his muscle-butt.
Other highlights include the first vignette's lean, ripped and arrestingly handsome Hoyt Kogan, who licks newcomer Niall Morris' cock clean and scene three's coach Rocco Alfieri, tall and broad-shouldered like a swimmer with a confident, masculine demeanor and all business in the sack.
Synopsis:
By Invitation Only introduces more newbies than you can handle. Watch as a bunch of Bel Ami new models get indoctrinated into the life of a hard porn star. Rubbing, bare fucking and facial unloading - plus you also get cover model Rafael Moretti who is a ridiculously pretty piece of Bel Ami eye candy! What more do you need?