Evening Rituals 3: Bel Ami Night Scene Series
Bel Ami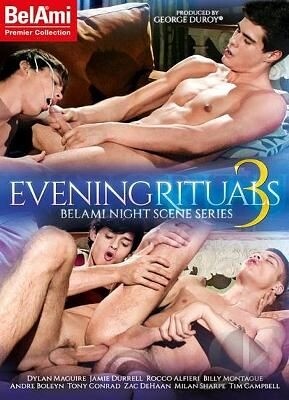 A quintet of moodily lit condomless vignettes spiced with romance in this series from Bel Ami features nine particularly handsome, smooth, thickly hung young studs led by sensual hunk Andre Boleyn.
Boleyn anchors the first pair of scenes. Dylan Maquire is long and lean and pays proper attention to Boleyn's prized boner. He is a confident top and something of a piston as they fuck in bed; Andre is hard the entire time, pops off and then moves to a second fuck position, leading to another cumshot with a volley or two dashing all the way up and across his cheekbones. He and Jamie Durrell make out, bare-chested and in jeans, which Jamie seems to particularly enjoy. Their oral interplay, including a sweet 69, leads to another cumshot from Andre, who slides his still-hard boner into his submissive partner's bum. They close out their sexplay with Andre jacking one more load into Jamie's face.
The final three vignettes follow a similar format of gentle kissing and nuzzling, followed by vigorous oral, a small bit of assplay and then fucking and cumshots in a couple of positions. Zach DeHaan, tall and broad-shouldered and brawny, is an eye-catching side of beef and an alluring physical opposite of the smaller, lean Milan Sharpe. Elsewhere, Rocco Alfieri is a real dazzler with his red lips and pale skin, while clean-cut and preppy-handsome Tony Conrad and Tim Campbell could be a couple of field-hockey jocks. They all maintain eye contact and the unobtrusive camerawork highlights the romance and sensuality.
Synopsis:
When night falls... Bel Ami rises. Behold Evening Rituals 3