The One and Only Helmut Huxley
Bel Ami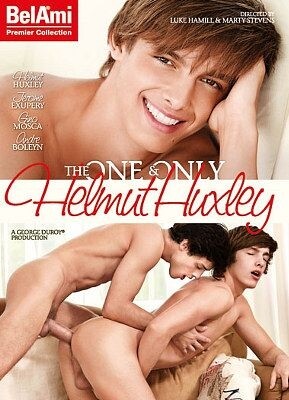 The latest young stud from BelAmi's cute-boy orchards is Helmut Huxley, a hung 6'4" drink of water with a flat bum, hairless chest, gleaming smile and large, liquid brown eyes. The best of his sexcapades filmed on location beachside in Cape Town, South Africa and rainy Bratislava, Slovakia is the final romp with seasoned BelAmi sexualist Andre Boleyn.
Boleyn has been part of the BelAmi stable for some years and he's just as sexy as ever with his dark hair, pale skin, red lips and a sensual, just-rolled-out-of-bed quality. When Huxley mildly protests that their sexplay is moving too fast, Boleyn quickly replies, "Not really. I know what I'm doing. Just saying." You believe him. The oral here is excellent and Boleyn manages to deep-throat about half of Huxley's oversized boner. He is a magnetic, confident lover.
A two-part scene features Jerome Exupery, boyishly adorable and about as tall as Huxley. He's lean and ripped with short blond curls, flawless skin. He's a gentle, passive partner when Huxley tops him. However, when they flip-flop, he comes alive as a more tactile, passionate lover. He plays with Huxley's cock, maintains eye contact and licks his spurting cock clean with a devilish gleam in his eye. He's one to watch.
A third scene features Huxley topping Gino Mosca, nearly a foot shorter, dark-haired and preppy cute with an inviting bubble butt. The opening interview (and J.O.) meanders as Huxley talks about tattoos (he has only one but wants more, much to the consternation of BelAmi founder George Duroy), injuries suffered thanks to his love of extreme sports and what lovers find attractive about him. He also displays an affable, bemused air in the final scene, a photosession with the backdrop of a gorgeous Cape Town sunset, as another BelAmi shoot is underway nearby. He laughs about trying to "look hot" while removing his pants and then jacks off, shooting up his lean chest and onto his chin.
Synopsis:
Meet The One & Only Helmut Huxley. A star is born: Tall, hung, gorgeous.